Tucked in the fold of the map between Central and Southern California is the newest treasure in the US National Park system, Pinnacles. In 2014 it was designated the 59th park in an effort to preserve its unique beauty.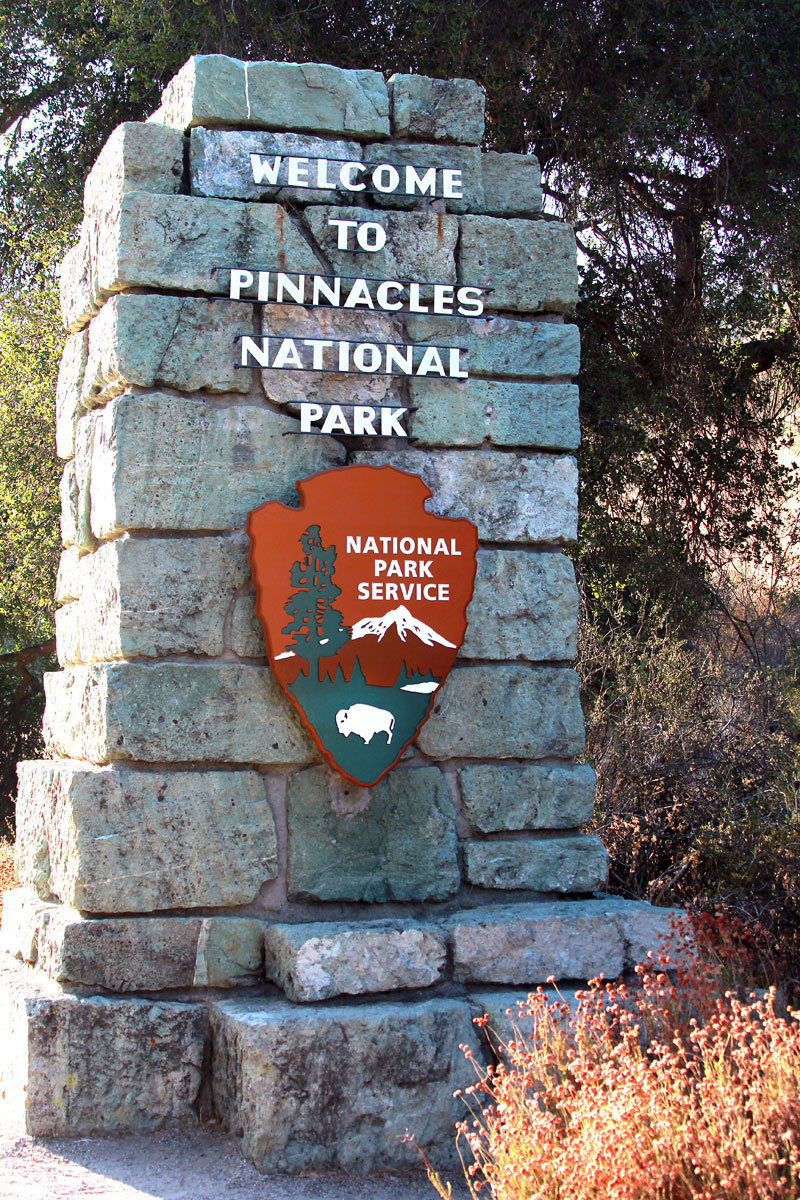 Pinnacles National Park, first designated as a National Monument in 1908, was one of the magnificent legacies of President Theodore Roosevelt, who originated the National Park system to protect many of America's greatest natural assets.
Having experienced 44 National Parks (plus a plethora of monuments, historical sites, preserves, etc.), this one beckoned us to visit and explore this year… which we chose to do despite triple-digit midday summer temperatures. We would have visited either way however since it was along our route, and worth the stop to check things out.
Visiting Pinnacles National Park
Since hiking is our favorite type of recreation while traveling in the RV, we rose at 6am to venture over to the Bear Gulch Caves trailhead. While it's classified as a moderate three-mile hike, our rating would be moderate-plus. It's not for those with limitations that make climbing numerous stairs and waddling through brief low passages comfortable.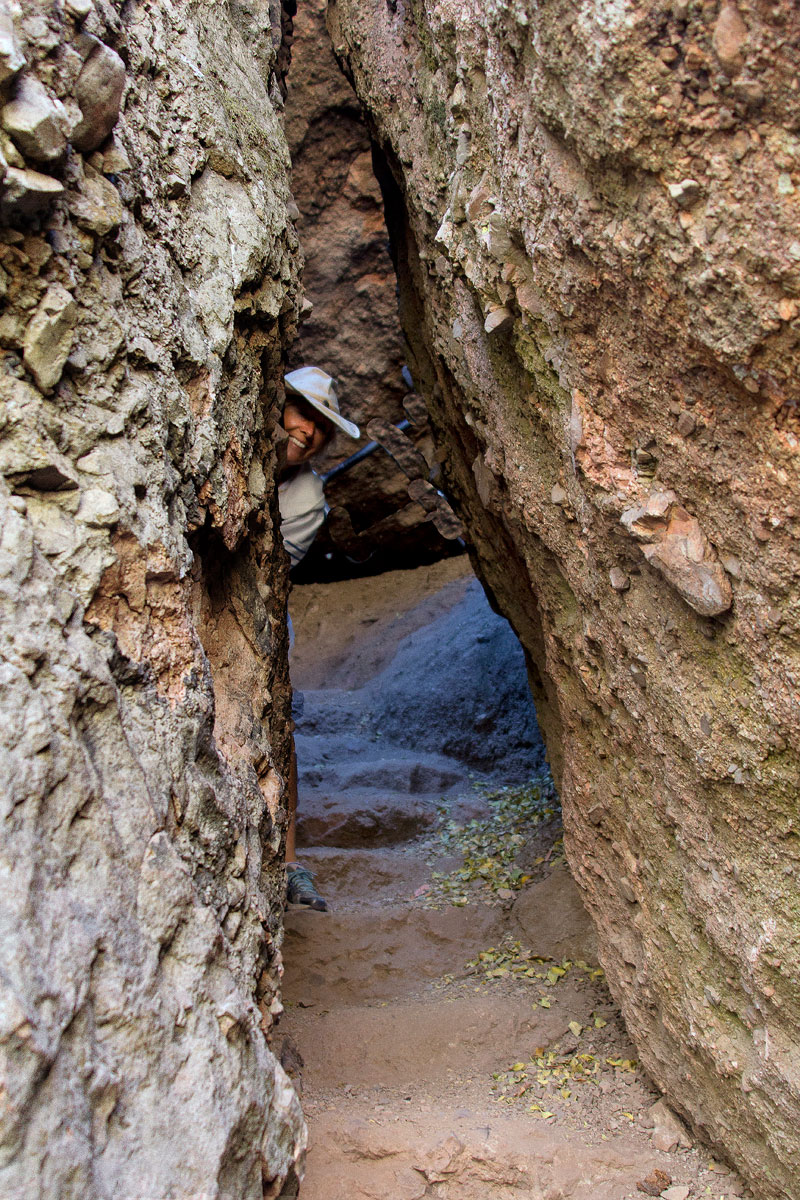 Traipsing down the final quarter-mile stretch after our hike, we were a bit exhausted but proud to have made it. The highlight of our trek among the towering pinnacles was winding and climbing along trails through the caves. Nothing spectacular in comparison to America's most ornate caverns, but interesting nonetheless with the one hundred steps carved out of rock during the Great Depression by teams of Civilian Conservation Corps (CCC) men.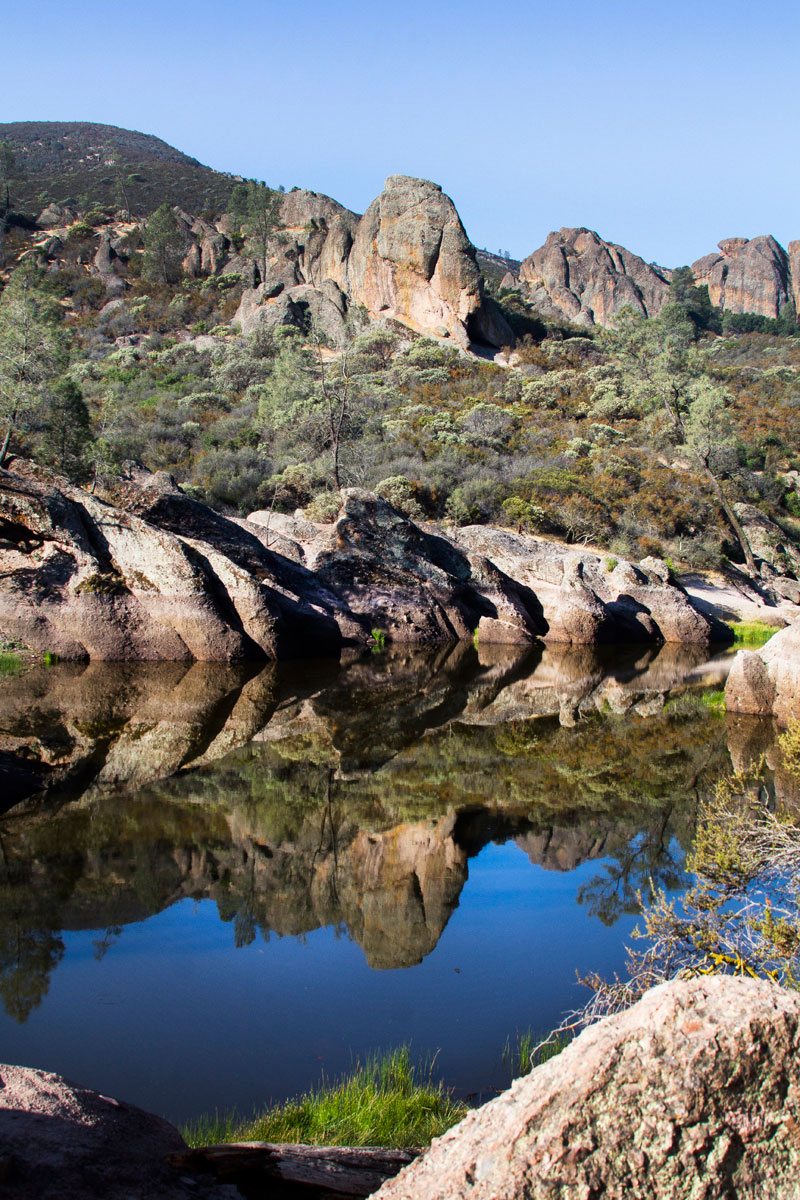 The CCC also built a dam of massive boulders to form a reservoir nestled among the rocks near the peak of the hills. The Corps' work we have encountered over the years always amazes us, yet this dam stands out as one of their most ambitious projects. In this park they erected stone administrative buildings and bathrooms that will stand the test of the ages along with trails engineered for countless generations to explore.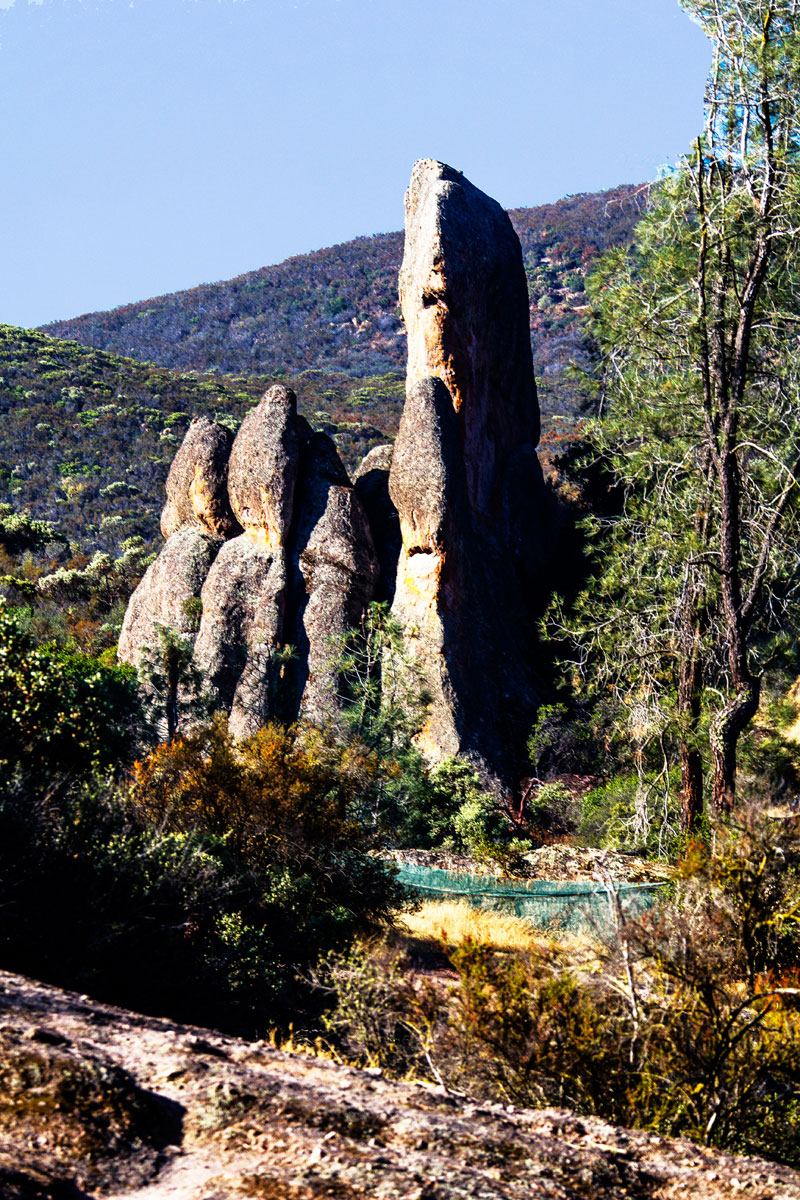 The pinnacles themselves are beautiful – not quite wow-inspiring – but worth driving 30 miles along a narrow meandering road through pastureland to reach the east entrance. The park is known globally for the enormous condors that make their home among the peaks, but unfortunately they didn't put in an appearance where we were during our stay. We had to be satisfied with turkey vultures, deer, rabbits, squirrels, chipmunks, and a variety of birds including quail.
Practical Tips for RVs
Pinnacles Campground is sparse – a couple dozen electric-only sites, a few of which have shade, and a few water spigots scattered here and there. Before the campground "filled up" with four RVs arriving almost simultaneous, it was a wide-open expanse with not much shade or character. We were lucky to get one of the best spots but it provided little comfort with the soaring heat outside.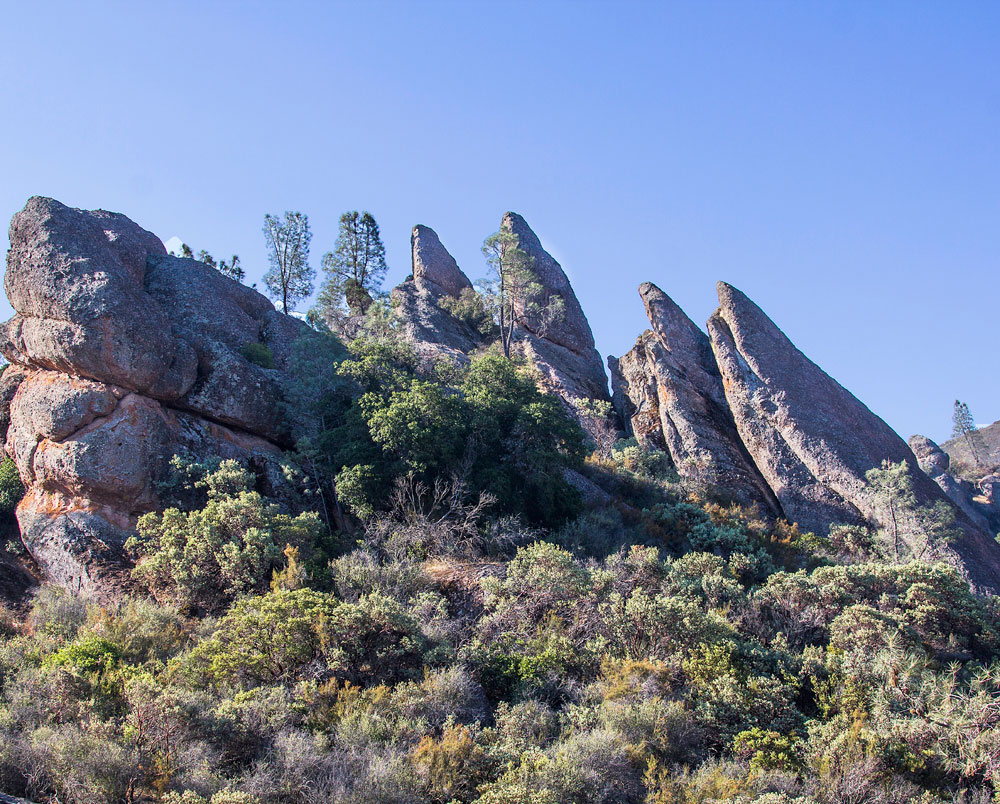 When actually driving to the park it's important to note that the west entrance is for day-use only; it has just a narrow road that's not accessible for RVs. No roads connect the east and west entrances.
The park is also a long way from everywhere, so there's not much to see or do outside the park with a few exceptions. I'm told that in the spring the wildflowers are just breathtaking, but then again just about anywhere you go in the spring offers an abundance of colorful flowers. There's a swimming pool, a store, numerous trails, precipitous walls and crags for the advanced rock-climbing set, picnic areas, group camps, a historic ranch open to the public, a seasonally open nature center (closed in the summer), and a creek that seems to be suffering from the Western-states drought.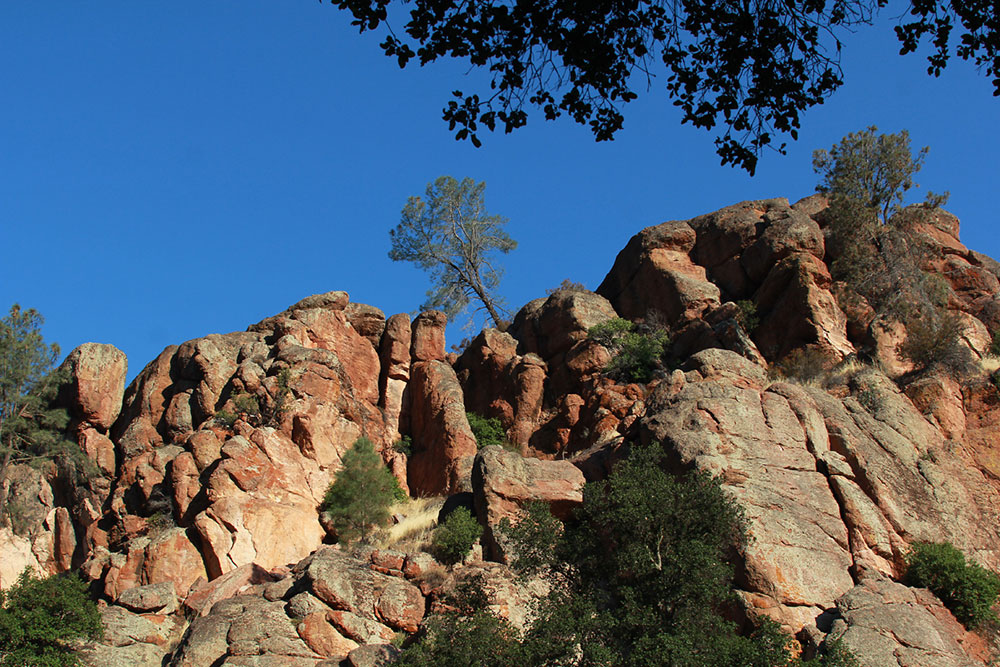 Pinnacles having been our 45th National Park visited since we moved to full-time RVing, it's not what I would call memorable from the "spectacular" point of view. We've certainly seen other National Parks that really did have that "wow" factor. However, I welcome any comments from readers who have done the park in a season other than summer or just had a more memorable experience of Pinnacles.
And since this report is 108 years after the establishment of Pinnacles, it would be great to have a follow-up in another 108 years to see if the narrow road has been 4-laned and if the CCC buildings have endured…
Nevertheless, had it not been for a grassroots effort led by a local homesteader that blossomed into a movement, Rough Rider Teddy probably would have never even heard of Pinnacles in the first place. But it all came together for us to enjoy more than a century later.
I welcome your comments and questions below in the Response section of this post. Let's get a conversation going.
From the Never-Bored RVers. See you on down the road.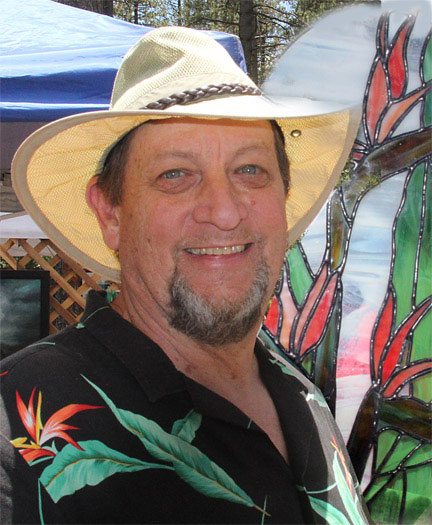 About the Author: Barry Zander spent a decade as a newspaper reporter and editor, was president of an advertising/PR agency, and was in marketing before retiring in 2006. That was when Monique suggested selling their home and buying an RV to travel North America. After five years full-timing, they bought a cabin in the mountains of Southern California, the base for continuing travels. You can read more of Barry's adventures on his blog, n Top of the World.
8

Responses to "The Never-Bored RVers' Journal: A Peek at Pinnacles"