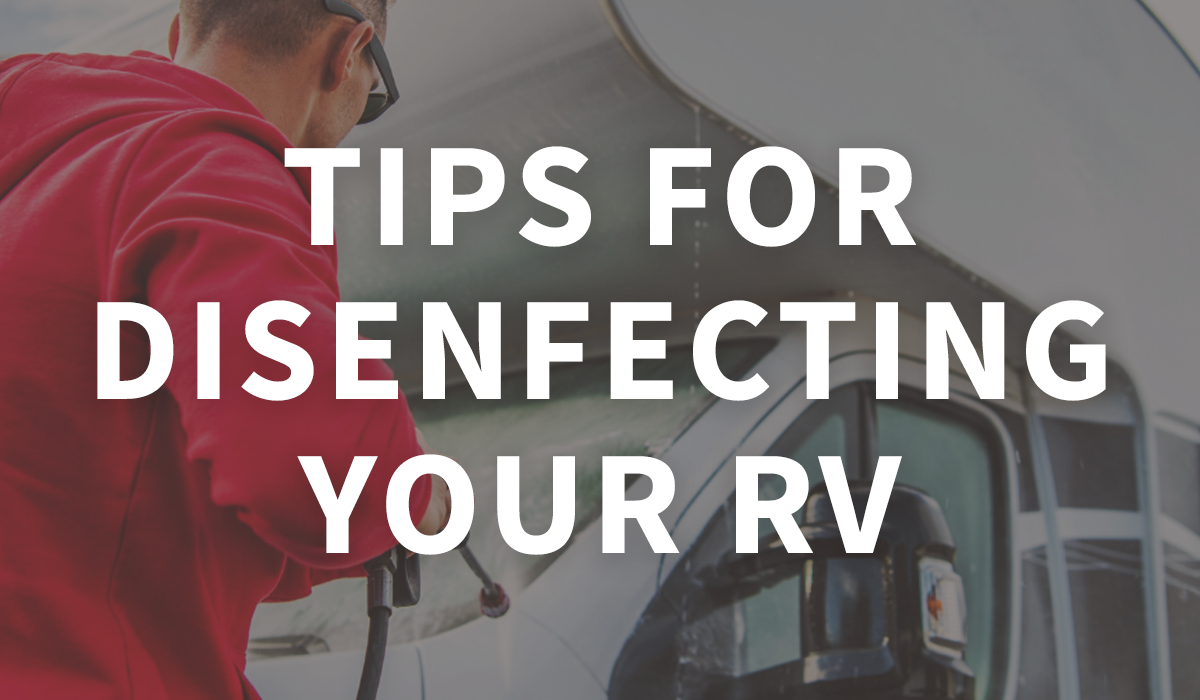 You may be itching to get out of the house and hit the open road because the roads today are typically the only thing open with the pandemic that has hit the nation. Hopefully someday soon we can venture out with caution and safety in mind.
One of the cautions from the World Health Organization and the Center for Disease Control and Prevention (CDC) is to not celebrate too soon! In other words, just because the curve has been flattened and the numbers are starting to sound good, does not mean we can just drop all safety measures and go back to business as usual. We need to make sure we are following the recommendations of the WHO and CDC for social distancing and disinfecting!
So, what can you do to keep your RV safe? We are going to walk through some recommendations for disinfecting your RV properly, and tips for staying safe at campgrounds.
CDC Recommending Disinfection Procedure
There is a difference between cleaning and disinfecting. Cleaning is the removal of dirt, grease, and impurities. It does not kill germs but is important to remove these items before disinfecting. Disinfecting is using chemicals recommended by the CDC, WHO, and EPA to kill germs on surfaces. For example, spraying a disinfectant on a surface that has grease may not clean or sanitize the area.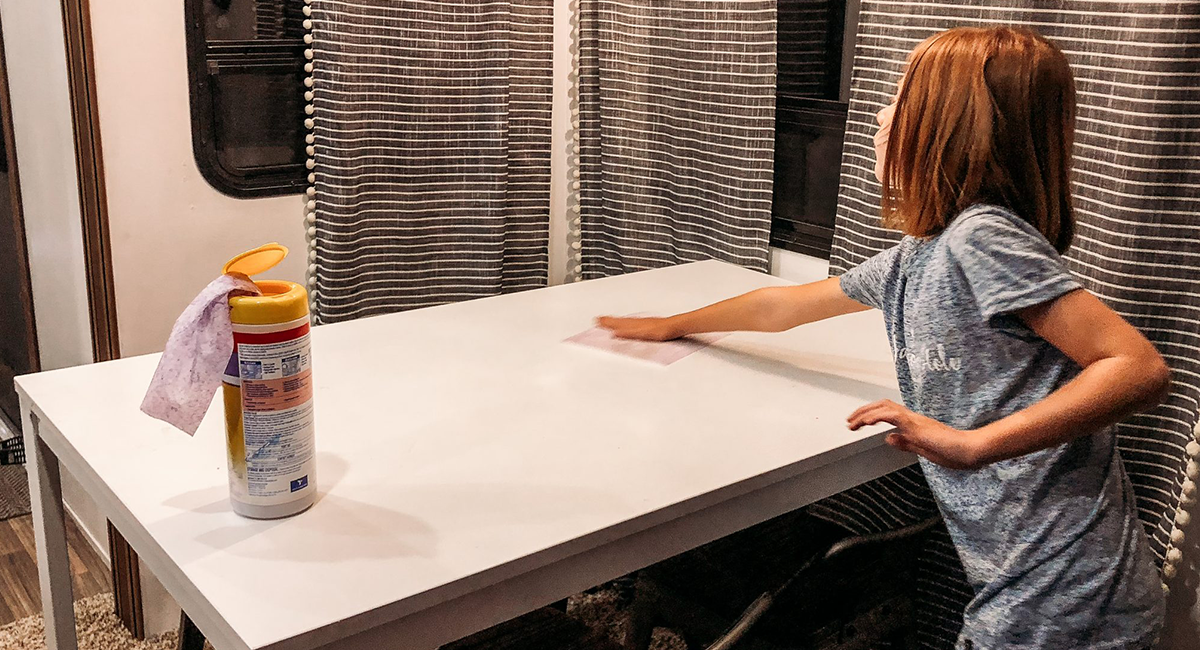 Hard Surfaces
Wear PPE protective gloves such as a 5-7 mil nitrate glove, most RVers have these to use when dumping the holding tanks. Clean the surface first with a mixture of soap such as Dawn Dish Soap in water, then disinfect with an EPA-registered household disinfectant which could be a spray or towelette. A list of EPA-registered products can be found here.
You can also use a bleach solution by adding 5 tablespoons per gallon of water or 4 teaspoons per quart for a smaller amount. Make sure the surface will not be affected by the bleach (such as discoloration). You can test a small amount on a portion of the surface that might not be visible if you feel comfortable.
Soft Surfaces
Inside your RV you will find several soft surface items such as carpets, fabrics on couches and chairs, bed linens, window treatment and even older woven wood window blinds. If possible, get them laundered with the hottest water possible. If not, treat them with a CDC recommended disinfectant spray as listed previously.
Cell Phones, Computer Screens, TVs, and Other Electronics
These are often overlooked for cleaning and disinfecting; however, they do get touched by the face and fingers and need to be disinfected as well using the same procedure listed above. Especially cell phones!
So what does this mean for the average RVer that is not letting anyone inside their RV and is practicing social distancing? It means you probably don't need to sanitize or disinfect your entire RV immediately, but you need to be prepared and take precautions when you are out in areas where there are other people!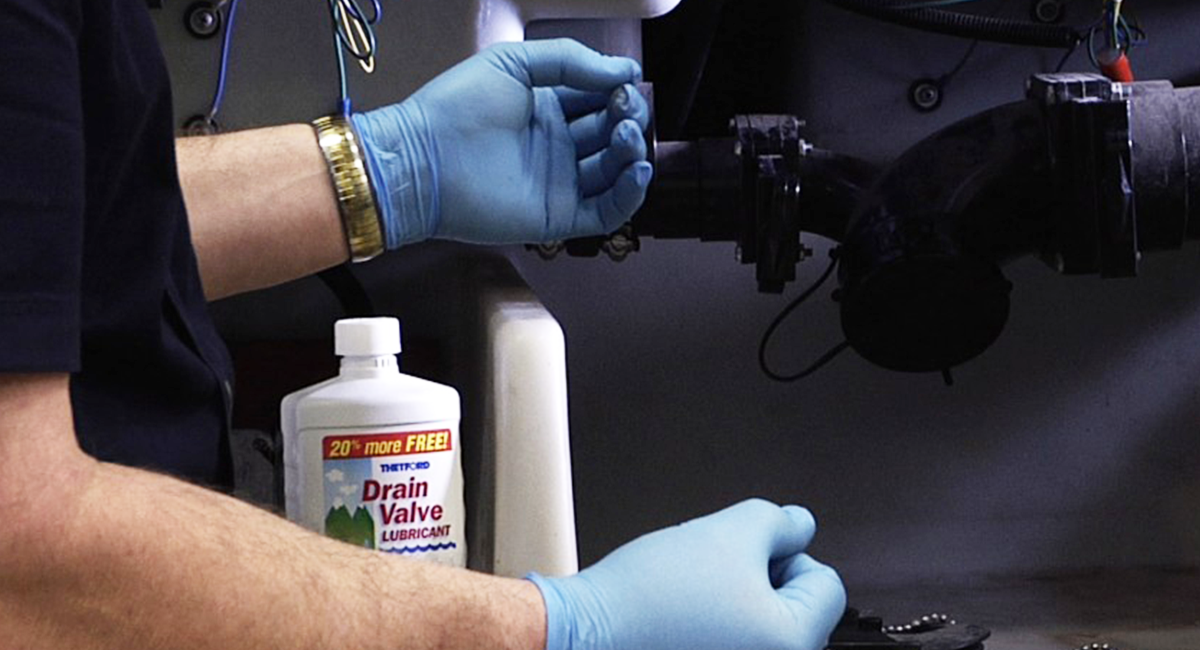 Wear an Approved Mask and Nitrate Gloves
Most RVers already have some type of these to dump the tanks. A box of 50 nitrate gloves (7mil) is only about $5 at Harbor Freight or online. But don't think that wearing gloves automatically protects you. You need to still be mindful of what you touch, and you need to remove the properly with proper hygiene. Click here for more information on putting on personal protective gear from the CDC.
Carry Hand Sanitizer
Have this handy and use it before going into a facility and after coming out, even with the gloves!
Don't Use a Public Bathroom
You are already RVing, so you have your own safe and sanitized bathroom following you around!
Have an Abundant Supply of Disinfectant Wipes
Most locations that are still open have hand sanitizer at the entrance and disinfectant towels. Some places like our local grocery store and Walmart has a person at the entrance that wipes the entire cart down for us! But just in case, have some handy for other locations.
Be Prepared at the Fueling Location
Have your gloves and mask ready, wipe down the handle and touchpads with a disinfectant wipe, and prepay outside.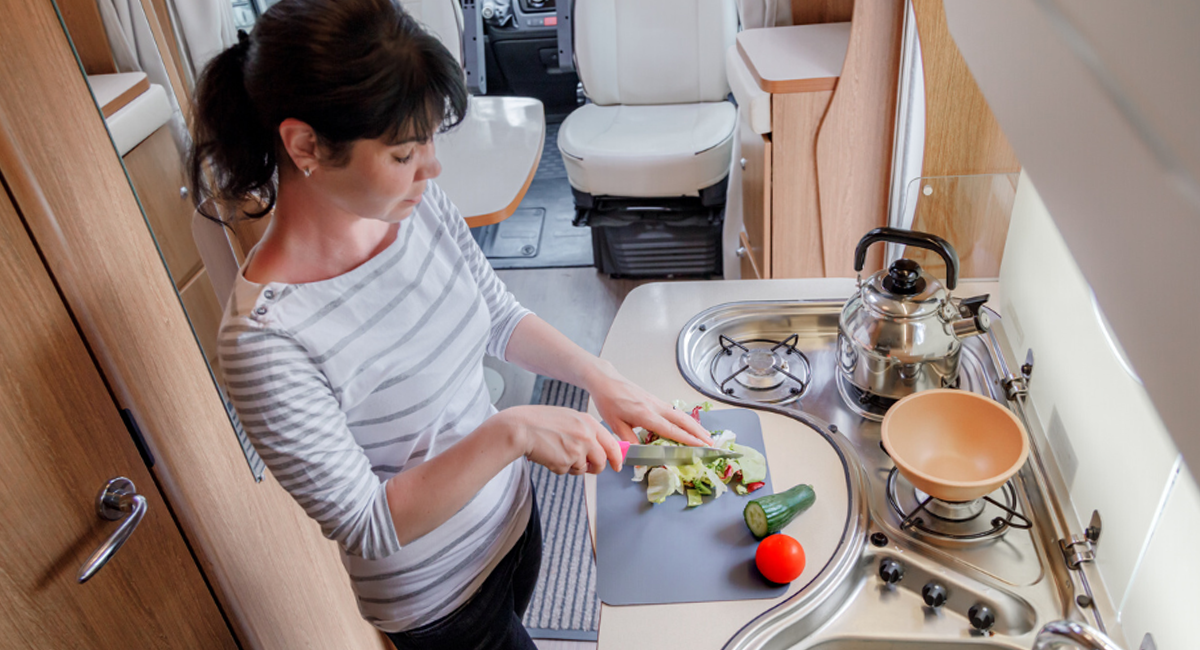 Cook Your Own Food
You will find it hard to get your truck and trailer and especially big rigs through the majority of drive-thru locations and even curbside! Semi-truck drivers are having a difficult time finding places to get food outside the large truck stops as they cannot drive through, and most will not allow someone to walk through! If you do want to order from your favorite chain there are quite a few that are offering delivery, and several creative RVers have found a way to park in a large parking lot nearby and have the food delivered the short distance.
Many grocery stores are offering delivery as well. Our local Aldi's delivers as well as HyVee and we just go online and order what we want, pay online, and they deliver. We do pay a tip for the delivery and you don't get to browse for the best-looking fruit or vegetable, but it is a safer alternative than going to the store with 200 other people. Check out how far your site is in their delivery area.

Finding an Open RV Park
In the next few weeks, it seems there will be more campgrounds and parks that will start to open. Use the internet to verify and also call ahead to see if they are open and what restrictions they might have. If you can find a park, make sure you practice the recommendation of the CDC on washing your hands, disinfecting anything you might come into contact with, and staying at least 6 feet away from others. Also, make sure your pets stay away from other pets!
Bottom line, I doubt we will get back to what was normal anytime soon, however, we can get back to doing the things we enjoy with moderation and preparation. Who knew my mother was right all those years ago… "Wash your hands…you have no idea where they have been!"
You might also be interested in: