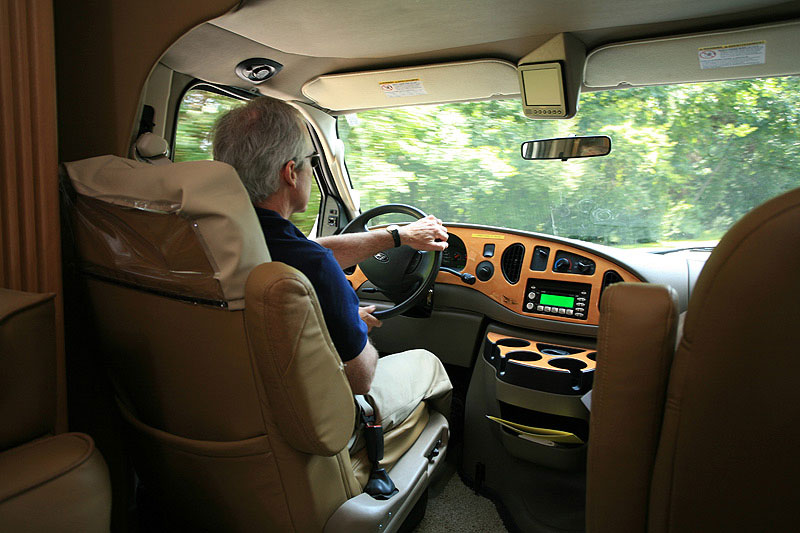 Though they may seem monstrous, RVs are not as difficult to drive and maneuver as they look. With a little patience and practice, you can learn how to drive an RV and it will feel just as easy as driving your car. However, it will take some time to get used to how the RV handles differently. Because of this, you will want to take some time to practice driving your RV before hitting the road on your first cross country getaway.
Handling
A big part in how your RV handles is how you approach different driving situations. Things such as traffic, parking, and braking changes need to be handled based on the situation at hand when traveling. As you're learning how to drive an RV, just remember that no matter where you are driving or what you are maneuvering through, your RV is bigger than a car. Make sure to leave enough space and be aware of all of the vehicles around you.
Before leaving for your road trip, take the time to learn where your blind spots are and work to eliminate them as much as possible. Everything from additional mirrors to cameras can help you eliminate the dangers associated with vehicles getting in your blind spots. Because of the blind spots, try to stay in the far right lane when driving on the highway and avoid moving in an out of lanes when possible.
Parking
One of the best tips on how to drive an RV is to keep on driving forward at all times. Though this is not always possible, it is the easiest way to reduce your chances of running over something when backing up. For example, when parking, try to park in spaces where you can easily pull through when leaving. Better yet, when stopping at rest stops, park where the trucks park. They are larger and offer pull-through parking, making it easier to leave.
Braking
Because of the size, braking with an RV will take longer than in your car. When learning how to drive an RV, make sure to have patience when in traffic and always allow ample room between you and the vehicles in front of you. Many drivers do not understand the distance it takes for an RV to come to a complete stop, so make sure to watch out for others who pull in front of you and pull back to give yourself enough space. It is best to keep a four- to six-second gap between you and the car in front of you. If you are towing a vehicle behind, make sure to allow additional time and distance when it comes to braking.
Turning
Turning an RV requires a larger radius than when in a car. Taking a turn too sharp could end you up on your vehicle's side or up on the curb. You also need to be careful when turning and make sure you stay in your own lane. To do so, simply pull out further into the intersection before starting to turn the wheel.
Wind
Wind can have a huge influence on how your RV handles when on the open road. Everything from aerodynamics, to height and width, to weight will affect how much the wind will hinder your driving. A great tip on how to drive an RV is when the wind starts swaying and rocking the RV, it's necessary to slow down and keep a good grip on the steering wheel.
Owning and driving an RV can be a fun experience. It can open up so many vacation possibilities and give you a sense of freedom. However, because it handles differently from a car, it will take time, practice, and patience to feel fully comfortable with it. If you follow these simple tips on how to drive an RV, you will feel like you have been driving one all your life.
Related video: RV Tips for Quieting Your RV on the Road