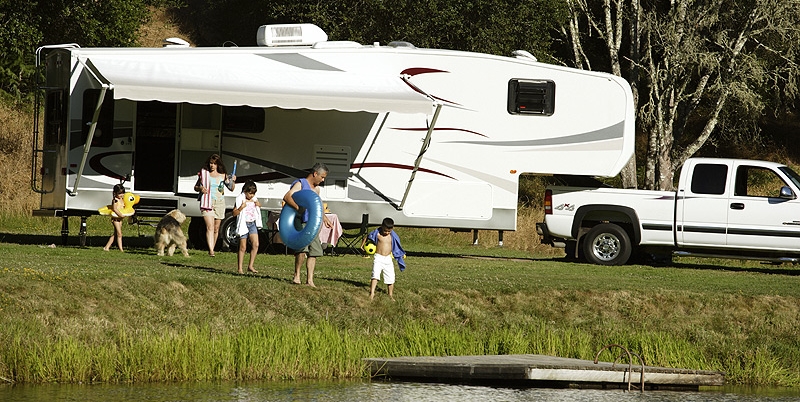 Shopping around for the best RV for your needs can be a lengthy process that requires extensive research and a full understanding of what's available. Based on the type of traveling you're looking to do in your new RV, you'll probably be able to select from a wide range of styles, modifications and RV accessories.
Whether you're in search of a toy hauler, fifth wheel trailer or full-sized motorhome, you should take into consideration everything your journeys will demand and the accommodations you prefer. Better to over-prepare than to discover many miles from home that you overlooked an important detail.
[RV Repair Club Video: 5th Wheel Hookup: A Step-By-Step Demonstration]
For years now we've been huge fans of the fifth wheel trailer. We recommend this type of RV for many reasons, from durability to drivability. If you're considering investing in a fifth wheel for your cross-country adventures, here are a few of our favorite things about this versatile vehicle:
It's shorter, yet somehow roomier
Despite its truncated frame, we've found that the typical fifth wheel actually offers a greater sense of space than the more claustrophobic motorhome. Without a front dash area, fifth wheels boast open and flexible living quarters, as well as high ceilings that make spending time onboard more comfortable for those taller lodgers. Plus, most fifth wheel manufacturers offer a variety of floor plans, allowing you to customize your layout according to your preferences.
It's easy to maintain
When you're out on the road, the last thing you want to worry about is an unexpected engine breakdown. When you opt for a motorhome/towed vehicle combo, you have two engines to care for, whereas with a fifth wheel, you need only consider your tow vehicle.
Repairs on a diesel engine are hassle enough; we don't prefer to throw drivetrain, propane and faulty electrical systems into the mix, if we can avoid it. And as a bonus, if you run into trouble with your truck or SUV and need a tow to the shop, your fifth wheel (your room for the night) and all your vital RV accessories can stay right where they are while repairs are conducted.
It'll fit whatever you've got
If cargo room is high on the list of must-haves for your next RV, you'll find few more capable candidates than a fifth wheel. Unlike the shorter travel trailer or motorhome, these taller tow units tend to offer up overhead cabinets and spaces, as well as a basement storage area with ample space for all the trimmings. Whether you need stowage for bulky luggage or extra RV accessories, you should have no trouble fitting whatever you plan to bring along.
In addition to these select selling points, fifth wheel trailers can be maneuvered in tight spaces with far greater ease than the cumbersome motorhome, simplifying the way you get into and out of campsites and congested areas.
Of course, these practical RVs bear certain shortcomings when compared to other kinds of vehicles, from a generally lower level of security to weaker fuel efficiency under heavy weight, but the upsides of the fifth wheel trailer make it one heck of an option, if it suits your needs. So if you find yourself in the market for a new RV, we hope you'll give the fifth wheel close consideration. We love what it's got to offer, and we think you will, too!