Remembering everything you need to do to set up an RV at a campsite for the first time can be overwhelming! A checklist is helpful to have so that you don't forget anything. Depending on what type of RV you have, your list will vary. Here is what we do when we arrive at a site with our 42-feet fifth wheel!

Check in
There will be signs explaining where to park while checking in. During check-in, you will most likely get a map of the property, info about the park, and a site assignment.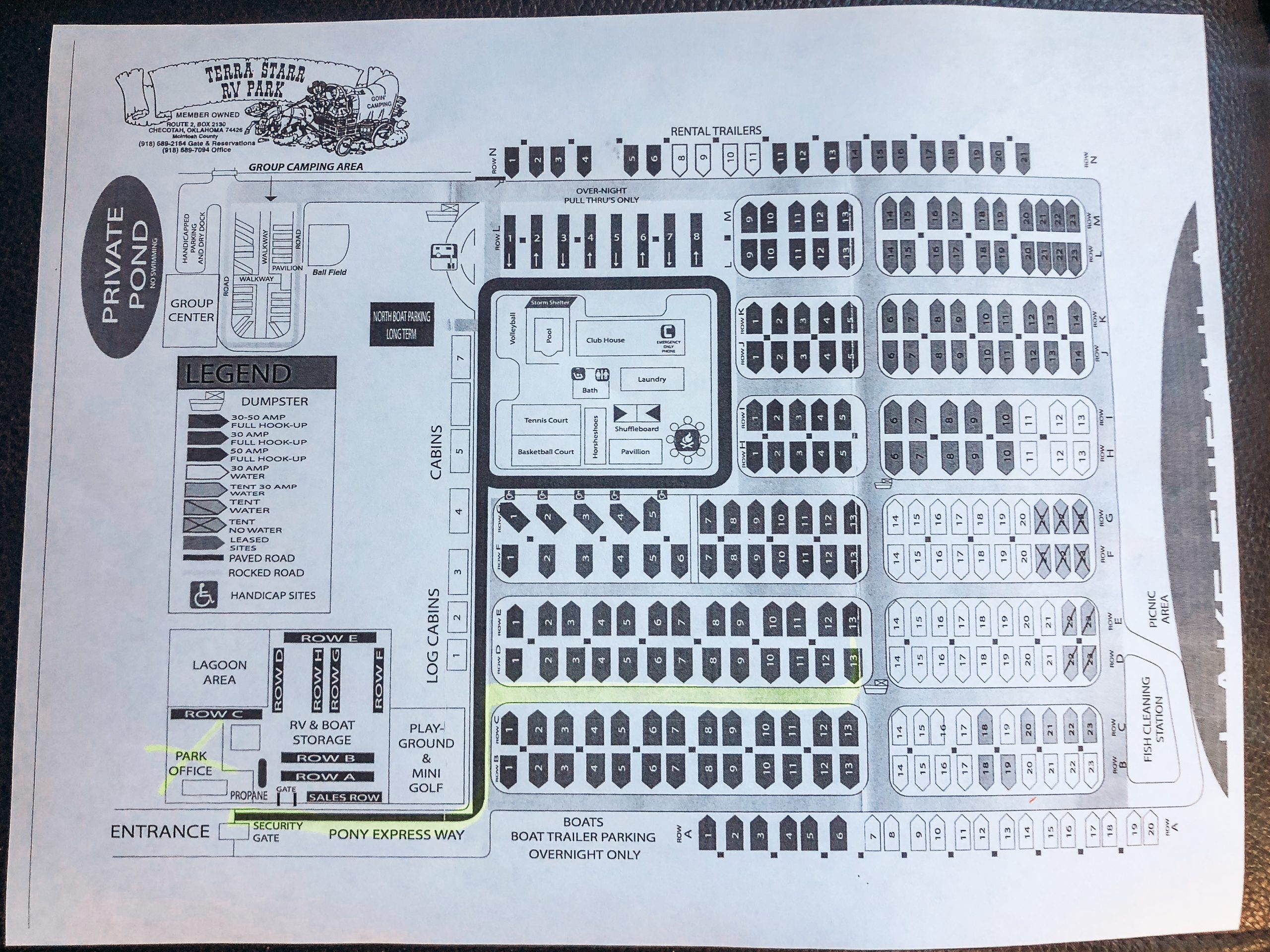 Scout the space
As we pull up, we get out and walk around the site. We make sure there isn't any broken glass or debris in the site that could damage the rig. We take note of where the hookups are, so we know where to place the rig in the space. If you have slides, you'll want to make sure you notice where trees, large rocks, or electrical posts are. You have to make sure your slides will have room to open fully!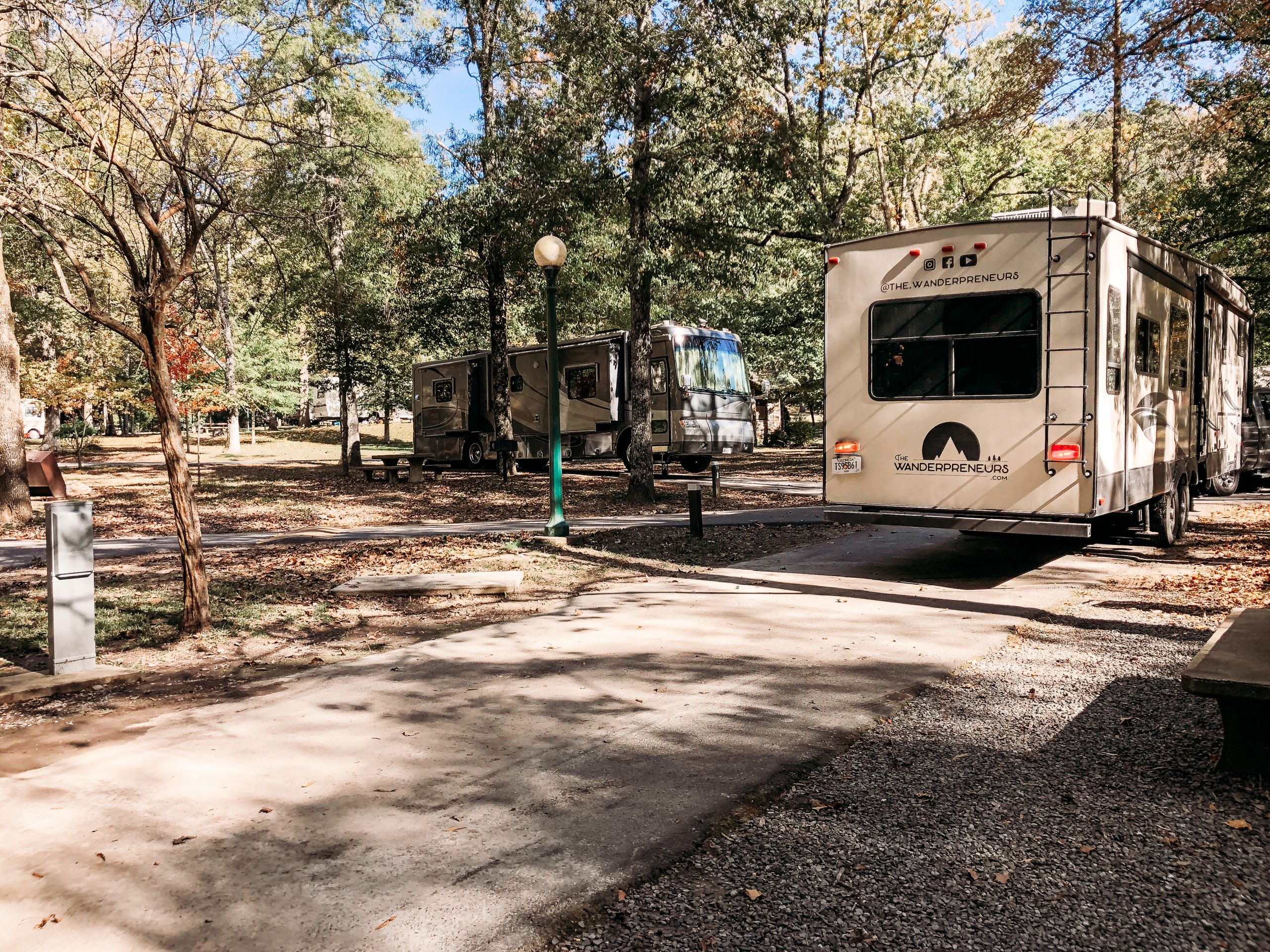 Pull in
The way you pull in will vary, depending on whether you have a pull-through site or a back-in site. Pull-through sites are the easiest to get into. You literally just pull on in! For back-in sites, having a backup camera is extremely helpful. If you don't have one, hopefully you have a partner with you that can assist you! Your passenger should have a walkie talkie (because phones don't always work in spotty service areas) and stand in the back of the site, helping guide the driver in.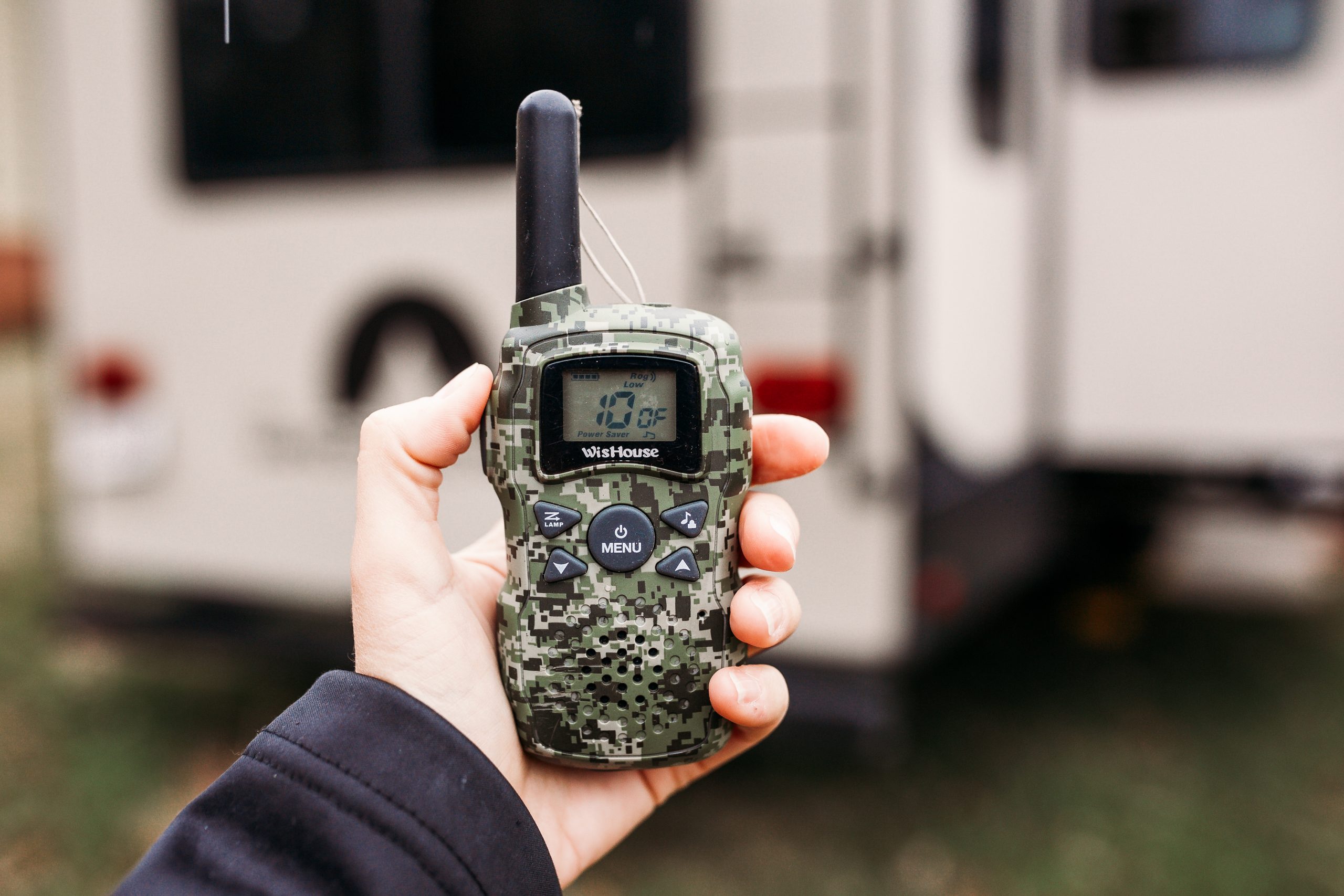 Disconnect the tow vehicle
We manually lower the two front jacks and chock the wheels. Using our automatic leveling system, we raise the RV so the weight is no longer on the truck. We then disconnect the truck and pull away.
Level the RV
We push the "auto level" button and our automatic leveling system levels the rig and brings the rest of the jacks down. Every once in a while, we will get an error code and have to use a level on the back bumper to manually level it.
Connections
First, plug the surge protector into the electric panel. Next, turn on the breaker to make sure it works. Then turn it back off. Plug in the power cord. You now have electricity! Connect the water hose and turn on the water, then the sewer hose, and your outside connections are complete.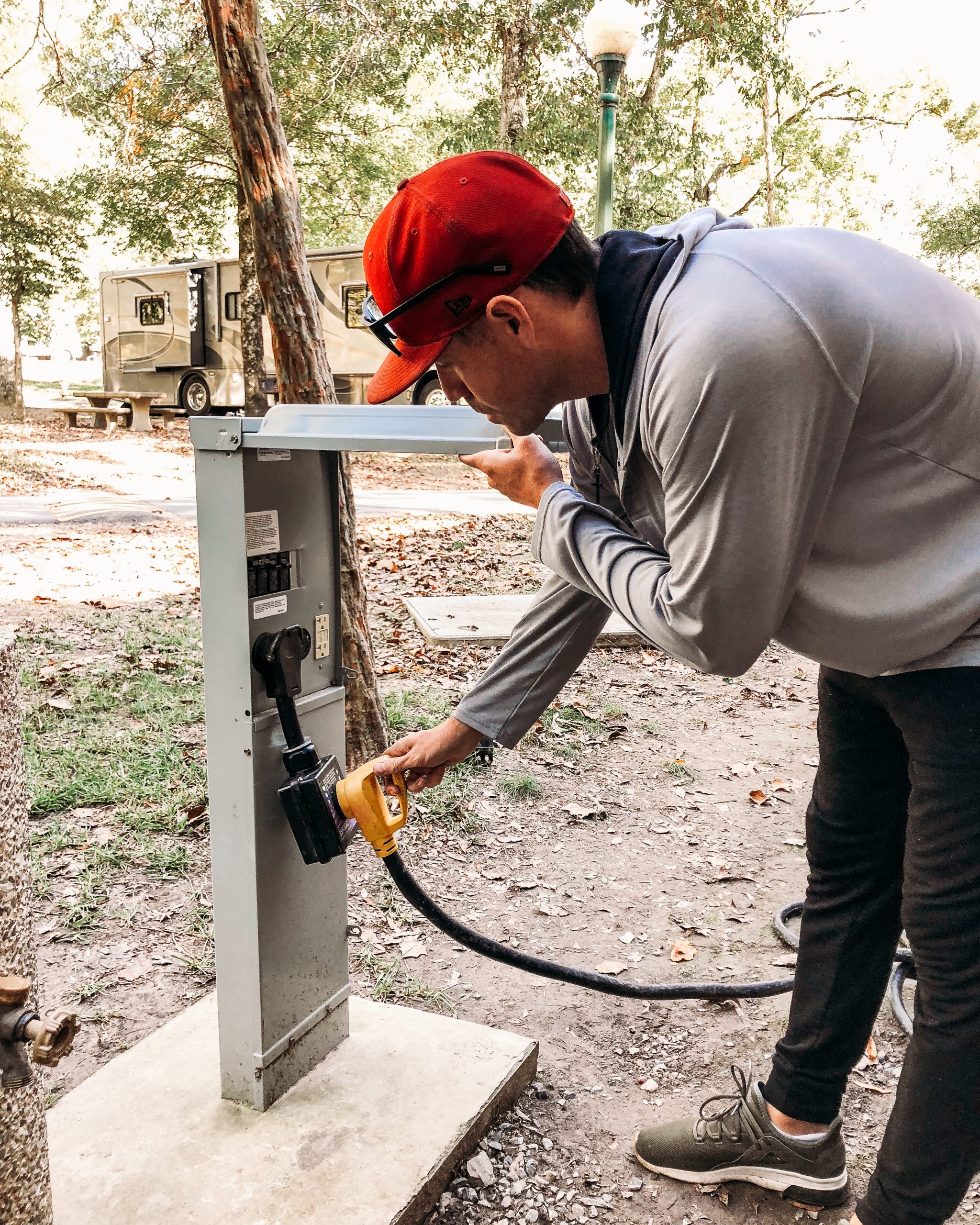 Accessories
While one person is hooking up the connections, another can unload any chairs, rugs, or outdoor accessories you want to set out.
Slides
If your RV has slides, someone can go inside and start opening them up as soon as the rig is level. We like to have one person push the button to open the slide while another person watches the space that is opening up to ensure nothing has fallen or is in the way of the slide opening up. We usually have a few things that need to be straightened up and put back in place once we arrive, so someone has the job of setting up the inside.
As mentioned earlier, setting up will look different for different RV types. I hope this glimpse into our family's fifth-wheel setup is helpful as you make a checklist for your RV!
And while you're at it, download our Ultimate RV Checklist bundle to make sure you don't forget anything!

You might also be interested in this free video: Proper RV Campground Etiquette: Being Good to Your Neighbors.
Other Related Videos:
RV Checklist for Camping: Checking the Campground Source
How to Add an RV Water Filter at the Campground Source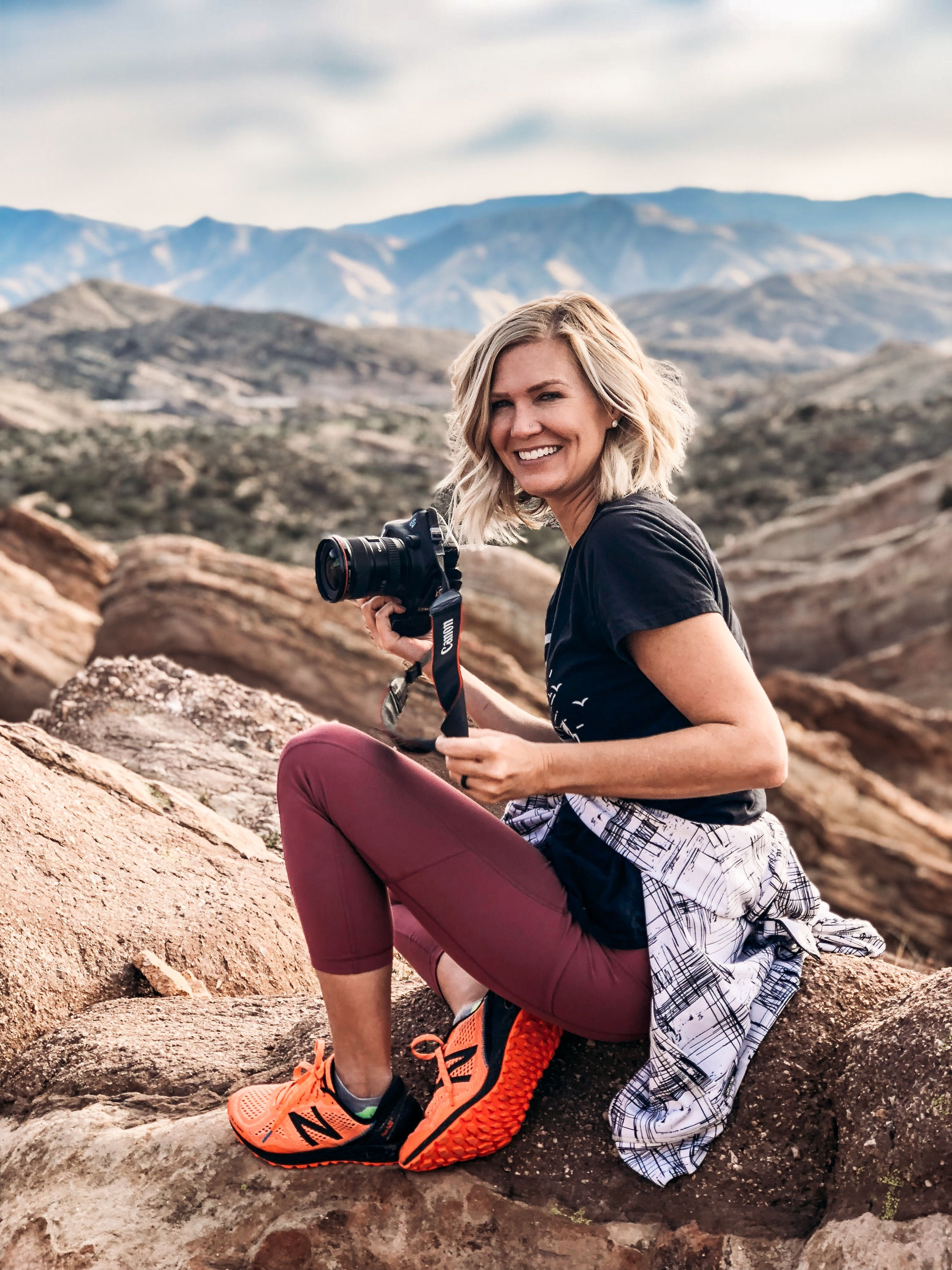 About the Author: Lauren is a wife, mother of two, photographer, blogger and lover of nature and adventure! Currently traveling around the U.S. in a fifth wheel, Lauren and her family seek to live life to the fullest and continue to look for ways to simplify their lives in order to live larger with less. Follow along on their journey by visiting their family travel blog.