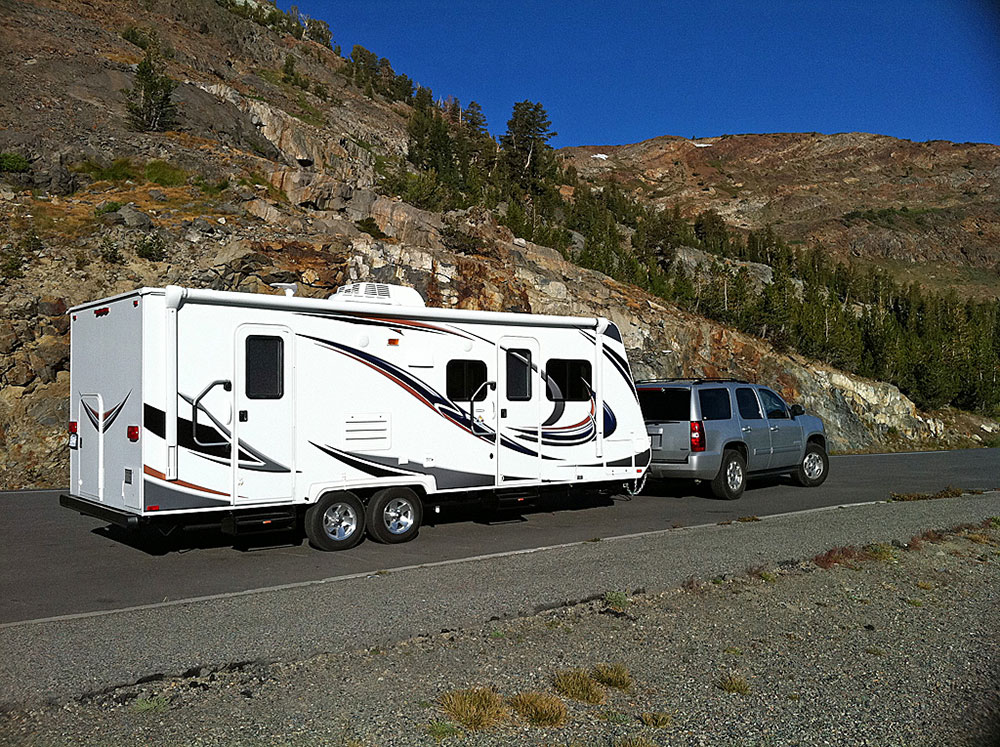 Are you about to head out on a big trip in your RV? There are a couple things you should check first.
Before hitting the road, always take the time to perform a walk-around inside and outside of your rig to make sure everything is disconnected, put away, and stowed properly. Forgetting simple tasks like cranking down the roof antenna, bringing in the entrance steps, or disconnecting water, sewer, or electrical connections can be embarrassing and can cause big damage to your RV.
We've compiled an RV pre-trip checklist for both travel trailers and motorhomes that you can print off and store in your rig as an easy reference guide for the next time you're getting ready or tearing down. Make sure to personalize for your own rig!
Download your free pre-trip checklist here.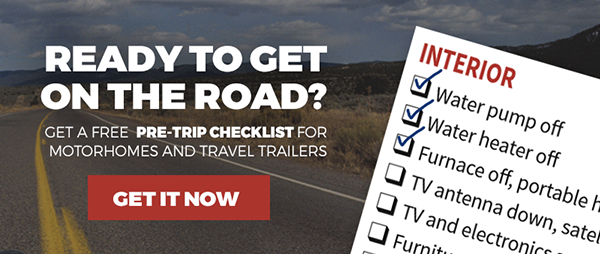 David

RV Make: Fleetwood, RV Model: Pace Arrow 36B, RV Year: 1999

Customer Service

Robert

RV Make: Heartland, RV Model: Northtrail, RV Year: 2012, Brand: Heartland, Model Number: 3QOK

Brian

RV Make: Eclipse , RV Model: Stellar , RV Year: 2008, Brand: Suburban , Model Number: Sfv30f

Customer Service

Ed

RV Make: Chevy, RV Model: G20, RV Year: 1985

Ed Ward

Jasper Rogers

RV Make: Rockwood, RV Model: Signature Ultralight , RV Year: 2015

Robert

RV Make: Bounder, RV Model: 34V, RV Year: 1999, Brand: Bounder, Model Number: 34v

Customer Service

Bradley Turner

RV Make: Grand Design, RV Model: Solitude 2930, RV Year: 2019, Brand: WFCO, Model Number: 9855 - 55 amp PC

Customer Service

Pat Cullen

RV Make: Scottsdale , RV Model: 26 ft travel trailer, RV Year: 2014

Michael

RV Make: Highlander, RV Model: Open range, RV Year: 2016

g j sepaniac

RV Make: TraveLite , RV Model: 625, RV Year: 2025

Customer Service

Harold

RV Make: Montana, RV Model: 37' fifth wheel, RV Year: 2005

Charles Isles

RV Make: roadtrek, RV Model: versatlie, RV Year: 1991

Terry Bridges

RV Make: Tiffin, RV Model: Allegro Open Road, RV Year: 2016, Brand: Tiffin, Model Number: 36UA

M

RV Make: Winnebago, RV Model: Adventurer, RV Year: 2002

Daniel Cleveland Murray

RV Make: winnebago, RV Model: adventurer, RV Year: 2002

Lynne A Lennon

RV Make: 4 Winds Thor, RV Model: Hurricane , RV Year: 2006

Lynne A Lennon

RV Make: 4 Winds Thor, RV Model: Hurricane , RV Year: 2006

Frank Faulkner

RV Make: Thor, RV Model: Palazzo 36.2, RV Year: 2015

Raymond Deckard

RV Make: Winnebago, RV Model: Adventurer 35WP, RV Year: 1999 (1998 Chassis)

Customer Service

Birne

RV Make: Newmar, RV Model: Dutchstar, RV Year: 2006

Customer Service

Micheal

RV Make: Cougar 30 ft TT, RV Model: Cougar, RV Year: 2015

Bill

RV Make: Ceder Creek, RV Model: Silverback 37MBH, RV Year: 2016, Model Number:

Paul Dunbar

RV Make: Heartland, RV Model: North Trail, RV Year: 2016

Thomas

RV Make: Trail sport. R vision, RV Model: 23 RBS, RV Year: 2013

Vincent Annunziata

RV Make: Sunnybrook , RV Year: 2002

Vincent Annunziata

Eldora Campbell

RV Make: Georgieboy, RV Model: Landau, RV Year: 1999

Customer Service

Galen

RV Make: Itasca, RV Model: 40TD, RV Year: 2007

Galen

Rob

RV Make: Fleetwood, RV Model: Bounder Diesel 39Z, RV Year: 2002

Customer Service

jerry steele

RV Make: casita, RV Model: 17 ft, RV Year: 08, Brand: dometic

Customer Service

Thurman

RV Make: Cruiser, RV Model: FunFinder 241LRK, RV Year: 2015

Customer Service

Betty

RV Make: 5th wheel, RV Model: Pinnacle , RV Year: 2016, Brand: Jayco, Model Number: 38flsa

Customer Service

Jim

RV Make: Grand Design Reflection, RV Model: 297RSTS, RV Year: 2017

Customer Service

Thomas

RV Make: Winnebago, RV Model: minnie winnie 31K, RV Year: 2017

Glen

RV Make: Forrest River, RV Model: Wildwood 230bh X-Lite, RV Year: 2016

Bill Taylor

RV Make: thor fourwind 34' , RV Model: Hurricane, RV Year: 2009

Customer Service

Lyn

RV Make: Winnebego, RV Model: Ultimate Advantage, RV Year: 2002

buddy flint

RV Make: Ketstone, RV Model: fith wheel HM356BH, RV Year: 2016

Rick Jordan

RV Make: Holiday Rambler, RV Model: Scepter, RV Year: 2007

david voelker

RV Make: overland, RV Year: 1984

david voelker

Robert Putney

RV Make: Travel supreme, RV Model: Alanti, RV Year: 2007

Jerry Garner

RV Make: Fleetwood, RV Model: Bounder, RV Year: 2016

Loyd

RV Make: TIFFin, RV Model: 34 QFA. , RV Year: 2013 RED

George

RV Make: Fleetwood, RV Model: Terry 18D, RV Year: 1991, Brand: Terry, Model Number: 18D

ken

RV Make: jayco, RV Model: feather lite, RV Year: 2014

Starling g

RV Make: coachman, RV Model: freelander, RV Year: 2017

Paul

RV Make: venture, RV Model: sonic, RV Year: 2017, Brand: norcold

Customer Service

Cesar Eugenio

RV Make: Winnebago, RV Model: Vista 26HE, RV Year: 2016, Brand: Winegard slimline, Model Number: SK-SWM#

Angel

RV Make: coachmen, RV Model: Mirada, RV Year: 2010, Brand: Coachman, Model Number: Mirada

Customer Service

Gary

RV Make: Nash, RV Model: Travel Trailer 26', RV Year: 2006

Customer Service

Cliff

RV Make: Winnebago, RV Model: Journey 40U, RV Year: 2012

A. Black

RV Make: Winnebago, RV Model: Aspect, RV Year: 2011

John

RV Make: newmar, RV Model: 35 ft 5th wheel, RV Year: 2006

ARLENE

RV Make: Crossroads, RV Model: Zinger QB30, RV Year: 2017

Customer Service

John

RV Make: newmar, RV Model: Cyprus, RV Year: 2006, Brand: Newmar, Model Number: Cyprus

Customer Service

Johnnie

RV Make: Forest River, RV Model: Cedar Creek, RV Year: 2007

Johnnie

RV Make: Forest River, RV Model: Cedar Creek, RV Year: 2007

james

Carol

RV Make: Thor, RV Model: Freedom elite 23h, RV Year: 2017

RENEE MABE

RV Model: keystone bullet 243bhs, RV Year: 2016

Gary Dick

RV Make: Four Winds, RV Model: Dutchman, RV Year: 2007

ted

RV Make: Bounder, RV Model: H35, RV Year: 2008/47000 miles, Brand: Norcold, Model Number: 4 door

Wendy

RV Make: Fleetwood, RV Model: Bounder, RV Year: 2000

jordana

RV Make: rockwood, RV Model: signature ultra light, RV Year: 2009

Patricia

RV Make: Rexhall, RV Model: American Clipper, RV Year: 2004

James

RV Make: Forest River, RV Model: Georgetown 128st, RV Year: 2016

Frank Spears

RV Make: Forest River - Crusader, RV Model: 297RSK, RV Year: 2017

Customer Service

Shari Nelson

RV Make: THOR, RV Model: JAZZ, 2760RL, RV Year: 2004

Charles Spencer

RV Make: Fleetwood, RV Model: Bounder, RV Year: 2008, Brand: Fleetwood, Model Number: Bounder

Don

RV Make: Rockwood, RV Model: 8329ss, RV Year: 2014, Brand: Rockwood , Model Number: 8329ss

Robert Best

RV Make: Terry, RV Model: G30, RV Year: 1995, Brand: Unknown, Model Number: Unknown

Customer Service

Camilla

RV Make: Winnebago, RV Model: Vista, RV Year: 2016

Jim Hauschild

RV Make: Forest River, RV Model: Georgetown, RV Year: 2006, Brand: DOMESTIC, Model Number: 2652/2852

James Lanier

Tim

RV Make: Thor, RV Model: Freedom elite, RV Year: 2012

Victor Franzen

RV Make: Heartland , RV Model: Gateway , RV Year: 2015

Frank

RV Make: Class C, RV Model: 31L, RV Year: 2016, Brand: Four Winds, Model Number: 31L

Customer Service

Bradley Turner

RV Make: Grand Design, RV Model: Solitude 2930, RV Year: 2019

Allen Gabroy

RV Make: Winnebago, RV Model: Itasca, RV Year: 2013

Juan. Lovato

RV Make: Redwood , RV Model: 36RL, RV Year: 2013

Luther

RV Make: Sunnybrook, RV Model: 33CKTS Titan, RV Year: 2008

Gary Edwards

RV Make: Tiffin, RV Model: Open Road 34PA, RV Year: 2016

Mac

RV Make: pace arrow, RV Model: 37A, RV Year: 2003

Patty archuletta

RV Make: Ford, RV Model: Class c, RV Year: 1991

Shirley Lick

RV Make: Heartland, RV Model: Bighorn 3570, RV Year: 2013

DEMPSEY

RV Make: Tiffin, RV Model: Allegro Bus, RV Year: 2006, Brand: Norcold Refrigerator, Model Number: 1200

James

RV Make: monaco, RV Model: Cayman, RV Year: 2002

Rebecca

RV Make: Ford, RV Model: Majectic, RV Year: 2004

Irene Y Gaines

RV Make: Fleetwood , RV Model: Providence , RV Year: 2013

Robert Mayer

RV Make: Fleetwood, RV Model: Bounder, RV Year: 1987

Ron

RV Make: Thor, RV Model: Vegas 25.4, RV Year: 2018

John LaPointe

RV Make: Montana Big Sky, RV Model: 3295rk, RV Year: 2004

Daniel Soulier

RV Make: Airstream, RV Model: Flying Cloud 25FB, RV Year: 2017

Timothy meidlinger

RV Make: Thor, RV Model: Freedom elite, RV Year: 2013

Paul Angeli

Paul Angeli

Scott

RV Make: Rockwood, RV Model: Ultra light, RV Year: 2010

Steve

RV Make: itasca, RV Model: navion, RV Year: 2016

Customer Service

Larry

RV Make: Tiffin, RV Model: Allegro, RV Year: 2018, Brand: Tiffin, Model Number: Allegro 32sa

Harold

RV Make: Montana, RV Model: 3075RL, RV Year: 2010

Harold

Harold

RV Make: Montana, RV Model: 3075RL, RV Year: 2010

Precious Davis

RV Make: Holiday Rambler, RV Model: Neptune, RV Year: 2006

glen53

RV Make: dutchman, RV Model: 295BHGS, RV Year: 2013

Randy

RV Make: Thor, RV Model: Hurricane, RV Year: 2008

Customer Service

gwcoyne1147

RV Make: Four Winds, RV Model: Hurricane, RV Year: 2004, Brand: Thor, Model Number: 30Q

Customer Service

gcsage

RV Model: Holiday Rambler, RV Year: 1991

William

RV Make: ATI Avenger, RV Model: 14 RB, RV Year: 2014, Brand: Avenger, Model Number: 14 RB

Customer Service

DianaShanahan

RV Make: Jazz, RV Model: R2760 RL, RV Year: 2005

dpgower

RV Make: Open Range, RV Year: 2018

Thelma

RV Make: Tiffin , RV Model: Allegro Red, RV Year: 2011

Customer Service

Julie Howard

RV Make: Rockwood, RV Model: 2511s, RV Year: 2021

Clifford Payton

RV Make: Jayco, RV Model: Precept, RV Year: 2019

George Hageman

RV Make: Tiffin, RV Model: Allegro RED, RV Year: 2016

Marilyn

RV Make: Tiffin, RV Model: Phaeton40GH, RV Year: 2004

Steven Peterson

RV Make: Winnabago, RV Model: Minnie Minnie, RV Year: 2006

Corina Ferreyra

RV Make: Tiffin, RV Model: 34PA, RV Year: 2018

ROBIN

RV Make: Winnebago, RV Model: Minnie, RV Year: 2004

Brian Doerner

RV Make: Four Winds 5000, RV Model: 22RB, RV Year: 1999, Brand: Atwood

Jani

RV Make: Itasca Navion, RV Model: 24M, RV Year: 2013

Customer Service

Greg

RV Make: Ketstone, RV Model: Cougar, RV Year: 2014

Customer Service