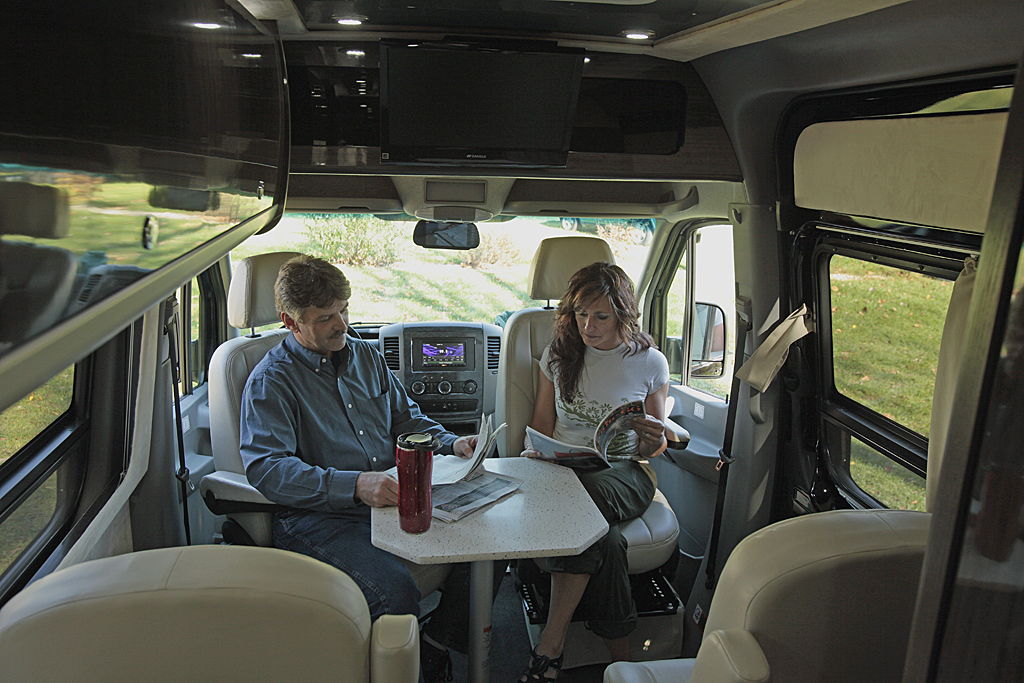 It doesn't matter if you've been married for 25 years or are newlyweds – heading out on the open road in a small RV can sometimes be stressful on even the strongest of couples. After a while of being alone in the RV with your spouse or partner, you may start to feel cramped and crowded.
Don't let the stress of RV travel get the best of your relationship. Work together and find a way to enjoy your time together and make your road trip the best it can possibly be. Here are some tips to ensure you both make it back home in one piece:

While planning your RV trip, you will probably make a list of campsites to stay at, places you want to see, and things you want to do. But make sure you leave room in your schedule for relaxation. Try leaving a day where you plan on doing nothing for the entire day – no chores, no plans. Make this day your day to just sit back and relax.

Before you leave, determine who will be responsible for what while traveling. RV chores include cleaning, cooking, maintenance, and sewer dumping. Knowing who is responsible for what before leaving will reduce any arguments when it comes time to take care of your RV.

If for some reason there is stress between the two of you, try not to stay angry. The longer you stay angry, the less likely you are to enjoy your time together on the road.

An RV does not offer up a lot of room for each spouse to have his and her own personal space while traveling. However, just like at home, you will likely want a space to call your own. This may be a drawer or cabinet for your own items, or even a designated area that you can spend time in – some place that's just for you.

While traveling in your RV, make plans for the two of you to get away from the unit. This includes going for a walk, visiting local monuments, or heading out for a nice dinner away from your tiny kitchen.
You may also want to plan time away from each other. Just like having your own personal space inside the unit, you might want some personal time away. This could include going for a walk on your own, going for a swim, or shopping for supplies.

Be friendly with other RVers at your campsite and try to make new friends. This will give you another couple to spend time with, enjoying a night around the picnic table or campfire, or exploring the surrounding area.
Getting away long-term with your spouse or partner and hitting the open road in your RV is an amazing experience the two of you will cherish forever. You will return home with plans of your next RV road trip already started in your head. Just remember to relax and enjoy your time together.