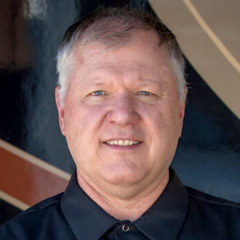 Check Clearance Lights During Annual RV Maintenance
Dave Solberg
Inspecting your front-end clearance lights is an important part of yearly RV maintenance, and this video takes you through the process.
This procedure is important because the lenses on the lights can crack or the seals can come loose, allowing moisture to penetrate. The moisture may do damage by dripping down the front of the RV or going along the frame rail into the bedroom.
Visually inspect every clearance and marker light looking for gaps in sealant, cracks in the lens, or signs of moisture penetration. If one of the fixture is suspect, remove the lens cap to inspect the base fixture and sealant. Some lens caps simply snap off while others have fastening screws that need to be removed. Even after unscrewing them, you might find the lights are still stuck on – especially if they haven't been removed in a while. If an extra nudge is needed, use the tip of your screwdriver to pry the lights off gently.
The next step in this RV maintenance task is to check the bulb and the seal. In some cases, you'll find the gasket has deteriorated or been partially damaged. If it's badly deteriorated, you should replace it, but if the damage is minor, you can silicone it back in. If you silicone it, make sure it gets completely sealed all around and give it time to set.
After you silicone or replace the gasket, screw the light back in with a manual screwdriver. Using a screw gun for this RV maintenance job can backfire. It's easy to over-tighten the screws and crack the lens, causing the very problem you've been trying to prevent.
Along with your other routine RV maintenance, check the front-end clearance lights once a year to make sure you don't have any moisture penetration. Look at all your clearance lights while you're at it. Even the back lights – the marker lights – need to be well sealed or you'll get water flying up and wicking inside as you go down the road.
Explore videos by Dave Solberg