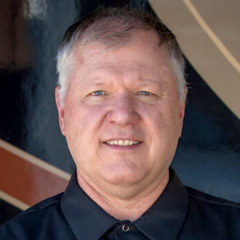 RV Battery Maintenance: Checking Battery Charge
Dave Solberg
RV battery maintenance has just become easier! The 12-volt deep cycle battery or batteries of your house system must be properly charged to prolong their life and reduce sulfation. You can check not only the current state of charge in your house batteries but also the charging system of your converter with a multi-meter.
House batteries are typically located in a vented compartment on the side of an RV or inside underneath the steps in the case of basement models. Travel trailers usually have the 12-volt deep cycle house batteries on the trailer tongue, and fifth wheel house batteries are in a front compartment.
Use a simple multi-meter connecting the red wire to the positive side of the battery and the black to the negative side. A typical 12-volt deep cycle house battery should read approximately 12.4–12.6 volts.
A multi-meter can also be used to check the charging system of the RV electrical distribution center and its power converter or battery charger. Once again, place the red lead on the positive and black lead on the negative. Plug the shoreline power cord into a 120-volt receptacle and you will find the system may provide up to 14.5 volts of charging power.
This can also be done by starting the generator if it's connected to the distribution center either with a j-box or manual plug in or an automatic transfer switch known as an ATS. During this procedure, you should see the normal 12.5 volts climb to approximately 14.4 volts or more.
Some units will provide a charge to the house batteries while driving down the road via the engine alternator. Motorhomes with this feature will have a momentary switch while travel trailers will connect using the 7-pin connector on the pigtail to the tow vehicle.
While connected, start the engine of the motorhome or tow vehicle and using the multi-meter, you will be able to verify a charge coming to the house batteries.
14

Responses to "RV Battery Maintenance: Checking Battery Charge"
Popular All RV Lifestyle & Repair Videos videos
Explore videos by Dave Solberg