Editor's note: A familiar name to many RVers, Sue Bray has worked in the RV industry for 35+ years. Over the summer, Sue, her husband Mel, and their boxer Harley took off to tour the country in their 31' fifth wheel, with no exact plans except to have an adventure. She'll be chronicling their trip as well as sharing lessons learned along the way in this new ongoing blog series.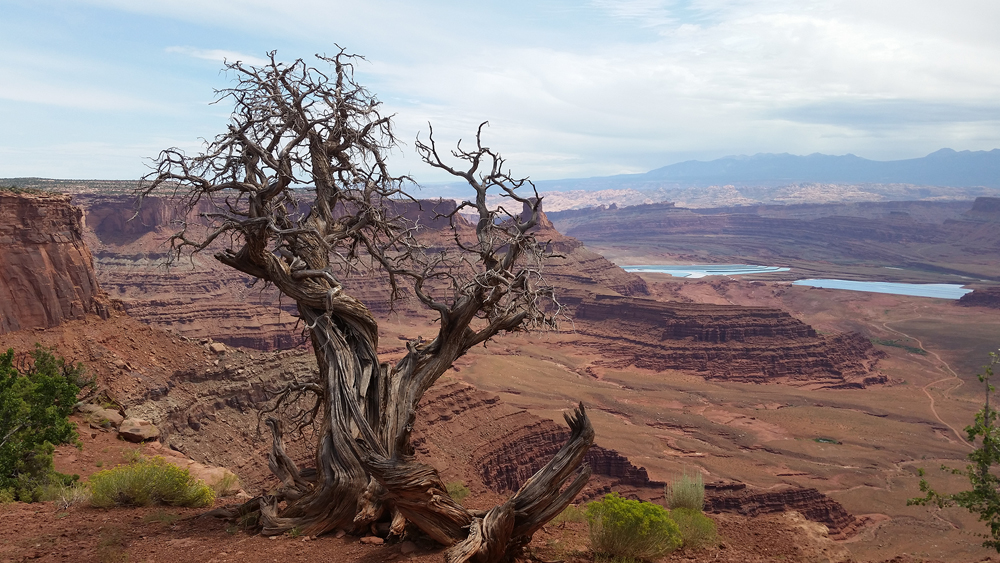 Dead Horse Point State Park… not such a great name or backstory, but such a beautiful spot to visit.
Often overshadowed by Utah's magnificent national parks, Dead Horse is definitely worth a visit. Only a few miles from Arches, turn on to Utah 313 and travel 22 miles on paved roads to the park entrance. (Note the federal America the Beautiful passes don't work at Dead Horse as it's a state park, and you will have to pay the admission fee – $10 per vehicle and $5 for seniors.)
Dead Horse Point State Park is well worth that admission fee. As you drive out to the tip of the park, the road passes through a narrow neck with so little room on each side that it almost isolates the point from the rest of the Utah plateau. In 1800s, cowboys would drive wild mustangs to this tip, where it was easy to corral them with a 30 foot fence so that the better horses could be selected and sold. Supposedly, one group of horses was abandoned in this area, and because there was no way out, all died due to lack of water. A gruesome story, but that's how Dead Horse Point got its name.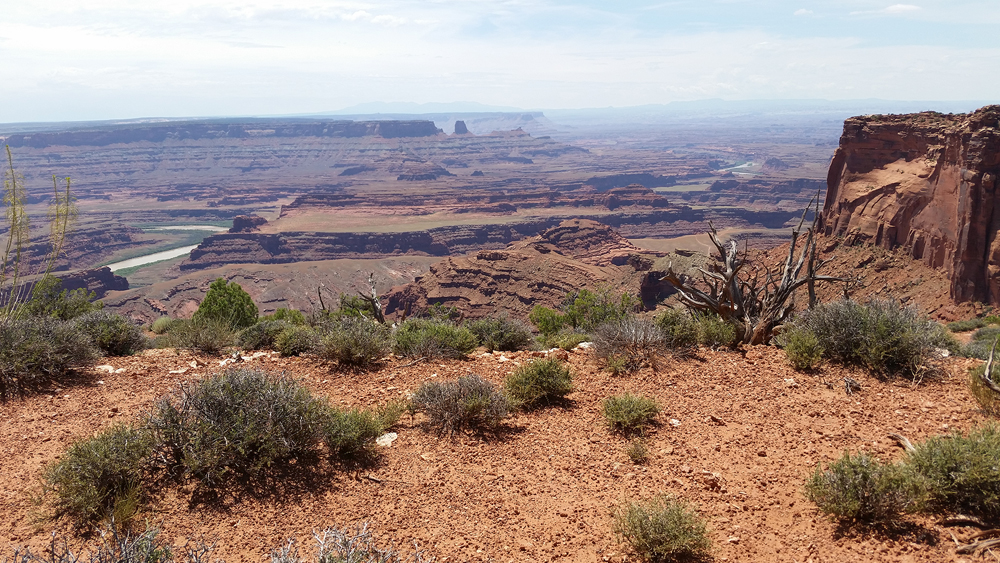 This tip towers 2000 feet above the canyons created by the Colorado River, which are actually part of Canyonlands National Park. The river makes an amazing goose-necked loop below the park, which is one of the most photographed spots in the state. The canyon walls expose layer upon layer of sandstone, mudstone, and limestone formations created 200 to 300 million years ago. And in the distance, the beautiful La Sal Mountains provide an amazing backdrop.
There's a great campground right in the park, but only offering 21 RV sites with partial hookups. It's best to reserve early through Reserve America to get a space, and the longest site is 45 feet long. Unfortunately, we did not do this – we simply drove our tow vehicle over from our Moab campground.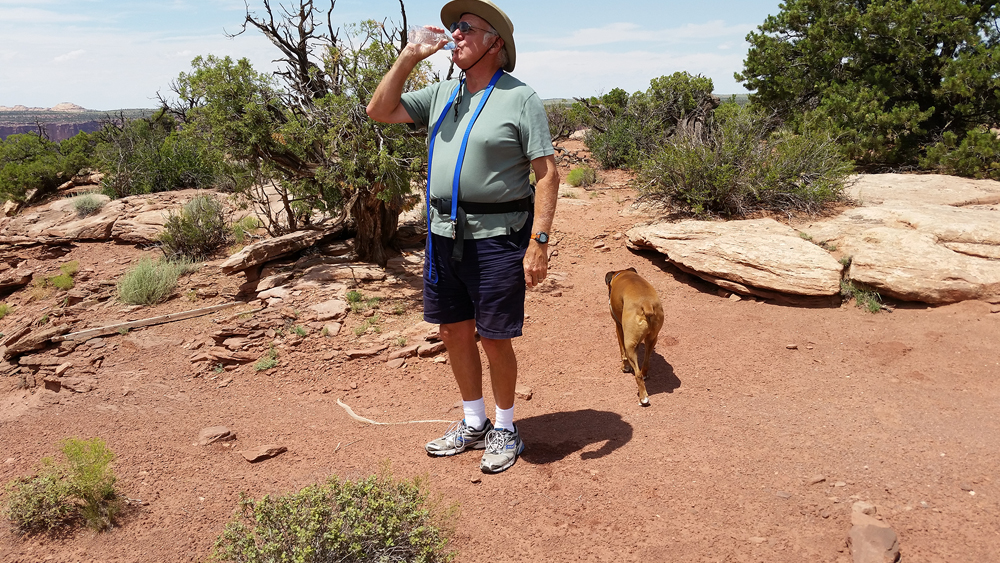 We did complete a fantastic hike through the park though – leaving the parking area at the tip of the park, we walked to the Visitor Center, which also houses a small museum, which is very informative. We then crossed the road and picked up the west trail – all about a 7 mile walk round trip. There are lots of overlooks to view the canyons and the river, but many do not have guard rails… so be careful! Best of all, Harley (our boxer dog) was allowed on these trails as long as he was on a leash. The park has recently opened the Intrepid Trail System – a longer series of trails designed for mountain biking, with incredible views along the way.
The park is very small by Utah standards, and makes a great half-day destination for some hiking and a picnic lunch. Even if you only have a couple of hours, it's a great drive with spectacular views on all sides. You can learn more about Dead Horse Point here.
Until next time…
Related Video: RV Tips for Quieting Your RV on the Road