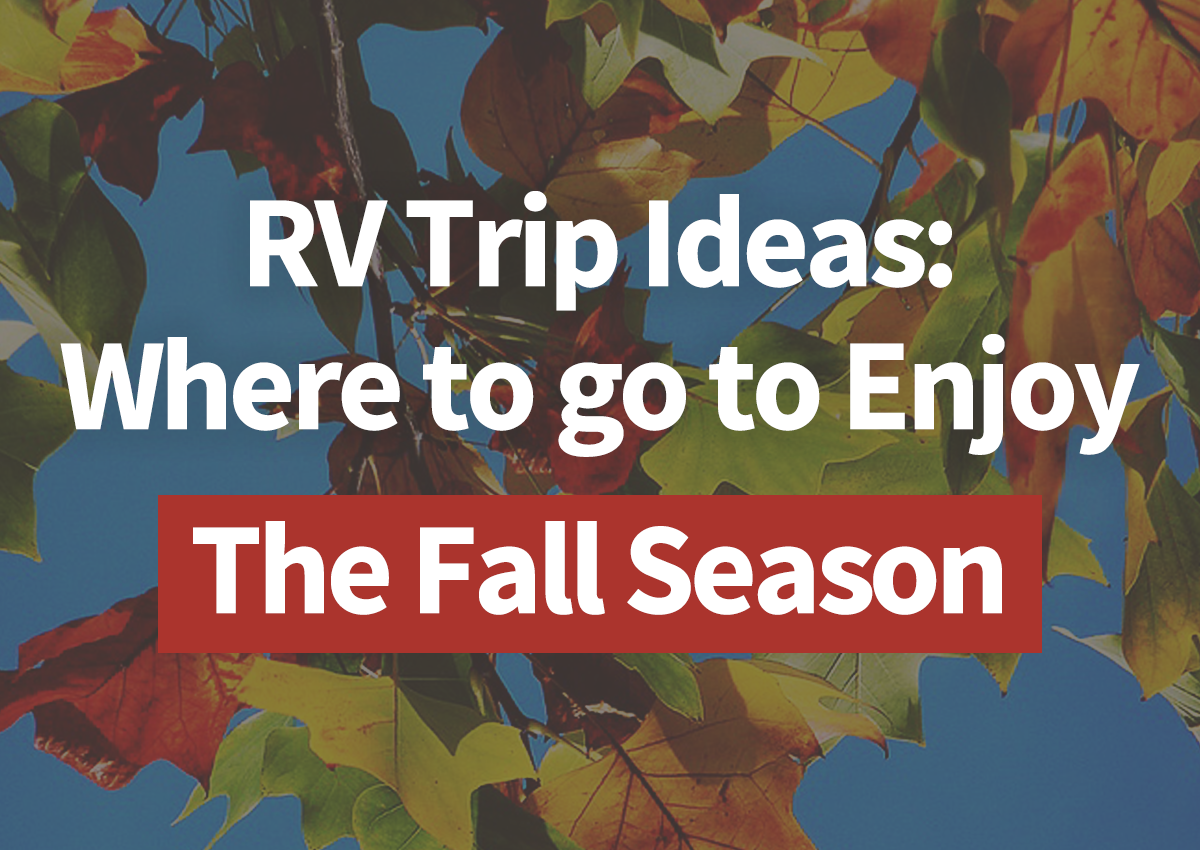 Growing up in the Midwest, fall was one of my favorite times of the year and still is today. Even with the brutal temperatures and winter storms looming just around the corner, fall still presents a calmer, picturesque time of the year.
When I think of fall I remember the smells. Crisp, cool mornings that fill your lungs with fresh, clean air; the first campfire in the backyard with marshmallows and hot dogs on sticks; warm treats like hot chocolate and hot apple cider with cinnamon; and of course, pumpkin pie.
No matter your favorite hobby or your definition of fun, fall offers something for everyone. A fall trip in the RV could include following the changing foliage colors, attending harvest festivals, going hunting, or traveling to watch sports like football or the World Series.
Chasing Fall Colors
Every part of this beautiful country has its own unique festival, color tour, or harvest experience that will provide a lifelong memory. If you are looking for the utmost in color, keep in mind that typically the first trees to turn are maples and oaks which can start as early as late August or September. The second color turn are birch and aspens, however Mother Nature can turn your color tour into a black and white adventure in a hurry with a sudden cold snap or excess wind. Luckily we have resources to help us predict these changes; for example the Weather Channel maintains a map of current foliage conditions throughout the country.
Regional Fall Activities
Here are some of my favorite regions in the country to visit in the fall, as well as some key sites, activities, and festivals to check out:

1. Alaska

Either going up through Montana and Banff, or into British Columbia and then to the Alcan, an RV trip to Alaska is a once a lifetime experience. Get a Milepost Magazine and plan your trip in such a way to start coming back in mid-September. You can stretch it some years into October but every year is different. Depending on the weather conditions, the Caribou start migrating south when the temps fall and the other animals become hard to see, but the colors are breathtaking.

2. Southwest

There's nothing better than the Chile Festivals in New Mexico and other parts of the Southwest. The National Hot Air Balloon Festival dots the skies with an incredible array of colors and several festivals feature a tapestry of colors and cuisine. Visit www.newmexico.org for more information.

3. Midwest

I may be biased, but the Midwest offers some of the most beautiful fall foliage tours in the country. Northern Minnesota, the Upper Peninsula of Michigan, and the Mark Twain National Forest in Missouri are at the top of the list. Tours along the Mississippi and Missouri Rivers offer breathtaking views of fall color as well as wildlife, particularly bald eagles. If you're in the southern Minnesota area, the National Eagle Center is definitely worth a visit. The National Parks Service also has good information on viewing wildlife throughout the country.

One of my favorite fall festivals is the old-time "threshing" events. Threshing is the old method of harvesting crops and in my opinion nobody does it better than Heritage Park in Forest City, Iowa. With the support of Winnebago Industries, they have developed a full-scale working farm which features impressive collections of steam traction engines, prairie tractors, threshing machines, crawlers, flywheel engines, row crop tractors, and much more. This year's event has come and gone, but you can still check out the Heritage Park website to start planning for next year.

4. Northeast

Acadia National Park, Adirondacks Region, Shenandoah National Park in Virginia, Blue Ridge Mountains… my list of favorite spots in the Northeast is just too long! The seafood in Connecticut and Boston is to die for, and the foliage in New England is spectacular. For more specifics, visit www.discovernewengland.org.

5. Colorado

Okay, so not necessarily a region, but Colorado is big enough to count as one on my list! In the fall, the beauty of Colorado is in the aspens turning from silver to gold and the occasional snow-topped mountain peaks. If you can get to the southwest corner of the state, you must take the horseshoe drive around Durango, Ouray, and Silverton. There is a great historic train ride through the area too – it's worth the trip. But for this particular area I would suggest a towed car instead of a motorhome. We went into Telluride with three 40' motorhomes and had to back up about one mile as the streets are designed for 1950-60 era mining carts!

6. California

Another favorite fall trip is harvest time in California wine country. Thousands of people flock to Napa Valley, Sonoma, and surrounding regions to witness the harvesting and to take in the tasting tours. A word of caution however – fall is such an ideal time to visit this area that traffic can be an issue (especially in an RV) and prices can skyrocket. I actually like to go in the spring during the Napa Valley Mustard Festival for a better chance to meet the wine makers and have a more relaxing experience. There is a beautiful campground just outside Napa or the State Park up north by Calistoga is a great option too.

In my opinion, there is no season better suited for an RV adventure than fall. Follow your favorite football team and tailgate, experience the fall colors, or dive into the threshing activities of the past. Whatever your desire, passion, or interest, there is a trip waiting for you!