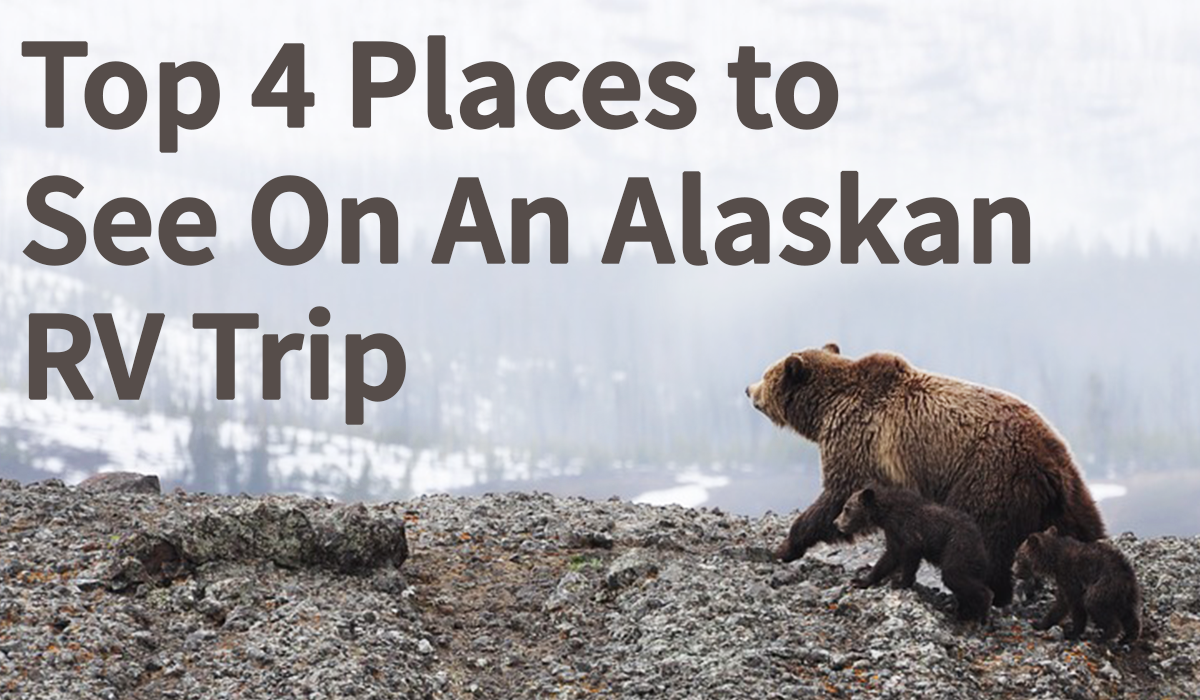 Alaska: the last frontier. Spanning more than half a million square miles dotted with mirage-like towns and framed with vast mountain ranges, seemingly limitless, it bursts at the seams with the unknown. Alaska is one of the few states in the nation where you can come face-to-face with a grizzly bear and never lack room to run and hide.

In a climate very much governed by Mother Nature, there is excitement and beauty to be found over each hillside. It should be no wonder, then, that Alaska remains a sort of Eden for avid outdoorsmen and RV enthusiasts. If you're planning an RV trip to Alaska anytime soon, you ought to know the best spots to explore and some of the things to expect before you map your route. To help, here are four places we recommend putting on the itinerary:
1. Bear and Whale Excursions
First things first, you'll want to get out into nature as soon as you arrive. How better to fully experience the wilderness that's made Alaska famous than to watch its biggest and baddest natives in their natural routines? There are a number of whale watching spots and bear viewing tours available throughout the state that you can register for in advance. Alaska.org offers up several choices so you can find the embarking point nearest where you plan to stay.
2. Midnight Sun in Anchorage
Similar to the Northern Lights phenomenon that tops most must-do lists for Alaska, we highly recommend your RV trip include a stop at the annual midnight sun that occurs at summer solstice (June 22nd). In summer months, Anchorage is one of the few cities in North America where the sun remains above the horizon for up to 22 hours per day. That means that when it ought to be pitch black at midnight, instead the horizon glows and the sun continues to shine like a basketball ablaze in the sky. If you don't see it, you'll wish you had!
3. Scenic Highway Drives
Now for the part that gets RVers jumping out of their chairs. It has been said that you can drive west from the Canadian border across the state of Alaska for a full 365 days, trekking one million acres per day, and still have more ground to cover in the new year.

It's almost impossible to be disappointed when you grab your keys and set off down any Alaskan road. Whether you make for Mt. McKinley by way of legendary Parks Highway or you choose the iconic coastal views of the Seward, there are wonders to be found in whichever direction you choose.
4. Mendenhall Glacier
Situated just 12 miles from downtown Juneau in the southeastern part of the state, Mendenhall Glacier is one of the greatest natural wonders on display in Alaska. This monumental ice flow feeds into the Mendenhall River after melting and descending from the Juneau Icefields. The national park offers up five hikes to various scenic locations, so you can experience the splendors of the glacier from multiple vantage points.

These are just a handful of our must-sees for an RV trip to the wonderfully endless state of Alaska. With thousands of rivers to traverse and countless mountains to climb, you'll never run out of places to explore when you visit the Alaskan wilderness by RV. Also, try to check out some of the state's one-of-a-kind museums, seal-life centers, Denali National Park, and gold dredges.