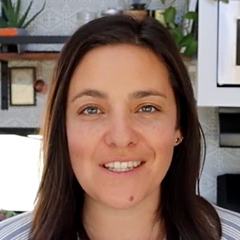 5 Ways to Make Your RV Feel Like Home
Erin Meredith
Your house on wheels can feel as warm and personal as any stationary place you call home when you're not traveling. Just because you're living in a vehicle doesn't mean it needs to feel like a vehicle! To help you make your RV feel more like home, Erin Meredith introduces several tips for adding color, comfort, and personal touches that bring your RV interior to life.
Here are Erin's top five tips for a homier RV:
1. Add paint wherever you can. If you have a vanity, a slide room, or maybe even a large bedroom wall that still has its stock factory coloring, spice it up with a vibrant pop!
2. Throw down accent rugs. Small soft rugs are the perfect way to break up open floor spaces and warm up or lighten a room. Cooling in the summer and warming in the winter. Just be sure not to cover furnace vents!
3. Hang pictures and artwork. Erin likes to keep her family's space updated with recent pictures from their favorite trips. She hung a wire along one wall and clipped on photographs. You can also find unique personal wall hangings such as travel maps and paintings.
4. Remove bulky window treatments. Get rid of those large blinds and drapes that limit the amount of sunlight that reaches your living areas. Replace them with light pull-down shades and sewn curtains that allow your RV interior to burst with sun!
5. Upgrade your furniture. Reconsider the cumbersome stock furniture that fills your living areas. If you've had a pull-out or storage couch that doesn't get used, maybe replace it with accent chairs, a small dinette, or a kitchen island.
These are just a handful of things you can do to your RV's interior to help open it up, make it personal, and fill it with color and light. Get creative, be brave, and do what brings you joy!
6

Responses to "5 Ways to Make Your RV Feel Like Home"