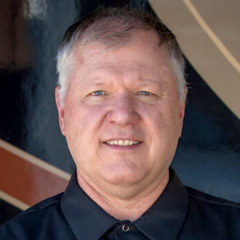 RV Furniture Upgrade: Finding Out What Fits
Dave Solberg
If you've ever tried to install inexpensive residential furniture on your RV, you probably know that it simply doesn't hold up under the vibrations experienced from traversing irregular terrain in RV travel. For furniture that will withstand the tests of time and nationwide trekking, you have to turn to manufacturers that specially gear their products to RV travel. RV furniture can be a bit pricey, but it's guaranteed to last.
In this lesson, RV maintenance expert Dave Solberg teaches you some of the benefits of upgrading your standard RV furniture to sturdier, more comfortable models, and shows you how to measure the inside of your rig to ensure your new couches, tables, or chairs fit your spatial constraints.
Measuring Your Space for New RV Furniture
To help you make your RV living quarters feel a little closer to home, Dave recommends ditching that old RV furniture for something more modern. There are numerous reputable furniture manufacturers selling fantastic new furniture for any size or type of RV, but Dave's favorite is Bradd & Hall. He believes the designers and builders at Brand & Hall truly understand what's required of RV furniture: the terrain they endure, the limited space available to them, and the need for a bit of luxury at the end of long day of travel.
When measuring your living space to outfit it with new furniture, you should consider several aspects such as width, length, and depth of the room and furniture, as well as any slide room extension and power requirements. If you plan to install a sofa that converts into a bed, you'll want to be aware of the maximum dimensions upon foldout and take into account any need for a walking lane between the bed and the adjacent well. The same is true for recliners and retractable dinettes. With Dave's tips for proper measurement, you'll have no trouble finding the right RV furniture for your space!
5

Responses to "RV Furniture Upgrade: Finding Out What Fits"
Reply
Popular All RV Lifestyle & Repair Videos videos
Explore videos by Dave Solberg