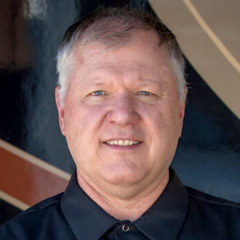 Accessorizing Your Dish Outdoors RV Setup
Dave Solberg
Gone are the days of the batwing satellite and the 19-inch tube TV mounted above your RV's cockpit. Now RVers have almost all of the streaming and viewing options at their disposal on their vehicle as they do at home. In this free video lesson RV maintenance and repair expert Dave Solberg teaches you how to get the most out of your Dish Outdoors service with great accessories for fully customizable entertainment.
How to equip your RV with all of the Dish Outdoors accessories
Outfitting your rig with the full array of TV viewing options is as simple as picking what you want according to your entertainment needs. Here's what you can go opt for:
– Wally: this is the hub of your RV TV universe. Wally is the durable and easy-to-use Dish receiver, which is fed via coax cable by either the portable satellite or roof-mounted unit. Wally is durable, tested in all sorts of conditions and built to withstand high heat, bitter cold and whatever vibrations the road can throw at it.
– Over-the-air antenna: hooked up to Wally via USB and the satellite via coax, this lightweight device allows you to get local news and weather, regional sporting events, and other cable in the area where you're camping.
– External hard drive: similarly plugged into Wally by USB, this handy gadget acts as your DVR. Save your regularly scheduled shows, record a game or movie that'll be on while you're out on the trail, hold on to whatever you might need for the next rainy day.
– WiFi adapter: this stick the size of a thumb drive also goes in Wally's USB, and it harnesses the WiFi signal at a campground to allow you to use streaming platforms and play on-demand services. Those options pop up right in your guide whenever the adapter is plugged in and receiving a signal.
– TravlFi: if you're boondocking or at a campground with no WiFi whatsoever, this little unit can help you create a hotspot to access the capabilities provided by the WiFi adapter.
With all of these tools at your disposal, you might have to work hard to pull yourself off the couch. Do what you gotta do to watch what you wanna watch!
Popular RV Electronics videos
Explore videos by Dave Solberg