Editor's note: A familiar name to many RVers, Sue Bray has worked in the RV industry for 35+ years. Over the summer, Sue, her husband Mel, and their boxer Harley took off to tour the country in their 31' fifth wheel, with no exact plans except to have an adventure. She'll be chronicling their trip as well as sharing lessons learned along the way in this new ongoing blog series.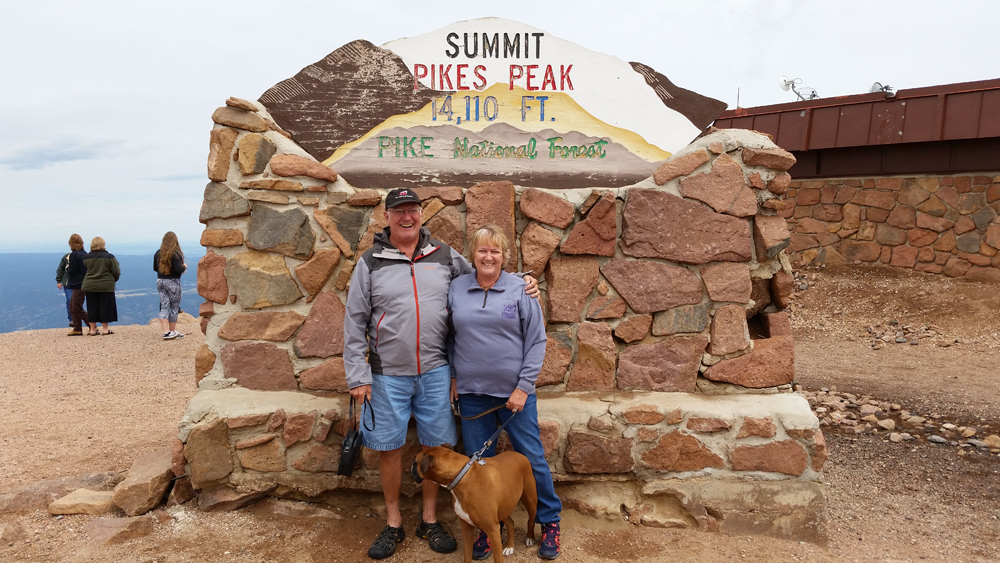 Apprehension? Yes, quite a bit.
Both my husband and I are somewhat experienced RVers. He's owned both trailers and a motorhome in his past life, and I have worked in the RV industry for 35+ years, certainly taking my share of RV trips and stays. Nine months ago, we bought our first RV together – a 31' fifth wheel, and since then, we've taken a number of weekend and vacation trips in it. But this time it's different – we're heading out for long term RV living – a 10 week trip, without a specific itinerary in mind.
We're packing. Now we know how to pack for vacations and business trips, but this is different – trying to determine what we will need over the next 10 weeks, but more importantly how we fit it into the allotted space in the rig, without the walk in closet we've grown accustomed to.
And it's not just clothes this time. We need food, supplies, more cooking utensils, dog food, tools, computers… the list goes on. Just a lot to think about over the next few days. I am dismally surveying my shoe collection, realizing that my limited closet space will only allow five pairs, max. And I know I'll have lots of opportunities to wear those pink sandals… will definitely miss them!
I'm also finding I have about a 10 minute attention span when it comes to packing things up. Hence, I've decided to blog.
I am apprehensive. What lies in store for us on the road? Will we be okay? Will we be able to get along trapped in a 31' box 24/7 for 10 weeks? What about traveling with pets? Will our house survive? What about banking, mail, and all those mundane parts of day to day living?
During this process, we have figured out a few things, although I'm sure there are many we've overlooked. Here's a list of just 10 things we've learned when it comes to long term RV living:
1. The house. We didn't want to leave our home vacant for this long of a period of time, so we were fortunate to find some friends who live in much higher temperatures anxious to spend some time in our home in northern Arizona. And they're helping with the expenses as well. Another option would be to rent out the house on a short term basis, but that would require even more packing!


2. Money. We've transitioned just about all of our credit card statements, utility bills, etc., to online banking. We needed to do this anyway.


3. Phone. I use our home phone for business, so have simply forwarded it to my cell phone number. I turned off the volume so that if the home number does ring, it won't bother our house sitters.


4. Medical prescriptions. We both have meds filled by a national drug store chain. We can use any of their stores as we cross the country.


5. Mail. We elected not to put a stop on our mail delivery or use a professional mail forwarding service because our house sitters agreed to forward our mail as needed. Many RV parks will accept mail for arriving guests, and it's easy to pick up mail from small town post offices' general delivery services. The Postal Service will forward mail for a set period of time, but not to multiple addresses, so that would not work for us. However, there are many professional mail forwarding services that do a great job.


6. Reservations. We tried not to make them, as we don't want to be tied down to a specific itinerary. However, we are learning that this is not a good plan in summer or other peak seasons. The RV market has boomed over the past few years, and campgrounds are full. It's necessary to do a bit of planning and book some sites as much as you may not want to.


7. Wi-fi. Most private campgrounds now offer free wireless internet service, and it has certainly improved in recent years. However many parks, particularly those in remote areas, have difficulty if all of the guests try to access the internet at the same time (and this occurs frequently during evening hours), and it gets even more crowded if guests are trying to stream movies or other programs. We purchased a Verizon MiFi hotspot antenna at only $10/month, which we can use during these times. We chose Verizon because at this point it seems to have the best coverage in the areas of the country we plan to visit.


8. Skype. It's a free way to visually connect with family and friends, particularly young grandchildren! My son and his family prefer Google Talk – either is a godsend if you want to share experiences.


9. Cameras (or lack of). We no longer bring cameras with us when we travel – we're not professional photographers, and have found that we can easily take photos of the quality we want with our cell phones. We don't take lots of photos – not sure who besides us would want to see them anyway. But of course, people who enjoy taking beautiful photographs would never agree with this practice.


10. Coffee. We splurged and bought a Keurig coffee pot. In bright red. Cost per cup is a little more, but it's so much more convenient. Remember, most RVs don't have dishwashers so my theory is to do anything I can to make the handwashing task easier.
And this brings us back to the question – just exactly why are we hitting the road for long term RV living? We love our house, our lifestyle, our community, the dishwasher, our friends, and our activities at home. Summer is a great time to be here. But there's that open road calling – the sense of adventure that only RV travel can offer. We're in our early 60s, we're healthy, we enjoy each other, and so far have had some great travel experiences. So, why not?
Okay, back to the boxes. Until next time…
Related Blog: Tips for Surviving Long-Term RV Travel with a Spouse