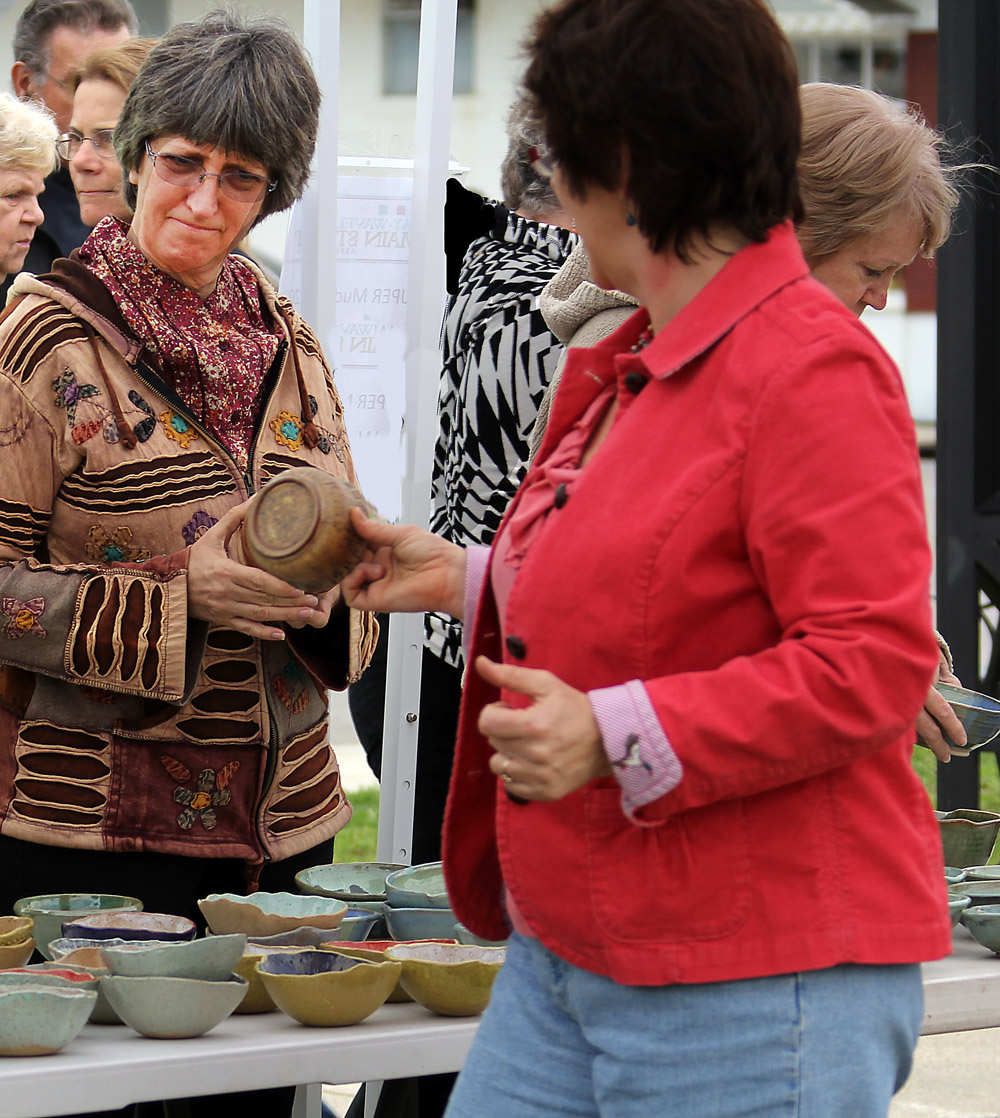 Travelers shopping for crafts along the back roads can find some treasures, but most of all, the fun is in the adventure and the chance to talk with locals.
The best part about traveling through rural New England was the charming "Cottage Industries" sprinkled along the roadsides. These homespun businesses are the essence of what seems like a continuous stream of shopping opportunities that prevail in every front yard along the narrow tree-lined byways, where travelers are practically compelled to shop for homemade items of all kinds.
Three things come to mind for most Americans when thinking about the Northern Atlantic states: fall foliage, covered bridges and maple syrup. They are all there, but don't be concerned about whether your RV can make it across a river with a covered bridge – we saw none that could accommodate even a Class B.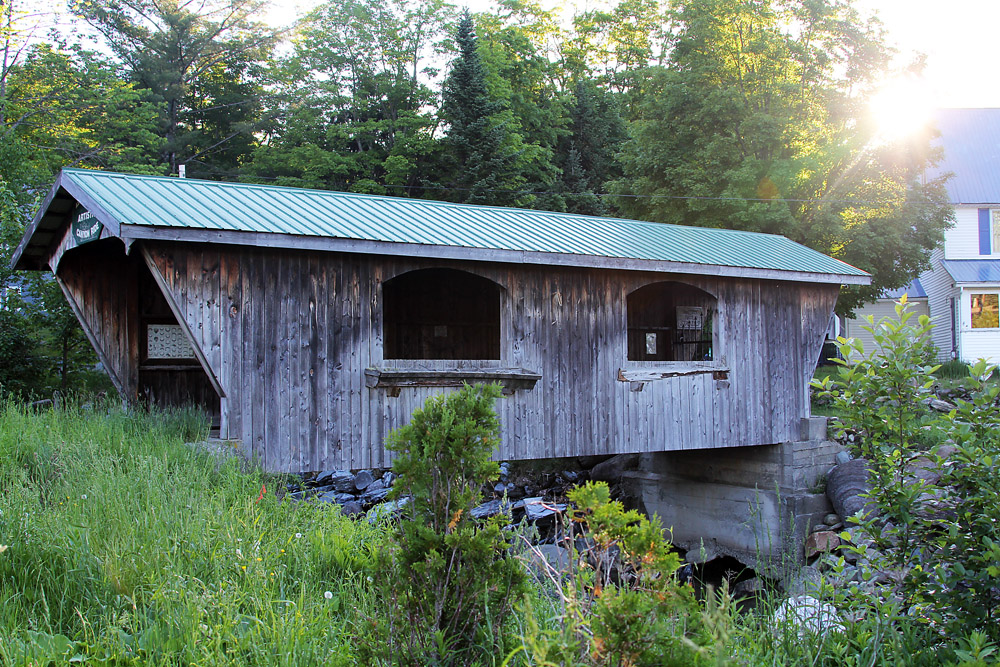 Getting off the main highways in New England is never boring, especially with the numerous covered bridges seen throughout the countryside. Some are still in use but not RV-friendly.
Without a doubt, the coastline of Massachusetts, New Hampshire, and Maine is another example of "Scenic Americana" at its best. Yet, by getting away from the congested coastal highways to tour the inland roads, you are immersed in much more "quaint" atmosphere. [At this point, it's necessary to not overlook Vermont, the other Down East state, which lacks a view of the Atlantic Ocean.]
Do these two-lane avenues qualify as "Roads less traveled"? By virtue of the very few RVs we passed in the prime season of spring, our impression is that the inland roads don't attract the hoards seeking the dramatic lure of the coast. Of course, venturing off wide-lane major highways in a 13-foot high motorhome or fifth-wheel requires logical or illogical thought, but even the most rural road we traveled wasn't unwelcoming to the big rigs.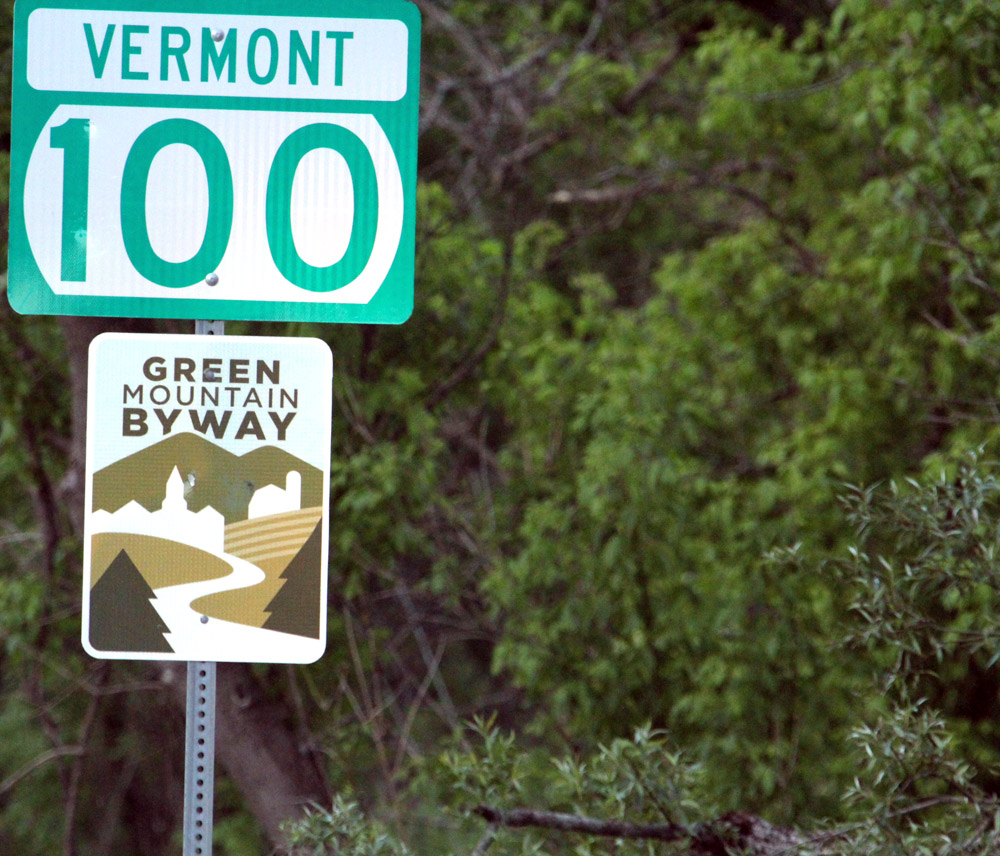 Towns, pastures and woodlands along the way make the two-lane roads a treat.
In recent days, visitors to our cabin in the mountains of California are interested in a coffee table in our living room. The top is a solid slab of yellowed cedar embedded with wood-burned symbols that are reminiscent of Early America. When frequently asked, "Where did you get that table?" we tell them the story of driving along a rural road in Vermont, stopping at a house with furniture and old-timey stuff in the front yard, and finding the table.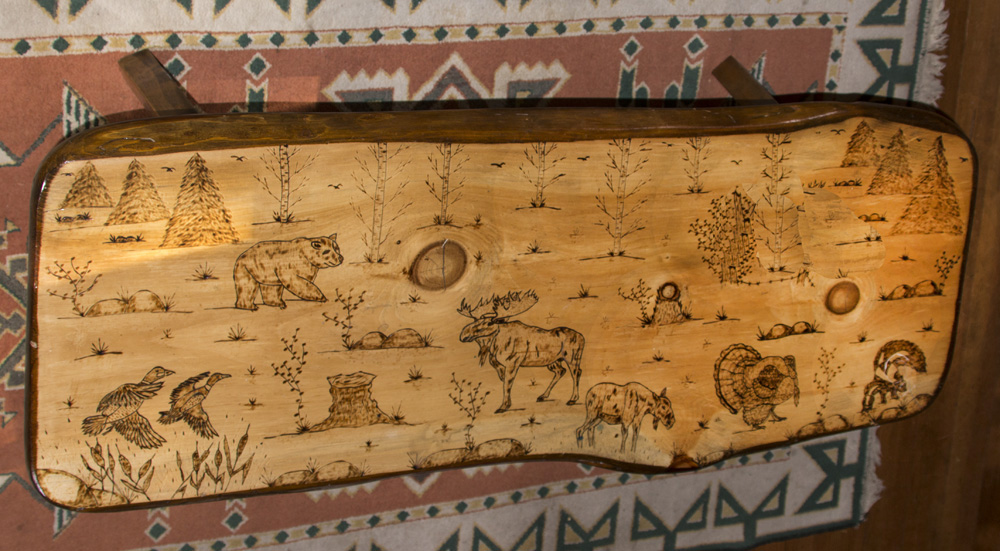 This table, purchased in Vermont for $55, is one of the most interesting pieces in our mountain cabin.
At that stop along Vermont Route 9 (also known as the Molly Stark Trail) we asked a genteel gentleman homeowner about the history of the table. He explained that he shops yard sales looking for items to take home to his wife, who spends the cold, snowy winters "branding" his finds. We paid him $55 and unscrewed the legs to store under the bed for the next 12,000 miles of the journey.
Scaled-down lighthouses, clothes, antiques, sweets, crafts and jewelry, "Live Free or Die" license plates, knitting yarn … the list of items on display at these sales goes on and on. Most seem to be bargains, but the real "find" for us was the people. We don't remember anyone being in a rush. There were stories worth listening to at just about every stop.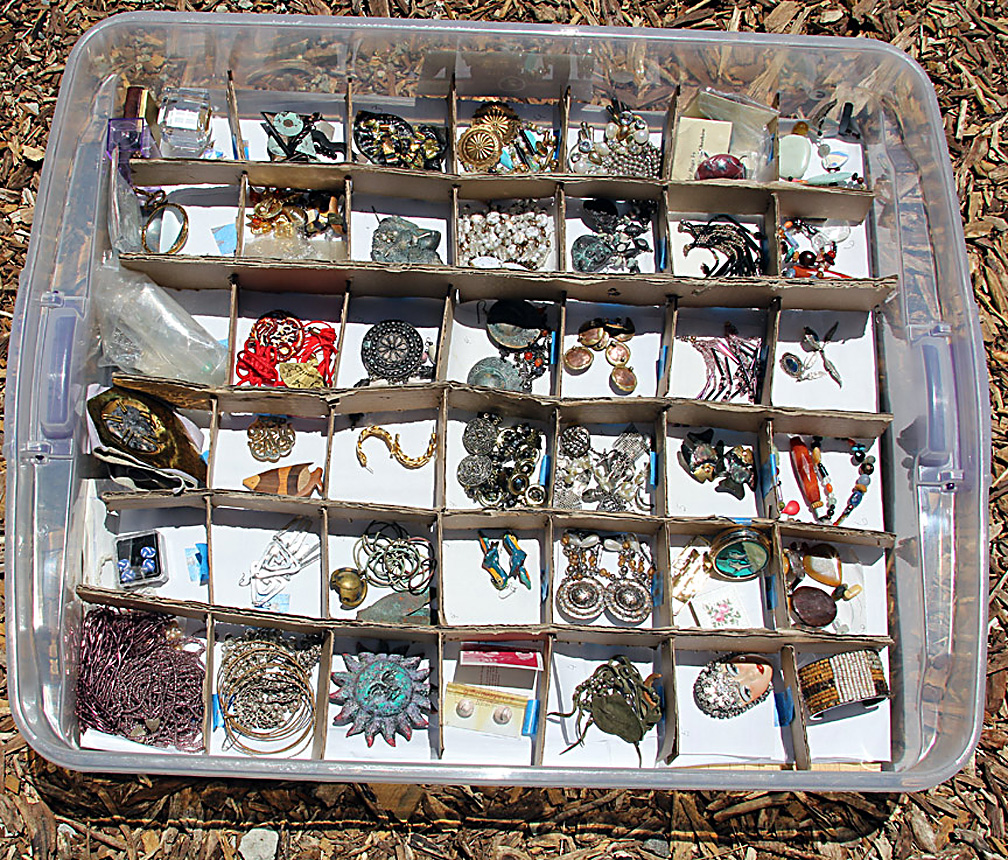 Hard to pass up for many ladies, costume jewelry almost always attracts a steady stream of shoppers.
Ladies in their blue housedresses fringed in white, sitting out front of their cottages selling relish, jams and marmalade, turn the vegetable patch in the backyard into a profit center. Pick 'em, prepare 'em, stuff it in a jar, stack them on an old table, and wait for the next car to stop by. Relish — $6.00 a jar.
Another man we met named Old Joe (I didn't ask his age, and indications were hidden by the shaggy white beard, but his name is Joe) gave up trucking to stay home and run his own cottage industry. A man in bib-overalls of real Yankee ingenuity, he has devoted the past decade to making birdhouses of all sizes, colors, materials, shapes, etc. Like many other Northeast craftsmen, he recycles anything into a sellable item. He was given sheets of plastic, scraps from a local factory, which he uses in his lessons for youngsters, teaching them how to create birdhouses using tools and imagination.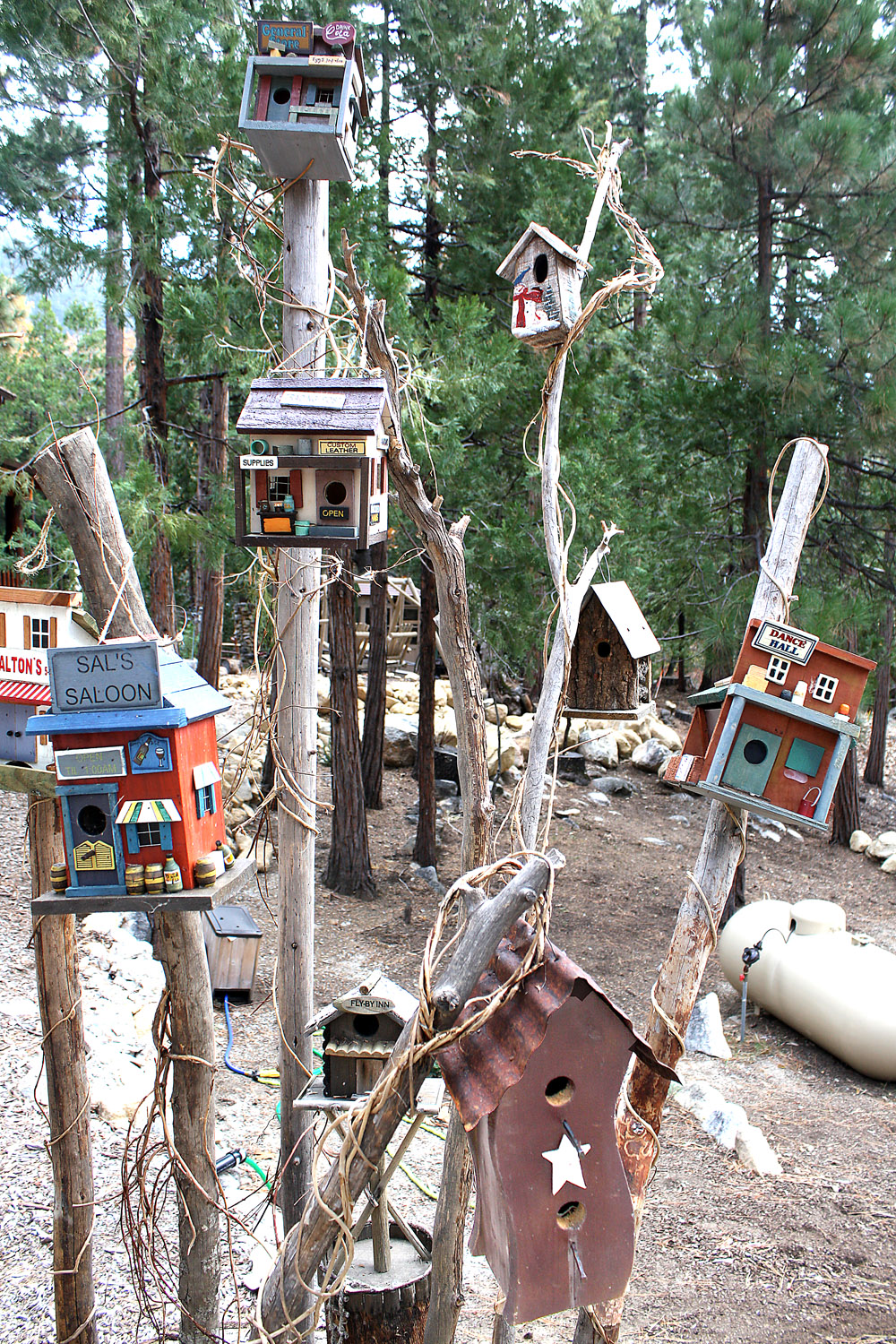 We learned a lot about cottage industries from Joe, who's colorful birdhouses were a "must-stop."
Despite what many others in North America would call climatic hardship, what we loved most about these rural folks is their quality of life and endurance. The ones we met thrived on appreciation from us outsiders and exuded welcoming warmth.
The hardest part of tooling along these back roads is deciding where to stop, but that is made less difficult for RVers due to the absence of parking for our rigs near yards displaying the wares produced by the homeowner. With so many places to go, it was hard for us to justify finding a place to pull off and then walking back a half-mile.
If you forget why you love traveling the highways and byways of America, it's time to get in the RV saddle and head northeast. You don't need to wait until the masses descend on the area in the fall to appreciate the people and surroundings; matter of fact, you'll have more time to savor the landscape in peace in the late spring and summer.
I welcome your comments and questions below in the Response section of this post.
From the Never-bored RVers. See you on down the road.
You might also like:
The Never-Bored RVers Journal: The Loneliest Road In America
The Never-Bored RVers' Journal: The Natchez Trace
The Never-Bored RVers' Journal: Driving Into My Past
The Never-Bored RVers' Journal: Across The Top Of America Part 1
The Never-Bored RVers' Journal: Across The Top Of America Part 2
The Never-Bored RVers' Journal: Across The Top Of America Part 3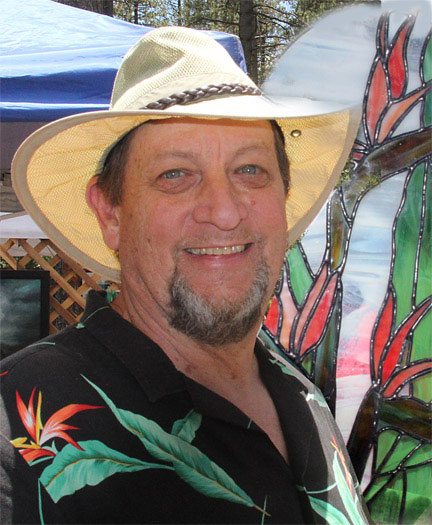 About the Author: Barry Zander spent a decade as a newspaper reporter and editor, was president of an advertising/PR agency, and was in marketing before retiring in 2006. That was when Monique suggested selling their home and buying an RV to travel North America. After five years full-timing, they bought a cabin in the mountains of Southern California, the base for continuing travels. You can read more of Barry's adventures on his blog, On Top of the World.
No Comments