A sign warned us — we were about to turn onto "The Loneliest Road in America." But with satellite radio and our always-active sense of adventure, we took the challenge.
While traveling across endless desert landscapes gives RVers lots of time to think, this journey on "The Loneliest Road in America" is the ultimate experience. For mile after mile it's usually more of the same… and the same is not much more than dull grey-green vegetation providing ground-cover above the pale sandy desert. Since we usually appreciate sojourns into the nothingness of desert expanses, we quite enjoyed our trip through the most "deserty" stretch we had ever encountered our travels: U.S. 50 in Central Utah, a.k.a. "The Loneliest Road in America."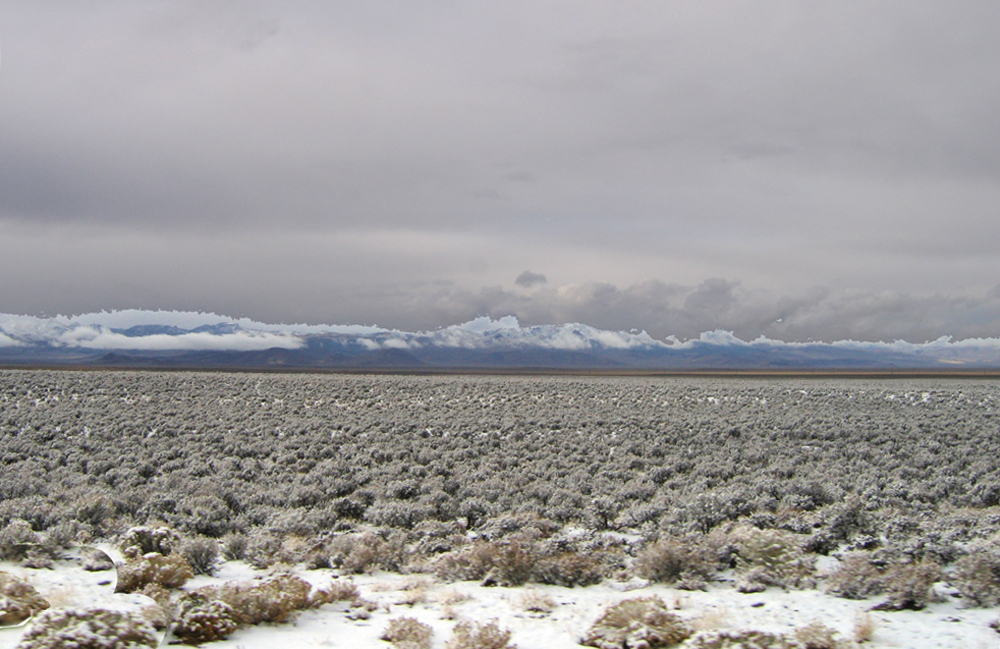 Clouds drape mountain ranges that parallel "The Loneliest Road" in late summer.
You would think that writing about the loneliest road would have been difficult, even a bit boring, but in some ways it's RVing at its best. There have been few changes in the landscape in the past century-and-a-half when Pony Express riders accepted the challenge to get mail cross-country on the shortest routes. As our tires hummed over the asphalt of that endless ribbon of blacktop, we shook our heads in disbelief as we wondered how pioneers in Conestoga Wagon Trains could have survived this desolation day after day!
To experience The Loneliest Road when traveling from the east, you can join Hwy. 50 from I-15 in the midsection of Utah. Our preference is to see the countryside from 2-lane highways, which, in this case, means either going south on the 8 at Provo, or exiting at Cedar City and taking the 257 northward. All three routes will land you in the sleepy town of Delta, which I called "the beginning of loneliness." From the west, find your way to Ely, Nevada, stop at nearby Great Basin National Park for a treat, and continue eastward into loneliness.
Be advised, fill up with fuel — you're pretty much on your own out there, with services only available at the Utah-Nevada state line. The section of the highway from Delta to Ely is about 160 miles long. Less lonely, but still isolated, is the 317-mile stretch from Ely to Reno.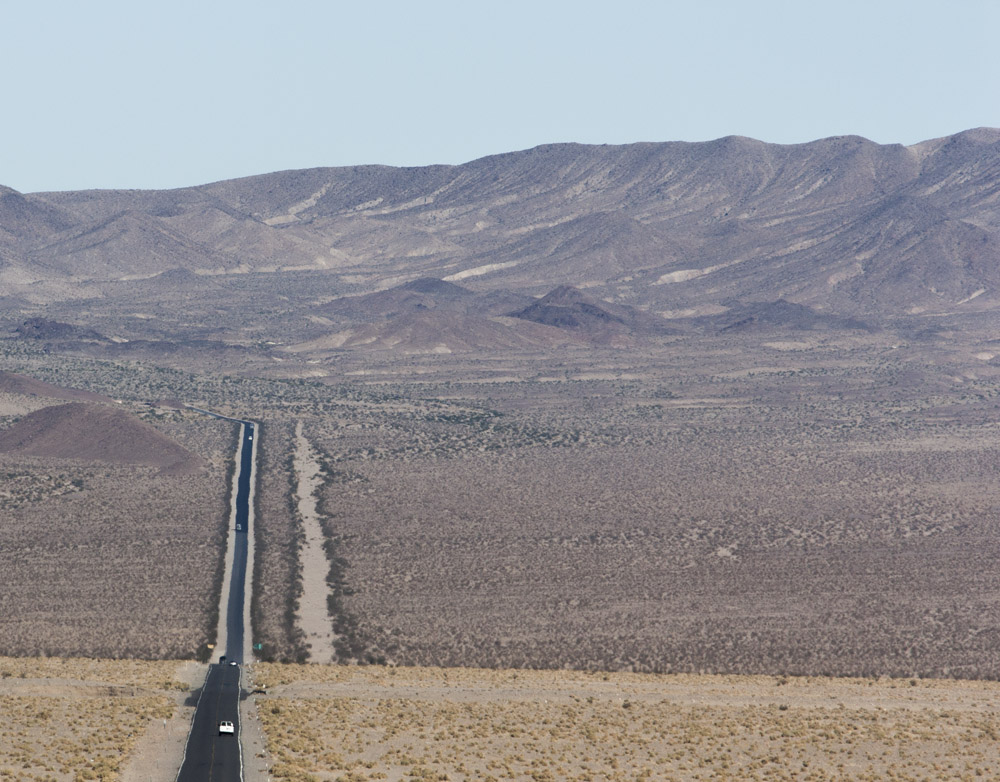 "The Loneliest Road in America" cuts through desert terrain for 160 miles, featuring no structures and very few dirt side roads.
This byway did not get its nickname without reason. It's like most desert highways – only, more of it. Expanses of sandy flatlands on either side of the road, dotted with clumps of green parched succulents, sprawl for miles until crashing into mountain ranges. One paved crossroad, a half-dozen dirt roads to whiz by, no dilapidated structures, just desert. Flat. Lonely. Tiresome.
As the straightaway hours crept by, for much of time we sat in silence pensively looking at the black line before us… but also taking advantage of the serenity outside to focus inside us. We both experienced moments of reflection on how lucky we were to be comfortably riding through this immense stretch of desert. Fifty feet of truck and trailer was traveling across miles of openness. So small, but not insignificant, enjoying the opportunity to be there.
Looking for relief from maneuvering in big city traffic? Wondering if there is still nothingness over the next rise in the road? Hwy. 50, the Loneliest Road in America, is the answer.
Why, then, would anyone choose this route? Perhaps the No. 1 reason is efficiency. When traveling from Denver to Reno, Hwy. 50 picks up near where I-70 ends in Utah and continues westward to Reno and Tahoe.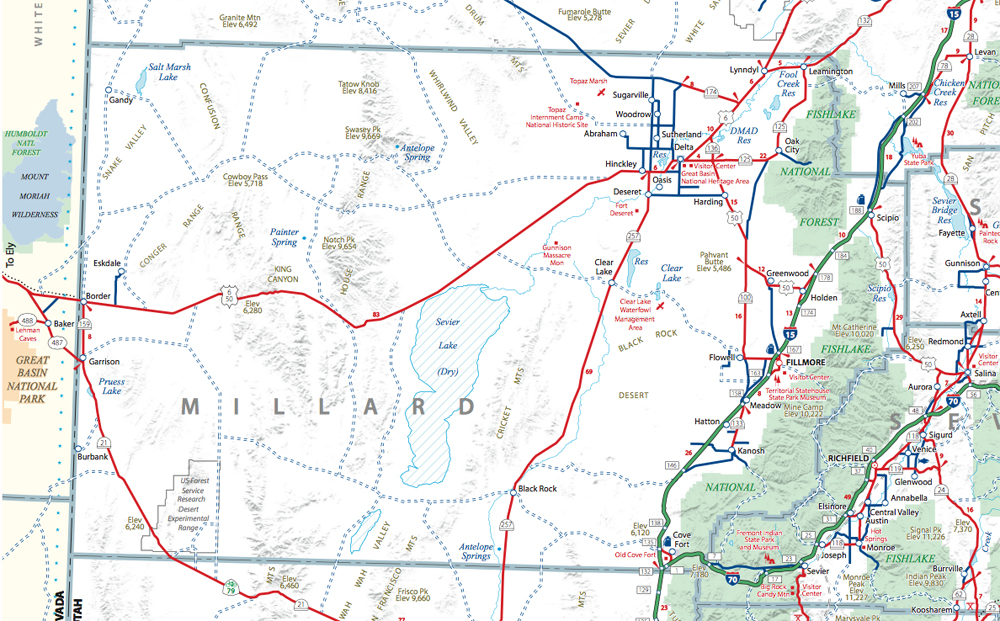 Hwy. 50 from Hinckley, Utah, westward to the Nevada State Line indicates the bland terrain, but for lovers of desert, it the open road at its best. Map used by permission from UDOT State Highway Department.
Far fewer people apparently took it to reach Great Basin National Park in Utah, the 50th of 59 National Parks in the system based on visits.
Our impressions and experiences in Great Basin are worth reading about. Check out the related article to hear about the shields, marmots and forfeiting the $3 a night camping fee here!
From the "Never-Bored RVers," We'll see you on down the road.
You might also like:
The Never-Bored RVers' Journal: The Natchez Trace
The Never-Bored RVers' Journal: Driving Into My Past
The Never-Bored RVers' Journal: Homespun In New England
The Never-Bored RVers' Journal: Across The Top Of America Part 1
The Never-Bored RVers' Journal: Across The Top Of America Part 2
The Never-Bored RVers' Journal: Across The Top Of America Part 3

© All photos by Barry Zander. All rights reserved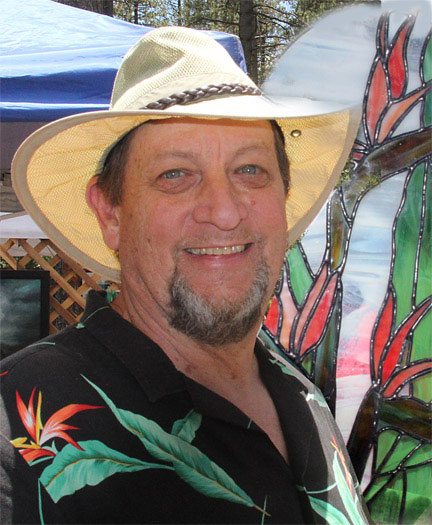 About the Author: Barry Zander spent a decade as a newspaper reporter and editor, was president of an advertising/PR agency, and was in marketing before retiring in 2006. That was when Monique suggested selling their home and buying an RV to travel North America. After five years full-timing, they bought a cabin in the mountains of Southern California, the base for continuing travels. You can read more of Barry's adventures on his blog, On Top of the World.
6

Responses to "The Never-Bored RVers Journal: The Loneliest Road in America"
Walter Michael Pidwerbecki