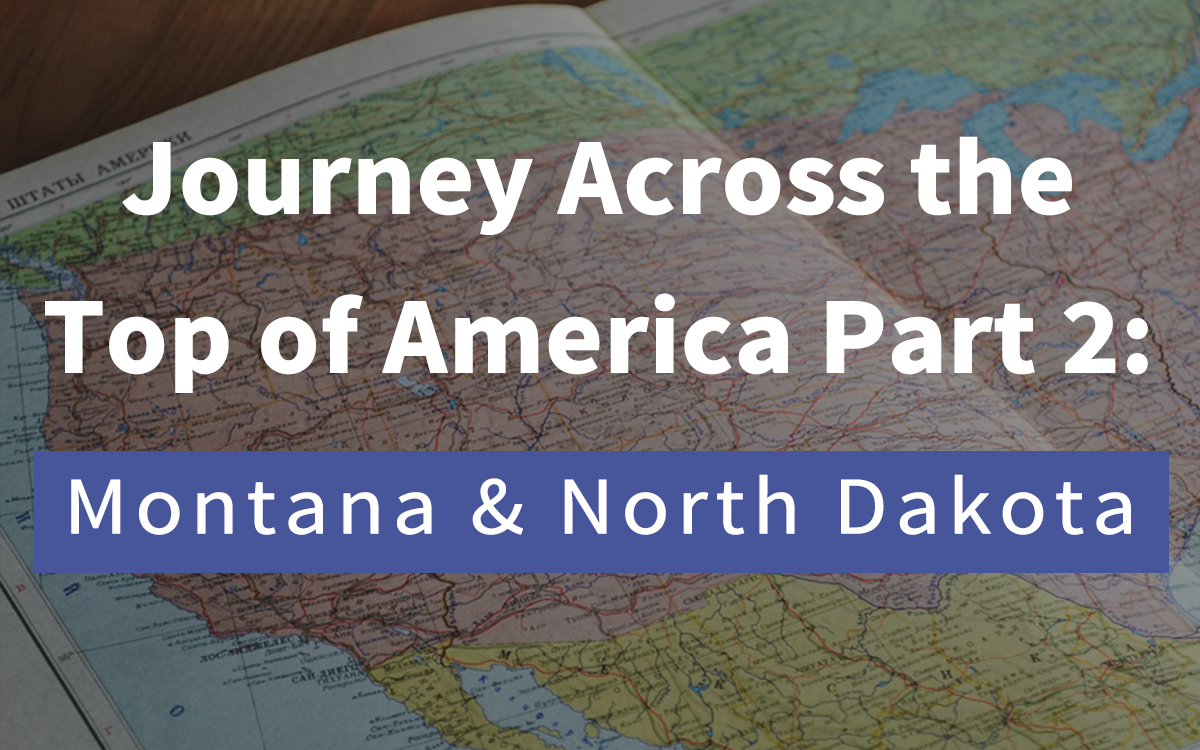 Most of our travels aren't spent walking into history, but when presented with the opportunity, we almost always find it time well spent.
In Butte, Montana, we partied at the National Folk Festival, which proved entertaining. Lots to see and enjoy that day, but what we found most interesting on that stop was "Butte Underground." We tagged along with a small group of tourists as our party was led into a closet in a long out-of-business barbershop. Once in the closet, our tour guide magically opened a wall revealing a plush, flapper-days, speakeasy — a relic of Prohibition Days of the 1920s and '30s. A few minutes later, down a series of deteriorating back stairs, we entered the jail where Evel Knievel was often incarcerated during his wild youth.
Click here to read Part 1 and Part 3 of this series.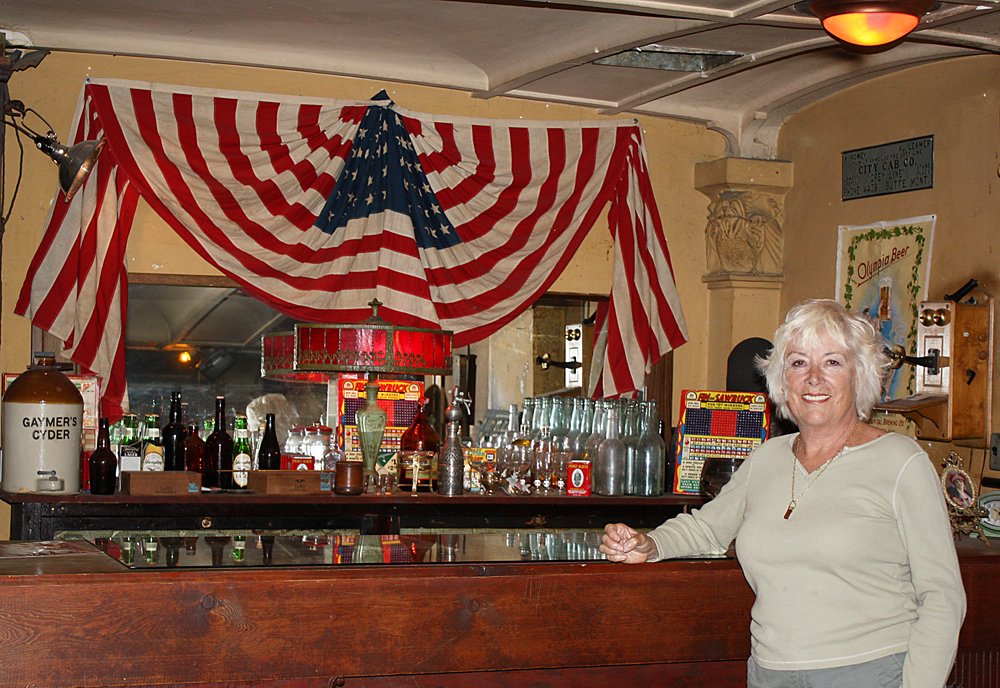 Down below the shops and streets of Butte, Montana, is history preserved. Monique sauntered up to the bar in a speakeasy, little changed from the days when Prohibition was repealed in the '30s.
Descending into the underground was a rich historical experience, but the days that followed in Bannack, Montana (just in time for Bannack Days) were just as memorable.
We arrived at Bannack State Park on Wednesday, three days before the celebration began. Very disappointing – a bunch of old buildings frying in the mid-summer sun. A dirt road through the center of "town." A sleepy park ranger station, where we were told, "JUST WAIT. The town will come alive this weekend." Hard to believe. We spent the rest of the day in the adjacent campground setting up our screen tent from which we watched hoards of insects buzz by.
A few nomads arrived Thursday in station wagons and pulling small trailers. Friday, dozens more showed up and began to resettle the town. Water-stained walls in shops long deserted where the lath boards showed through were covered with fabric or posters. The bar was cleaned off. Doors opened, trades people went in.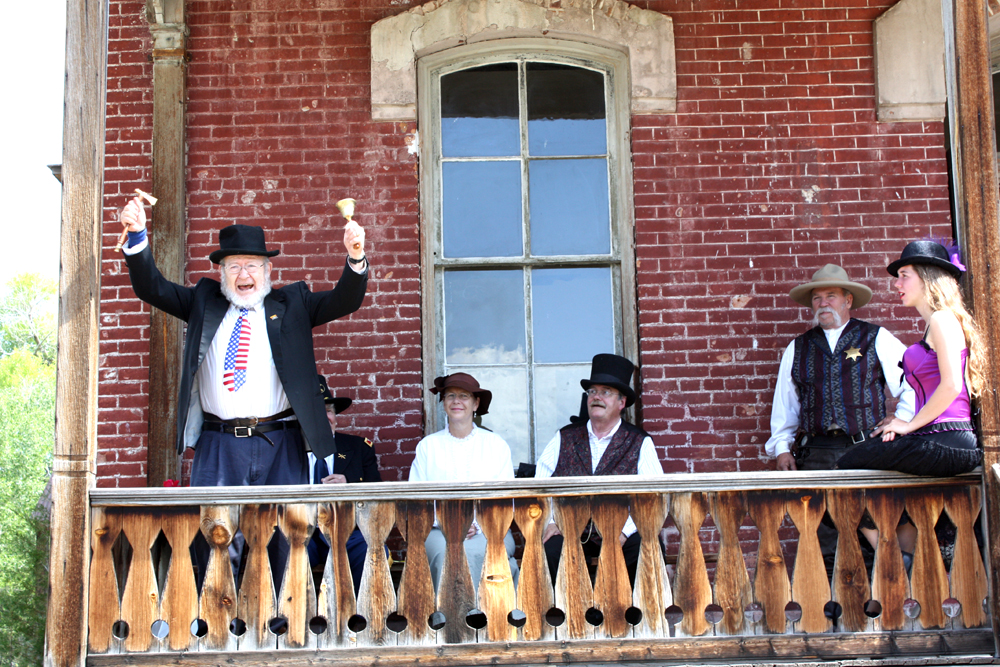 Should women be given the vote? That issue was debated hot-and-heavy at the Bannack, Montana, hotel during Bannack Days. Visit it next summer to find out who won.
Bannack Days began on Saturday with a half-dozen roving music groups playing gospel, rag, folk and Dixieland. The saloon dispensed ice cream; the barber cut hair; food and baubles were sold; there was a debate on women's suffrage going on at the hotel. Cries by a huckster selling elixir rang out. Dancing in the street. A shootout in the middle of town. Yes, the town came alive. We were immersed in history.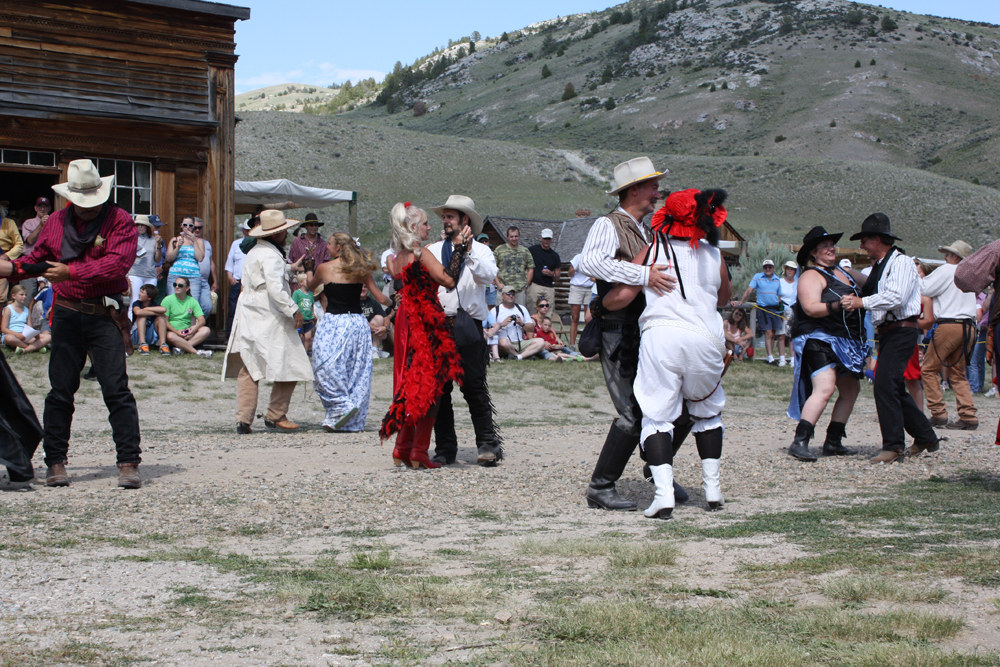 Careful who you dance with on the street during Bannack Days. The joyous occasion evolved into an ol' fashion gun battle that thrilled visitors.
Once the sun set at the end of a very enthralling weekend, we dusted off everything we owned after five sweltering days in hot, dry Bannack, ready to experience two more memorable opportunities before leaving Montana. On our way to Lewis & Clark State Park and Caverns, we stopped long enough to learn how the Native Americans drove bison over a cliff at what is now Madison Buffalo Jump State Park. An interesting concept that did not thrill Monique.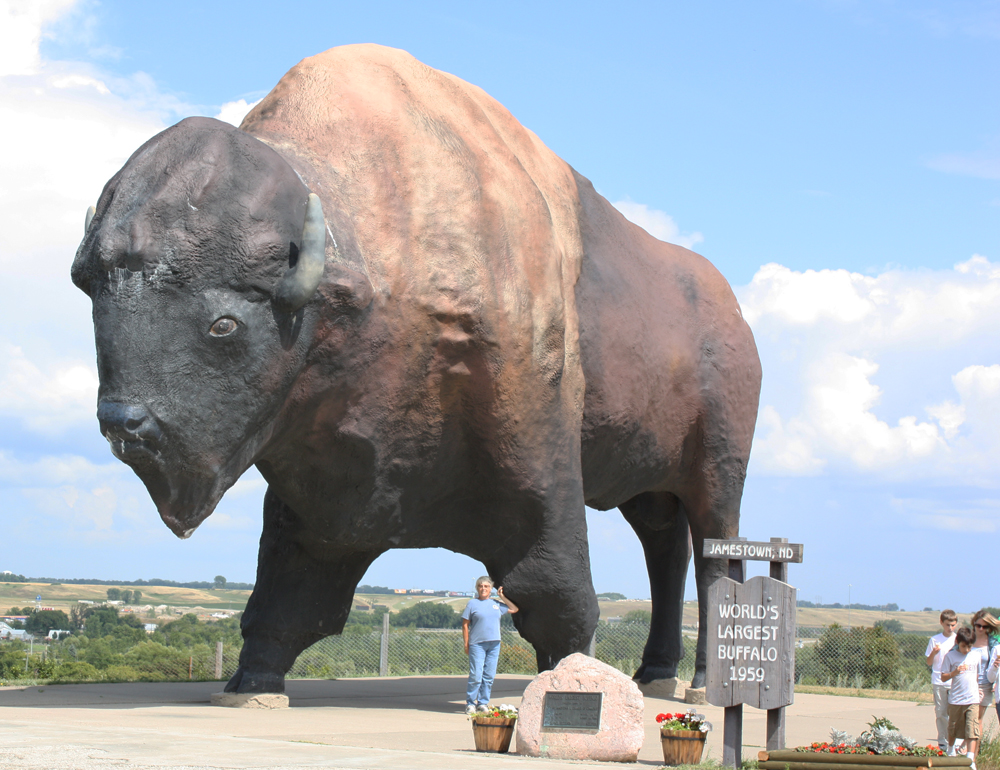 We almost always try to avoid those "The Largest …" tourist attractions. This one, however, in Frontier Village, Jamestown, North Dakota, was hard to miss. Maybe pedantic, but buffalos are actually American Bison. But then, who cares? I befriended a herd at Blue Mounds State Park, MN, a few years earlier.
Onward and eastward we drove to Lewis & Clark State Park, highlighted by caverns, which feature a magnificent variety of scenic formations. Not an easy climb to the entrance in the summer heat, but worth the effort.
After towing our travel trailer almost 700 miles observing the Big Sky, we began to understand why so many people long to move there. Perhaps struck by the peaceful scenes in the movie, "Lonesome Dove."
We crossed the state line into North Dakota, where we parked at Theodore Roosevelt National Park's South Unit. Interesting that this park honors the creator of our national park system by attaching his name to parks bordering the "Badlands."
Related video: Theodore Roosevelt National Park: Preservation And Inspiration
Our main memorable adventure while camping in Roosevelt National Park's Southern Unit (one of three units that make up this North Dakota park) was having bison grazing in the field by our picnic table. These BIG fellows were apparently more interested in the stiff vegetation next to us than the epicurean meals on our camp table. Other wildlife vying for attention from our vantage points were feral horses and playful prairie dogs.
We had been on our trek for a month-and-a-half. Lots more to see on the road to Chicago two months away. More adventures in Part 3.
I welcome your comments and questions below in the Response section of this post.
From the Never-bored RVers. See you on down the road.
More in this series:
The Never-Bored RVers' Journal: Across The Top Of America Part 1
The Never-Bored RVers' Journal: Across The Top Of America Part 3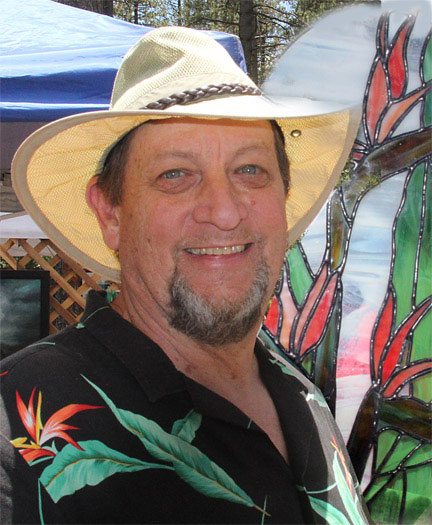 About the Author: Barry Zander spent a decade as a newspaper reporter and editor, was president of an advertising/PR agency, and was in marketing before retiring in 2006. That was when Monique suggested selling their home and buying an RV to travel North America. After five years full-timing, they bought a cabin in the mountains of Southern California, the base for continuing travels. You can read more of Barry's adventures on his blog, On Top of the World.
7

Responses to "The Never-Bored RVers' Journal: Across The Top Of America Part 2"