Editor's note: A familiar name to many RVers, Sue Bray has worked in the RV industry for 35+ years. Over the summer, Sue, her husband Mel, and their boxer Harley took off to tour the country in their 31' fifth wheel, with no exact plans except to have an adventure. She'll be chronicling their trip as well as sharing lessons learned along the way in this new ongoing blog series.
Missoula, also known as Montana's "Garden City" is one of those places where you feel you'd just like to live… at least in the summer months. With a population of about 70,000, it's the perfect size – big enough to have a lot going on, but still retains that small town feel. What's more, it's located along the Clark Fork River near its confluences with the Bitterroot and Blackfoot Rivers in western Montana and at the convergence of five mountain ranges, and is often described as the "hub of five valleys." When we were there during some hot July days, many residents were swimming and enjoying other water sports on the river – right downtown!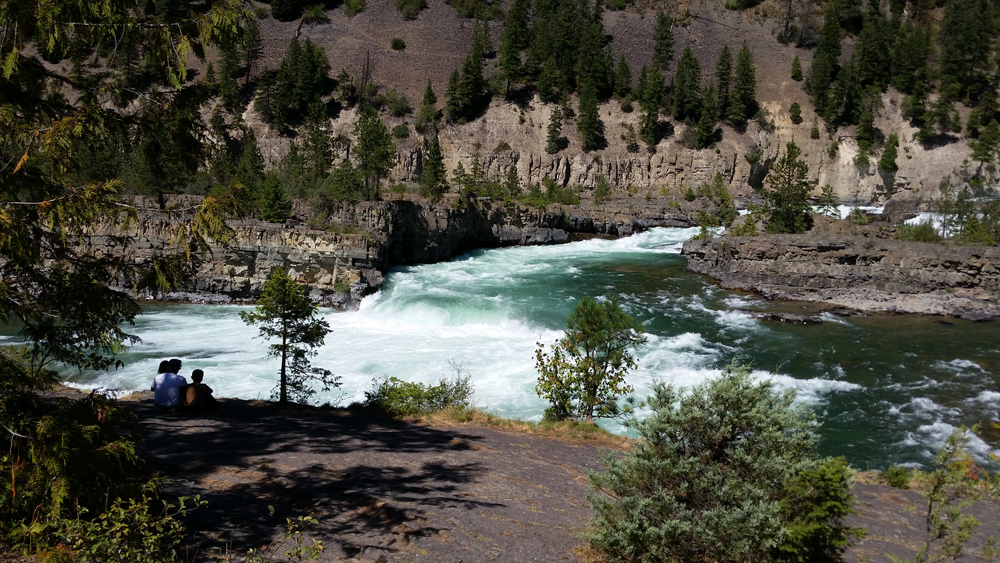 A river on the edge of town.
There are several private campgrounds on the outskirts of the city, conveniently located near the freeway. There's no public transportation from the area where we stayed, but we found getting in and out of town to be quick and easy.
Missoula is also home to the University of Montana, and the resulting abundance of breweries and coffee shops around town are definitely a draw for the city's eclectic mix of students, retirees, lumber jacks, and of course a sprinkling of hippies. The city is bicycle friendly and offers more than 400 acres of city parks and trails, plus 5000+ acres of open space. Among the public parks are the Jacobs Island Dog Park where dogs can play off leash, and Caras Park located right downtown.
A Hidden Gem
Caras Park was built on land reclaimed when the Higgins Avenue Bridge was widened in 1962. During this process, the south channel of the Clark Fork River was deepened to increase water flow and the infilled land became Caras Park. The Missoula Downtown Association eventually took over management of the park and made it more event-friendly, adding seating, event circles, brick plazas, restrooms, storage structures, and a large pavilion.

A Carousel for Missoula

. In 1991, local carpenter Chuck Kaparich approached the Missoula City Council. He loved carousels, and at that point had hand-carved four carousel ponies. He offered to provide the mechanical works, frame, horses, and chariots for a carousel if the city would give it a permanent home. The council agreed, and a board from the Missoula Redevelopment Agency was formed to oversee the project. Kaparich taught local volunteers to carve, mechanics began the process of restoring 16,066 pieces of the antique frame and motor, painters were recruited, and Missoula began working together to create a treasure.

By Opening Day on May 27, 1995, over 100,000 hours of volunteer time had gone into the construction of 38 permanent ponies, three replacement ponies, two chariots, 14 gargoyles, gargoyle frames and mirror frames, and the largest band organ in continuous use in the United States, all within a jewel box building. Every pony, chariot, and gargoyle is different, and all are hand-carved and painted with the greatest of care.

Whether you choose to ride the carousel or just watch laughing children go around and around trying to grab the rings to earn a free ride, A Carousel for Missoula is definitely a happy place to be.

Just like Missoula.

Until next time…

Right next to Caras Park we found a hidden gem –