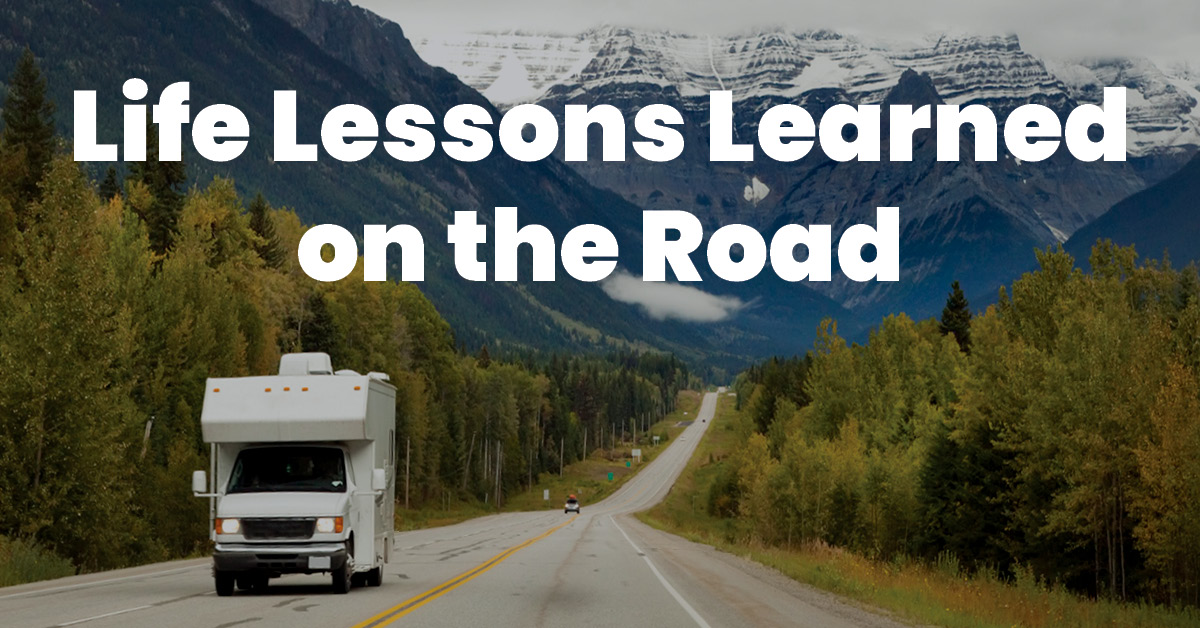 Taking the leap into long-distance or long-term RVing can be a little daunting. Like with anything, there are a lot of "what if" questions to consider. While preparing for our first RV trip together, I was sure I was under-planning. My husband, however, was convinced I was over-planning. Where's the balance?
It wasn't until we got on the road that we realized exactly what we needed—just that: the open road. In addition to learning how to properly RV, we learned a few life lessons along the way, too. Let me share ten of those lessons we learned while traveling the open road for the first time.

Even some of the more skilled RVers we have met admit they don't know it all. We quickly learned to swallow our pride and ask for help. Use all of the resources available to you, including other RV owners, owner's manuals, websites, and even the dealership where you purchased your RV.

Don't allow yourself to feel like you have to buy the best of the best to impress others. Purchase what makes you happy and what you can afford. It's not a competition out there. It's about enjoying your freedom of the open road.

Don't fret too much about making a living while traveling—there are lots of opportunities to earn some cash while on the road. Various types of work are available, including blogging, freelance writing, consulting, and other remote jobs.

Speaking of, working from the road made it feel like I was still back home. Deadlines to hit, new projects to worry about… I had to quickly learn to schedule my work time. When it wasn't work time, I was prepared to unplug my computer, put down the camera, and enjoy the road ahead.

No matter how short of a getaway you take or how slow your progress to getting out on the open road is, you are still ahead of those who keep saying "one day." You are on your way to being a seasoned RVer.

We felt so bad leaving friends and family behind, but we quickly realized that those who truly love us will put in the effort to stay in contact with us.

Life definitely threw us some curveballs while on the road, and we quickly learned we needed to have patience—especially when things happened that were out of our control.

Do not regret your decision to hit the open road. It is your life and only you know what will make you happy.

Cherish every moment with your spouse or travel companion. Do not sweat the small stuff and enjoy every minute experiencing life.

It sounds cheesy, but the RV was the vehicle to make our dreams come true. Though we're just getting started on our RV journey, we have high hopes for our future and know that our RV will take us all across the country, including up to Alaska and Canada. The possibilities are endless, and your RV can help make your dreams come true, too.

Though we have not yet reached our dream of hitting the road full-time (someday soon), we have learned many life lessons that will hopefully help others who are looking to take that leap and hit the open road for their first long-term RV trip.