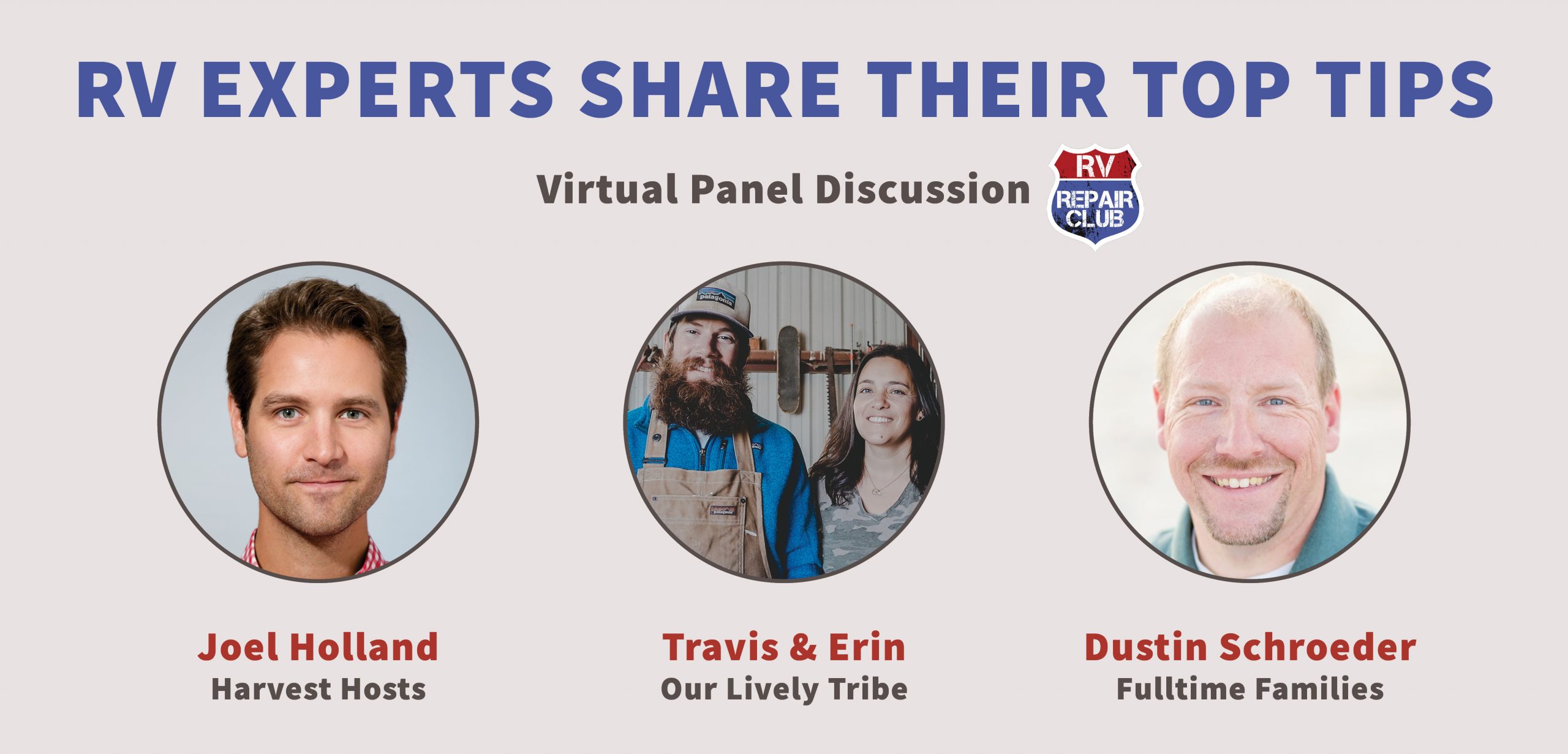 Welcome to the RV Repair Club Virtual Panel Series, where RV Experts share their lifestyle, experience, and advice. Join our panelists Dustin Schroeder of Fulltime Families, Erin and Travis of Our Lively Tribe, and Joel Holland of Harvest Hosts as they discuss their best RV tips and tricks.

We also teamed up with our panelists to bring you a free activity sheet bundle to bring on your next road trip. The bundle includes an RV cookbook, camping meal planning sheets, coloring pages, crossword puzzles, RV camping guide and tips for your RV. Make sure to download your copy!
Meet Your Panelists
Dustin Schroeder, Erin and Travis, and Joel Holland discuss how and why they started RVing, the best part about living the RV life, and the biggest challenge they've had to make.
Tips for Buying an RV
The panelists provide advice for buying a new or used RV and discuss RV buying mistakes to avoid. They also share their personal RV buying experience and the research they did before making the purchase.
Family Activities and Entertainment Ideas for Your Next RV Trip
The panelists share their favorite activities to do while RVing to keep their families entertained. They also share ideas for rainy day activities inside the RV, ways to stay connected to the internet while on the road, and advice for successful RV cooking and meal planning.
Making Your RV a Home and a Business
The panelists discuss ways to make your RV feel like a home, decorating ideas and interior upgrades to personalize your RV. They also provide advice for running a business on the road, networking, and affording the RV lifestyle.