When we downsized from our 2,500 square foot house to our 400 square foot home on wheels, I realized we had a lot of cleaning supplies we wouldn't need or even have room for. After living full time on the road for almost a year, I have figured out which cleaning supplies we actually need and want to share that list with you!
Floors
We have a mixture of carpet and vinyl laminate in our rig. We have a large rug covering a lot of the vinyl in the living room, so I wanted to have a vacuum in the rig for the carpets and rugs. I did a LOT of research on small vacuums and found one I absolutely love. It's a Shark Rocket Ultra-Light Upright Stick Vacuum. It's small, lightweight, comes apart in 3 pieces so I can easily store it, and it's really powerful. It comes with multiple attachments which are perfect for getting crumbs that hide under the slides or in other small spaces.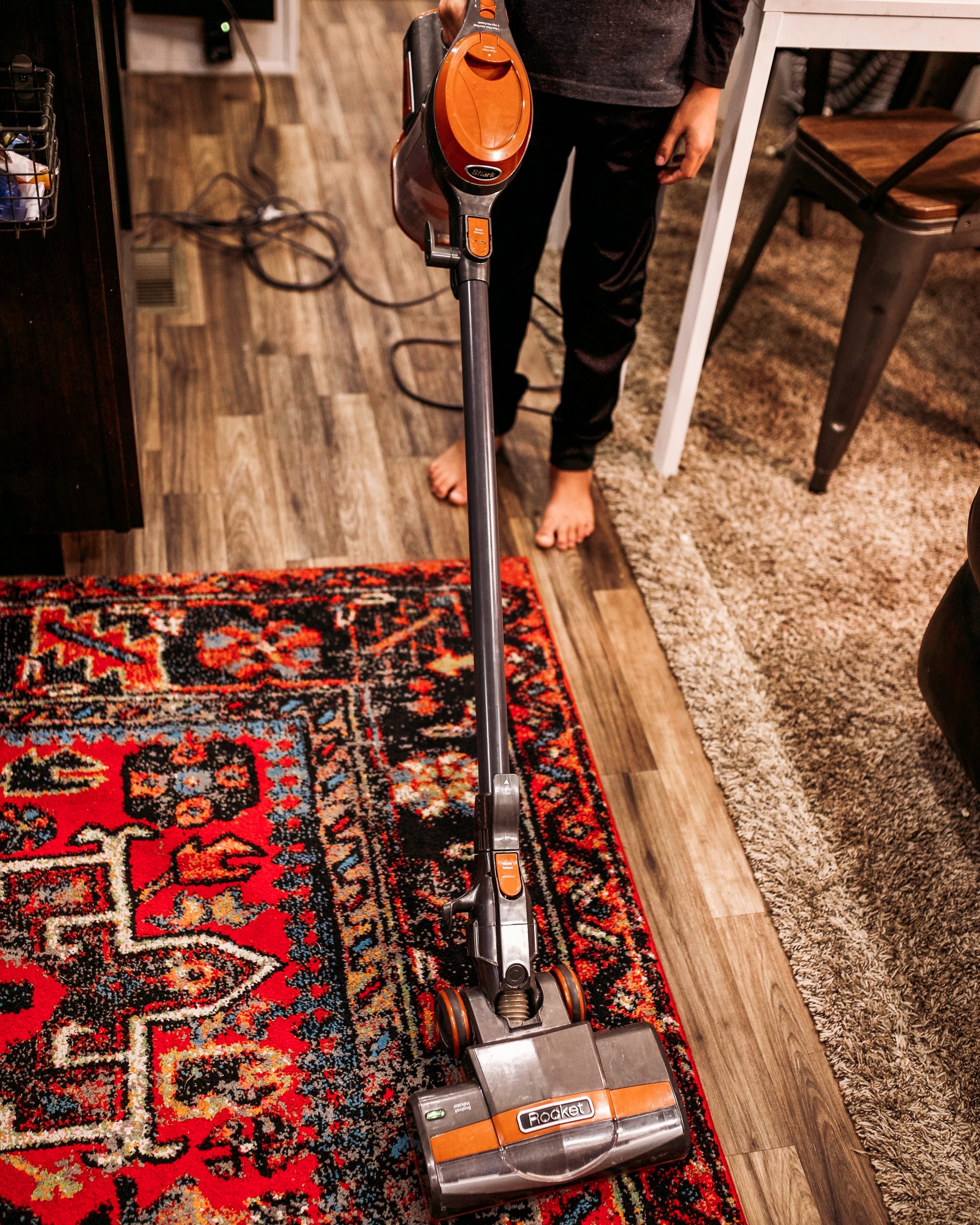 I also bought a very small hand broom with a dustpan for those times when I just need to sweep a little dirt outside from the front door or do little spot jobs, so that I don't have to get out the vacuum each time.
For "mopping" the laminate we have a Swiffer Sweeper Floor Mop Starter Kit. It's perfect for our small space. It breaks down into small pieces, making it super easy to store, and cleans dirty floors quickly and easily!
Windows and Mirrors
I use a glass cleaner to clean mirrors, windows, and the glass panes on our RV storage cabinets. I often spray down our RV fridge panels and wipe clean with it.
Shower
RV showers are different that "regular" showers. I used to love cleaning my house showers with bleach products, but they aren't good for RV showers. Bleach can degrade the seals around your tanks over time. In fact, My RV shower has a sticker stating that if bleach is used in the shower, it voids all warranties!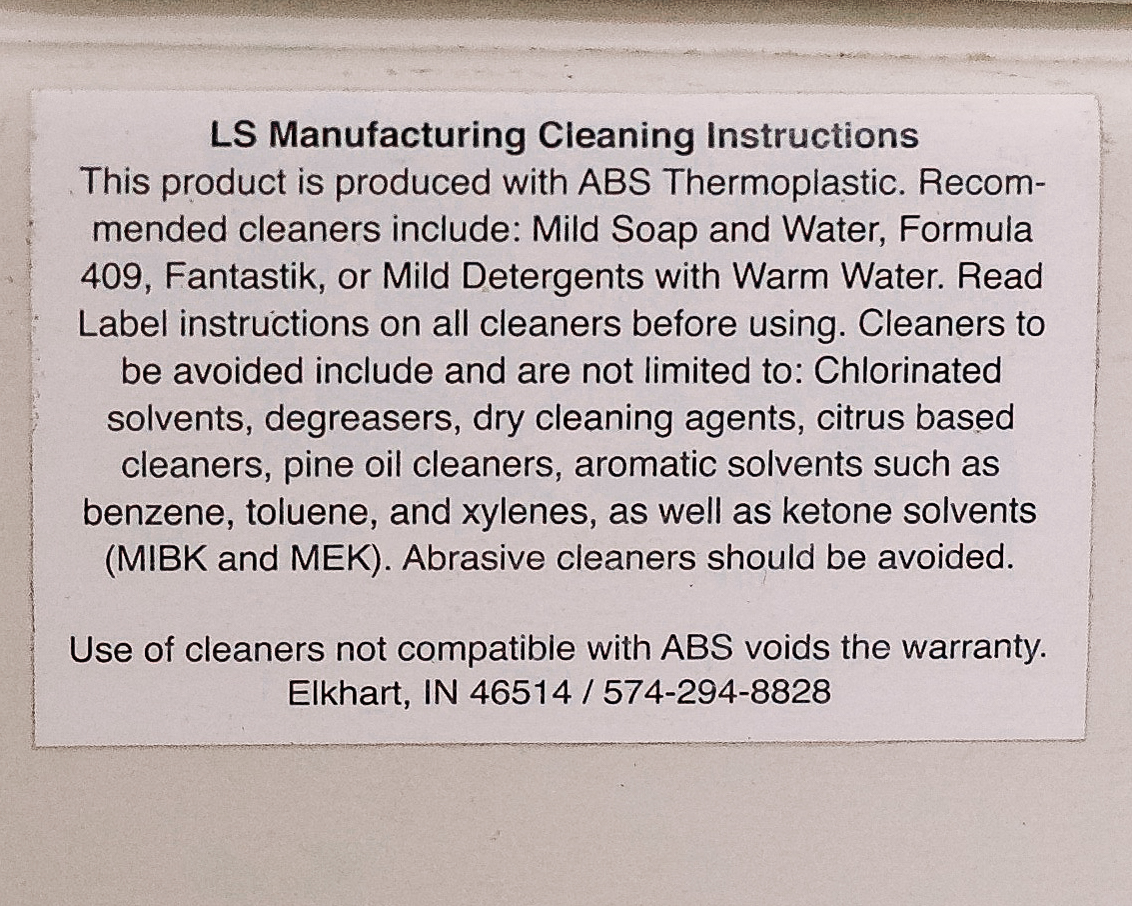 After some trial and error, I figured out that a homemade mixture of 1 tbsp. dish soap, 1 cup white vinegar and 2 cups water in a spray bottle works well. I spray down the entire shower, let it sit for a few minutes and then use a scrub brush in a circular motion to clean.
We have a glass sliding door on our shower, which easily gets water scum build-up. I found that cleaning it with my homemade vinegar mixture mentioned above with a Mr. Clean Magic Eraser does the trick to clean it!
Toilet
My homemade mixture of 1 tbsp. dish soap, 1 cup white vinegar and 2 cups water in a spray bottle works well for the toilet. I spray the inside of the bowl and use the toilet scrub brush I keep behind the toilet to clean the bowl. Bleach isn't recommended, as it can damage the seal.
Kitchen With no dishwasher, I hand wash dishes with dish soap. Our porcelain sink starts looking dingy pretty frequently. The kitchen sink is the one place I use bleach! A quick spray down with a cleaning product containing bleach works wonders in the sink! I spray it down, let it sit for a minute or two and then rinse out. Always be sure you're in a well-ventilated area before using bleach! I always turn on the overhead exhaust fan before cleaning the sink.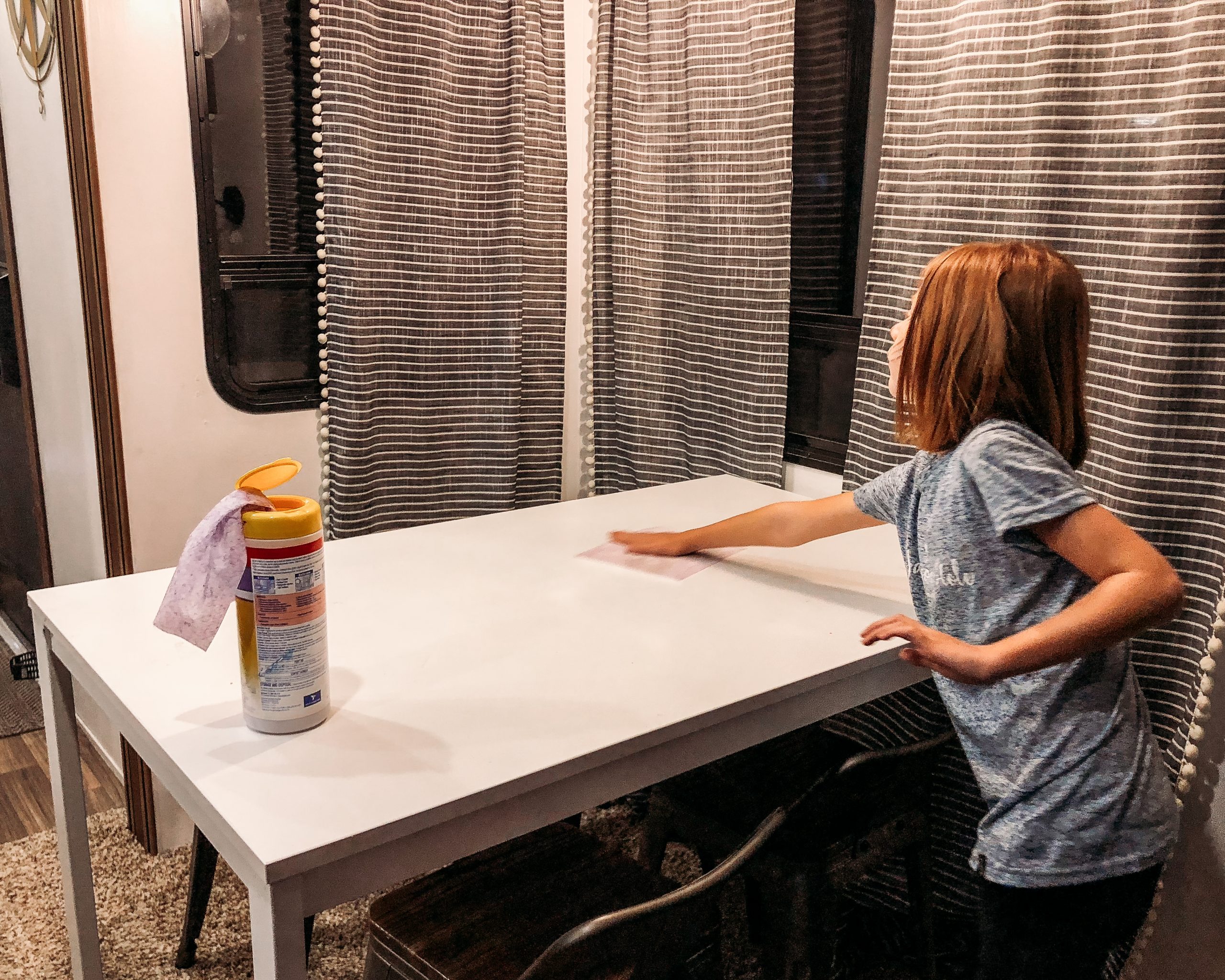 All Other Surfaces
I keep a healthy supply of cleaning wipes around for all other surfaces. I use them to clean bathroom and kitchen counters, the outside of the toilet, the kitchen table, and to wipe down the RV walls when needed.
I hope this list of cleaning supplies helps you get a good idea of what you'll need to keep your RV interior sparkling clean!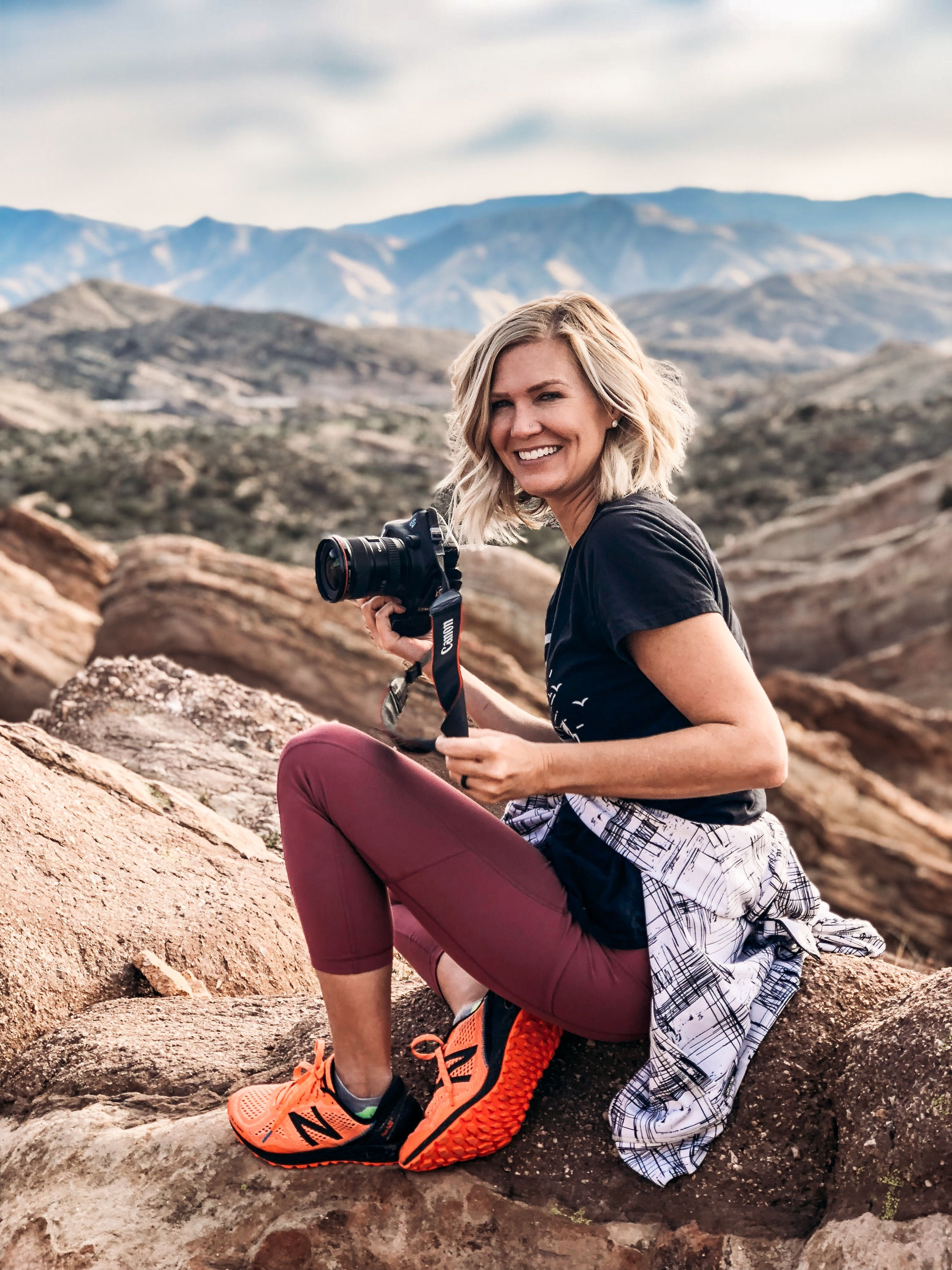 About the Author: Lauren is a wife, mother of two, photographer, blogger and lover of nature and adventure! Currently traveling around the U.S. in a fifth wheel, Lauren and her family seek to live life to the fullest and continue to look for ways to simplify their lives in order to live larger with less. Follow along on their journey by visiting their family travel blog.