Over the past couple of years, there have only been a handful of RV shows around the country. Many RV shows were cancelled due to the pandemic, but last year an inventory shortage also contributed to the issue. I talked with several show promoters that told me their dealers not only had no new rigs to display, but had very few used ones as well! With the projection of over 600,000 new units being sold in 2021, there wasn't much need for a show.
However, record attendance at the Tampa Super Show in January, the NC RV Dealers Raleigh Show in August, and the PA RV Show in September proved that RV enthusiasts want to walk the aisles, kick the tires, and attend seminars. Fortunately, 2022 is shaping up to have more offerings for RVers looking to attend a show.
Since I'm preparing to attend and conduct seminars at a few upcoming RV shows (NC RV Dealers Show in Greensboro 1/7-1/9, Charlotte 1/21-1/23, and Raleigh 2/18-2/20, and the PA RV Show in Harrisburg 2/25-2/27), I thought I'd share a handful of helpful tips for any RV enthusiast planning to attend a show in 2022.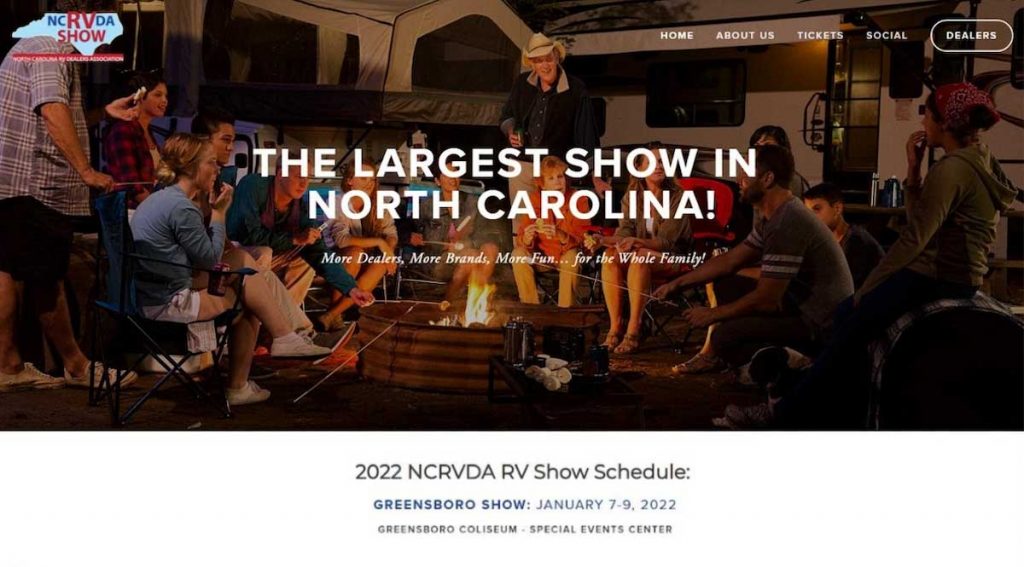 1. Research Participating Dealers and Models on Display
It's important to know what makes and models will be available to see at the show especially if you're looking for something in particular.
For example, there were only a handful of dealers and only about 70 or so units at the NMMA Boat & RV Show in Chicago the last couple of years. No diesel pushers, two Class A gas, and no Toy Haulers—needless to say, attendees were very disappointed!
With the lack of inventory, supply chain shortages, and overwhelming demand, it's a good idea to go through website to check out the floorplan and exhibitors to make sure what you are looking for will be at the show.
Many show promotors have a contact link where you can submit questions about the show, certain models, or exhibitors. You can also contact the dealer directly to verify the units that will be on display. Be sure to ask about test driving, as some dealers keep extra units in the parking lot for test drives.
2. Get Tickets Online and Go Early
With the anticipation of record crowds again this spring, it's a good idea to purchase tickets prior to the event online and bypass the lines at the ticket counters. Most shows have an online feature for this and even offer a discount for multiple ticket purchases.
Once you have your ticket, try to go early in the morning to get a good parking spot and bypass the line of people waiting to get in. However, that most shows won't let anyone in until the show officially starts, so don't get there too early or you'll be stuck waiting.
3. Get the Floorplan and Create a Map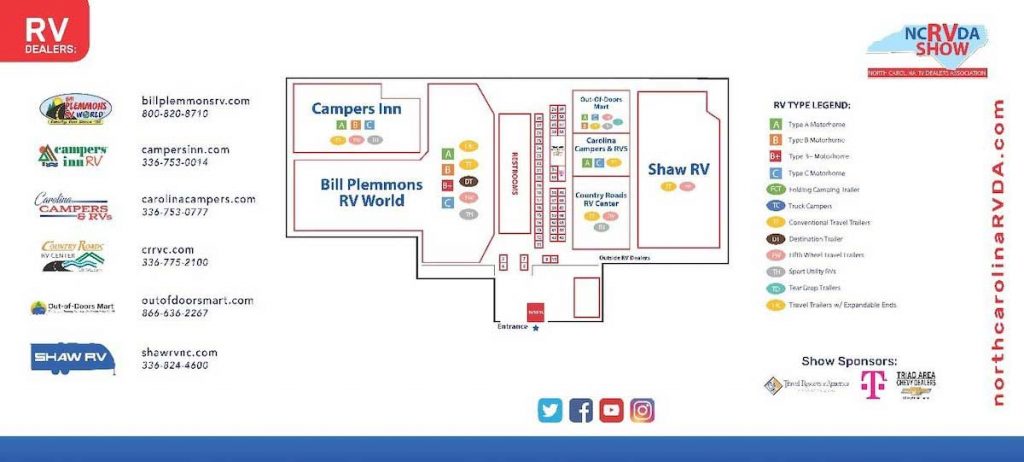 Shopping for an RV can be overwhelming, especially at a show with hundreds of units to see. With so many RV dealers, it's easy to get lost in the maze of displays.
Oftentimes, there will be only one entrance/exit, so be sure to locate it. Before you know it, you'll be so confused by all the units and aisles it'll seem like there's no way out.
Get a copy of the floorplan to help you map out your route and use your time efficiently. It will also help eliminate exhibitors you don't care to see so you can spend more time with the RVs you're most interested in.
4. Develop a Checklist and Take Notes
When looking at so many units, sometimes a shopper ends up creating a dream RV in their head that doesn't really exist. They like the bathroom in one, the slide outs in another, and piece these elements together.
Get a notebook and write down important items such as chassis/fuel option, length, classification, GVWR/towing capacity, or whatever else matters to you in an RV. Start a list of units that fit your needs, what you liked, disliked, dealerships, and anything that will help narrow down the right unit for your needs.
You might think you'll remember, but these details are very difficult to recall days or weeks after you get home.
5. Attend Seminars
If the show you're attending has educational seminars, get a copy of the schedule and attend the ones that cover topics you have questions about.
If you plan to go boondocking or dry camping, you'll want to attend a seminar on 12-volt battery power or solar panels. If you have a truck and are looking for a trailer, a seminar on driving a truck and trailer will be helpful.
You can usually ask the questions you want and get a direct, non-biased answer while receiving good information and advice at these seminars.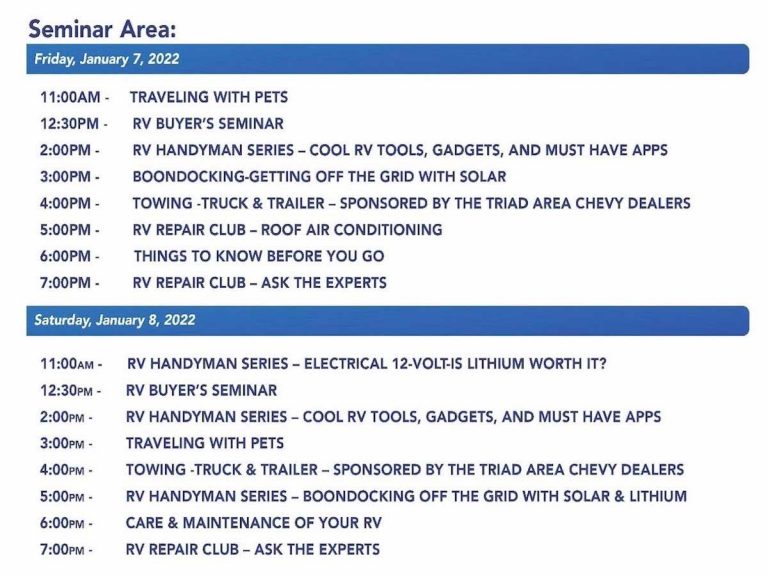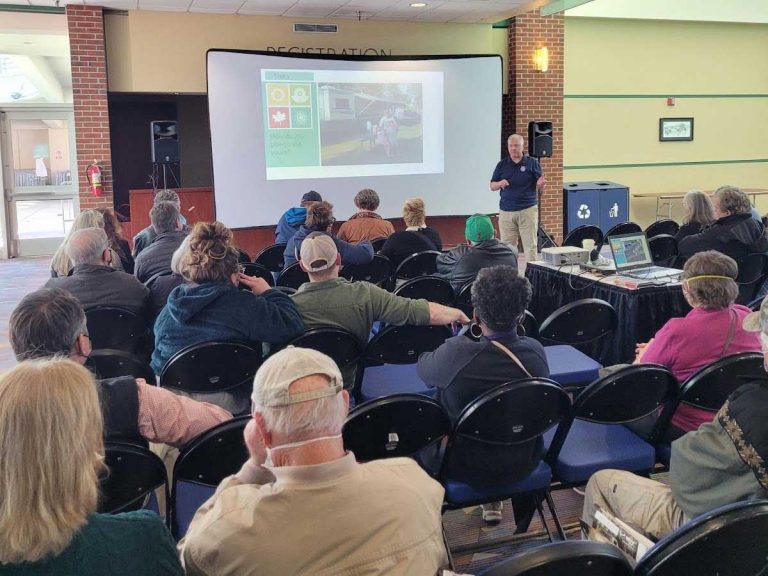 Hopefully these tips will help make your next visit to an RV show a little bit smoother in 2022. If you're planning a trip to an RV show this year, let us know in the comments! Stay safe, and happy traveling!