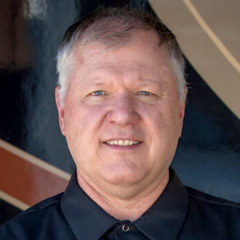 Camper Tire Maintenance
Dave Solberg
According to RV repair and maintenance expert Dave Solberg, tires are the most vulnerable and yet most neglected component on an RV. Because the tires on our everyday automobiles have become so reliable and easy to monitor, we tend not to think much about our RV's tires. But if you want to guarantee the health of each camper tire on your vehicle, you should regularly check its pressure and weight. In this quick video lesson, Dave teaches you how to do that, and discusses some other simple tips for maintaining and optimizing a camper tire.
How to keep a camper tire road ready
The following is true for all RVs, but it's especially important for pop-up campers. Pop-ups utilize relatively small wheels and tires with thin walls that are prone to overheating and popping if the pressure and loaded weight are not properly monitored.
With this in mind, Dave recommends that you always carry a high-quality PSI meter on your rig, and regularly use it to check the pressure on each camper tire (including the spare). For Dave, regularly means every time you hit the road. He also suggests that you measure the temperature of your tires, wheels, bearings, etc., every time you stop, whether at a rest stop, gas station, or at your destination. This simple step is crucial to guaranteeing that you stay apprised of the health of your vehicle's most vulnerable components.
What happens if you encounter an issue?
Let's say you have a sudden loss of air in one of your tires or you experience a camper tire blowout. What should you do first? Using your vehicle's owner's manual, Dave walks you through the process of diagnosing the issue, and getting everything fixed up safely. This includes buying an appropriate jacking system, which most manufacturers do not equip in their models.
On the topic of proper jacking, Dave talks about the correct method for jacking. Many RVers think you insert a jack at the axle in order to change a camper tire, but Dave says that is not the right thing to do. Find out where you should actually put a jack, and learn other important tips for camper tire maintenance in this quick video lesson. Follow proper protocol, and you won't have a major issue on your hands!
Popular Driving and Tires videos
Explore videos by Dave Solberg