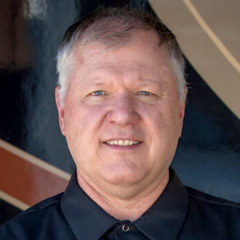 Checking for Leaks in an RV Propane Tank
Dave Solberg
Thanks to road vibrations and repeated use, an RV propane tank can be prone to leaks, cracking and rust; the first of these issues is easily detected in an RV propane tank by a rotten smell in your motorhome or a repetitive beeping from the system's LP valve. To help you determine where the leak is in your RV propane tank system, Dave Solberg gives a few tips and discusses two tools that can simplify the process.
The first of these tools is a manometer, which is typically found in older model RVs and is similar to a barometer in that it gauges pressure using a basic dial. All you have to do after you've disengaged the RV propane tank and disconnected a particular component in the line is plug in the manometer and wait a few minutes for it to take an accurate reading. If the dial shows a reading in the ideal range for a certain appliance, you do not have a leak. If it is outside that range, you have a leak and you should take your unit into a repair shop to have it inspected by a trained technician.
The second of these tools is an approved leak detecting solution, which can be painted onto the nozzle of any line. After a moment, it will indicate whether that particular component in the RV propane tank system has a leak, and again, you should take your unit into a repair shop. When in doubt, if you are not sure whether you have a leak or you don't think you are capable of completely solving the issue, you should always have the vehicle looked at by an expert at a maintenance center. Gas leaks in an RV propane tank can cause dangerous situations unexpectedly while you are out on the road, and they should be taken care of immediately once they've been found.
Explore videos by Dave Solberg