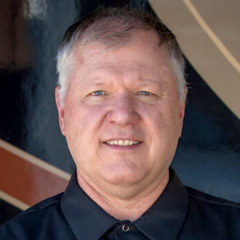 Inspecting and Recertifying a DOT or RV Propane Tank
Dave Solberg
RV propane tanks, or DOT cylinders, must be filled at certified filling stations by trained technicians. Every ten years, an RV propane tank or DOT cylinder used on a travel trailer or 5th Wheel must be recertified, as well as inspected for working condition after each subsequent filling. This helps prevent any dangerous situations from arising while you are out touring the country in your RV. To help you determine what to look for prior to hitting the road, Dave Solberg quickly walks you through an example inspection of a used RV propane tank.
When you disconnect your RV propane tank before taking it into a certified filling station, it's important to check for a few things. You'll want to give your RV propane tank a careful inspection for rusting, cracks, bulges and dents, especially at the bottom of the cylinder, where the unit rests in its holding tray. This area is most prone to condensation and moisture buildup that is likely to cause damage to the integrity of the RV propane tank. Depending on the condition of your DOT cylinder, the technicians at your nearest filling station will either accept, reject (ask you to have it repaired) or condemn the tank, meaning it must be replaced.
Additionally, Dave talks about the importance of having your RV propane tank recertified by a filling expert after each additional ten years. You can find the date of your cylinder's initial certification at the top of the unit. Technicians will run the DOT cylinder through a number of inspection tests to assess whether it is still in proper condition. They will decide if your particular RV propane tank is safe to be used on a travel trailer or 5th Wheel and is able to last an additional ten years. This regular certification protects you from both dangerous situations and any potential legal trouble.
Explore videos by Dave Solberg