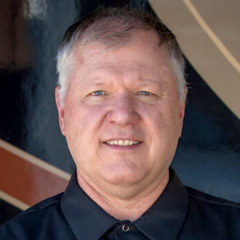 Keep Your RV Windows Working Smoothly
Dave Solberg
As with all other interior/exterior components of your RV, it's important to keep your RV windows in great shape. This requires only an hour or two of your time every now and then. In this quick instructional video, RV expert Dave Solberg teaches you all the essentials you'll need to ensure your windows are remain in excellent condition, including how to check the condition of the framework, keep your RV windows sliding smoothly and maintain the weep holes so rainwater can run off properly.
Tips for Maintaining RV Windows
To avoid unwanted headaches with your RV windows when you most need them to function correctly, Dave recommends being proactive and inspecting your windows about once a year. He says you should start by looking at the framework, which sandwiches the window in place. Make sure the sealant is in there nice and snug — not loose or cracked anywhere.
When you step inside to check that the RV windows slide back and forth properly, be sure to check the grooves to see whether they're clean. If they're not, the windows might catch and even become stuck. To counteract this, you can apply a healthy coating of graphite to the felt and slide the windows back and forth a few times. Graphite is an excellent material because it doesn't build up or attract moisture and dust, and it can be found at any hardware store or online through numerous retailers.
Next, Dave explains why you'll want to take a look at the outside of your RV windows. He recommends examining the framework for dings and dents, and shows you how to make sure the seals look tight, without any debris or dirt that could open up cracks for water to seep into. If you see any gaps or air leaks, it's time to reseal the window. You can do this by removing the window from its mount and applying either beudal tape or fresh sealant.
What Else You Need to Inspect
Then you'll want to check the bottom channels on the outside of the windows, and apply a dose of graphite along the bottom edge if needed. As you did inside, slide any moving pane of the window back and forth to make sure it moves smoothly without catching on the felt.
While you're outside, you should also take a look at the weep holes on your RV windows. These are designed to keep condensation from accumulating – a vital function on any rig. Use a screwdriver or other flat implement to clear away anything that is stuck in the weep holes, such as debris or spider webs. If necessary, you can use an air gun to clean out these holes.
And that about covers it! A few quick steps once a year, and your windows will last their full lifespan. With Dave's expert guidance and his clear, step-by-step demonstration, this lesson makes it a snap to maintain your RV windows. You'll enjoy smooth-sliding windows each day, and you'll appreciate clean weep holes and sturdy seals for the long haul!
Explore videos by Dave Solberg