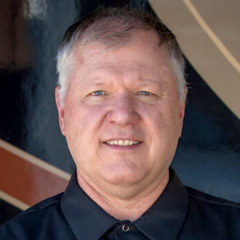 RV Awning Operation and Maintenance: Carefree of Colorado
Dave Solberg
In this free video lesson, we teach you simple tips for RV awning operation and maintenance. Our demo awning for this guide is a manual operation awning from Carefree of Colorado. To help you get the longest lifespan from your awning and ensure proper functionality, Dave Solberg walks you step by step through the process of extending/retracting, and he gives expert advice for maintaining any awning.
The key to keeping your awning functioning smoothly throughout its life is sensible operation. Proper RV awning operation means easing areas of friction and imbalance, limiting mildew and mold accumulation after precipitation and heavy humidity, and taking precautions during the extension/retraction process.
How to navigate proper RV awning operation
Dave demonstrates each of the above points of emphasis as he unravels the Carefree awning on this Jayco fifth wheel. First, he discusses what happens when the fabric on your awning starts to stair-step or telescope on either end. This creates a lopsided roll, which can be avoided by moving the pull strap to the center. In addition to telescoping, you can do damage to the joints and support framework by pulling on this strap from one end.
Another thing to watch when manually operating your awning is the support beams that extend to prop your overhang. If you feel significant friction when pushing out the beams, Dave recommends spraying the channels with quick-dry silicone. This will clean the contact points of dirt and dust and ease the friction.
Lastly, as with the rest of your vehicle's exterior, it's important to manage the amount of mold and mildew that collects on your awning. All vinyl awnings are susceptible to at least some buildup–that's fairly unavoidable. To minimize the havoc mildew causes, you should extend your awning periodically to allow it to dry out, especially after long periods of rain or snow. If you notice your awning has become overrun, don't fret! Chances are good that you can bring it back to life. Mold and mildew attach to dirt and dust, not the vinyl itself. With a bit of cleaning and conditioning, your awning should be fine!
Popular All RV Lifestyle & Repair Videos videos
Explore videos by Dave Solberg