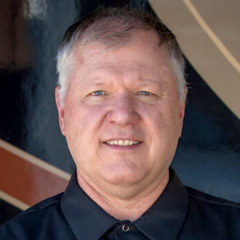 What to Look for in an RV Roof Inspection
Dave Solberg
Most RV owners know that it's important to conduct regular maintenance on their vehicle in order to ensure it runs in tiptop shape every time they hit the road, but they may not know what exactly "regular maintenance" entails. Engine inspection and tests of propane and generator systems come to mind, of course, but what about the other components of your vehicle those that aren't so simple to see?
One of those components on an RV that often goes unnoticed is the roof. The RV roof is a vital portion of the vehicle that must be properly maintained to prevent issues such as water leaks that can cause serious damage outside and inside. Experts say you should complete an RV roof inspection at least twice a year to make sure the roof material is not delaminating or starting to deteriorate, and the all the sealants are in good condition. This lesson will walk you through a step-by-step RV roof inspection for a 5th wheel unit.
Safely completing an RV roof inspection
To help you figure out the best way to complete an RV roof inspection, RV expert Dave Solberg gets up on the roof of a 5th wheel unit to show you what you should look for when checking the status of your RV's roof. He teaches you how to safely navigate the roof of your vehicle, remaining wary of fragile areas near vents and AC units, and introduces each of the things you should check during an RV roof inspection.
With Dave's guidance, you'll be able to tell at the end of your RV roof inspection whether you have minor issues that require simple fixes or major problems that need expert assistance. He explains how to look for gaps in sealant at the edges of your roof and around important components such as vents, AC units and TV antennae.
In this sample RV roof inspection, you'll also discover the proper technique for clearing out debris, spider webs and other blockages from vents, and learn important advice for dealing with punctures and tears in the rubber membrane of your Rubber roof. With some basic preventative care, you can make sure your RV roof is in proper working order and lasts as long as possible.
Explore videos by Dave Solberg