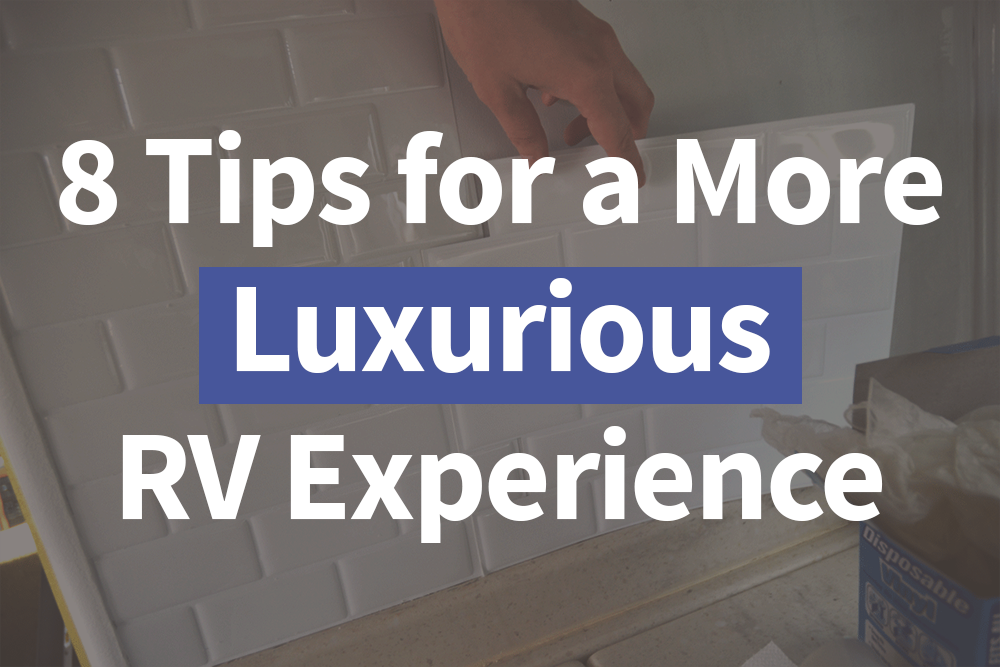 Looking to spruce up your RV to add even more comfort and touches of home? Check out these ideas for a more luxurious RV experience out on the road.
Use Real Dishes
This may be a simple suggestion, but real dishes help make your RV feel like home. Using real dishes instead of paper plates and plastic forks not only adds to your experience, but is also more environmentally friendly. However, be careful in your material and storage choice – no one wants broken dishes on the road! High end plastic or a lightweight dinnerware like Corelle would make good choices.
Make a Customized Campsite Sign
Add a personal touch to your campsite with customized RV camping signs! This is a chance to flex your creative muscles and can help facilitate introductions with your neighbors if you include your last name and home base location on your signs.
Furnish Your Floors with New Vinyl
Another idea for a more luxurious RV experience is to install new flooring! Vinyl can really update the appearance of your RV and it's not too difficult to maintain. Mrs. Padilly's Travel Blog about RV life has a great walkthrough on how to put in a new vinyl floor. Find the instructions here. Photo credit: Mrs. Padilly's Travels
Reduce Clutter with Organization Solutions
Storage and organization in a small RV space can be challenging. Why not make it simpler by modifying your RV storage drawers to be as efficient as possible? Adding an organizational tray can help you get a lot more out of your space, while keeping belongings neat and tidy.
Revamp Walls with Peel and Stick Tile
Similar to installing vinyl flooring, peel and stick tile is a fairly simple upgrade. It's exactly what it sounds like… peel off the back of the tile and stick it on your RV's walls! An easy and stylish do-it-yourself project, this is sure to give your kitchen or bathroom an instant upgrade. You can find a more detailed breakdown of instructions and advice here from a blog called Paint by the Light. Photo credit: Paint by the Light
Install an Oxygenating Showerhead
This is one of the most impactful changes you can make for a more luxurious RV. Oxygenating showerheads use air to increase surface area of the water stream for a more satisfying, yet water-saving shower. Enjoy these types of RV modifications in your own shower.
Reupholster Interior Cushions
This project requires a little more skill and patience, but the finished product will be worth it! The Pop Up Princess blog has a great tutorial on how to reupholster your interior dining area cushions. This great idea can help add some additional comfort and charm to your new luxurious RV. Get the instructions here.
Brighten Interior Spaces with LED Lighting
Normal incandescent bulbs are energy consuming and provide less light, but you can upgrade your lighting with RV LED interior lights to improve efficiency and create a better atmosphere. Not all LED lights are created equal however, and they may not be right for your RV. Understand the different types of RV LED replacement bulbs so you can make an informed decision. Have something to add to the story? Leave a comment or share with us on Facebook!