Editor's note: A familiar name to many RVers, Sue Bray has worked in the RV industry for 35+ years. Over the summer, Sue, her husband Mel, and their boxer Harley took off to tour the country in their 31' fifth wheel, with no exact plans except to have an adventure. She'll be chronicling their trip as well as sharing lessons learned along the way in this new ongoing blog series.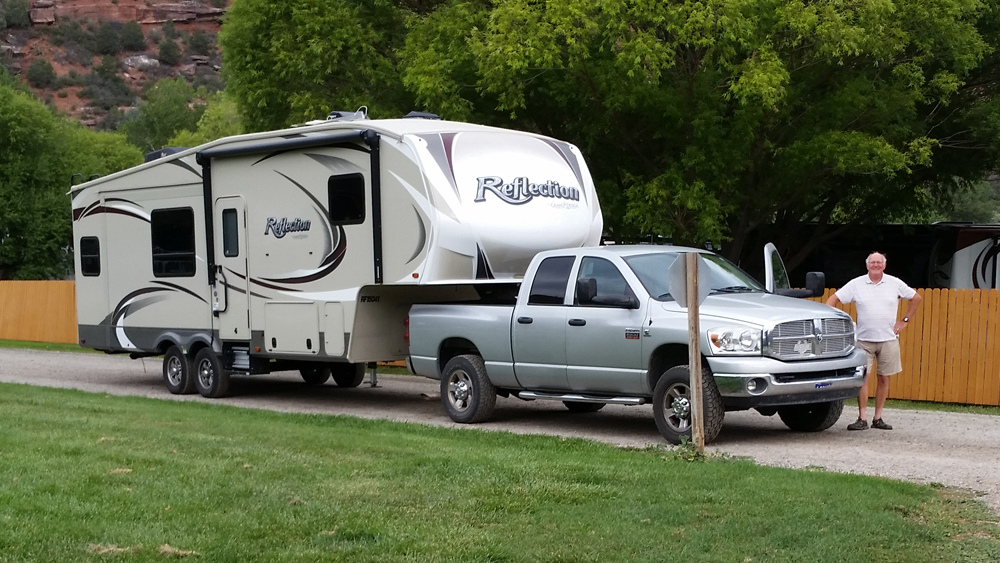 And so it begins.
Well, not exactly. We've loaded the rig, stored our car and motorcycle, and hit the road. We've traveled all of five miles out of town, and are camped for three nights in the local campground. The reason for all of this is that our house sitters have moved in to our house, but there's a local event we want to attend. So we just moved into the rig.
We're able to hike new areas and throw a farewell BBQ for ourselves and 12 friends right at the campground. But more importantly, these two days have given us time to catch our breath, start relaxing and enjoying our RV, and shop locally for additional items we've just figured out we need for the trip. At the local dollar store, we bought small bins (actually they're supposed to be dish pans) for storing our clothes so they don't get lost in those cavernous RV cabinets. I've labeled each one – i.e. "Mel's shirts," "Sue's shorts," etc. We've been to Costco and have a freezer full of food. Harley the boxer dog has lots of food and treats for the duration. We've even installed a wine rack, and of course, some bottles to put in it.
Although our move into the rig and not leaving town was out of necessity, it actually ended up being helpful. If you're about to head out on a long-term trip, I'd definitely recommend spending the night in the RV before hitting the road – it's a great way to adjust to your new surroundings and take stock of anything you might still need before setting out, particularly if you're heading out on a long excursion. It's certainly easier to search and shop at the stores you already know rather than trying to find things in a new place. Plus, it's a great opportunity to slow down, relax a bit, and look forward to that long road ahead!
We're ready – to really hit the road. Next stop Utah!
Until next time…
Related Blog: 10 Life Lessons We Learned on the Open Road