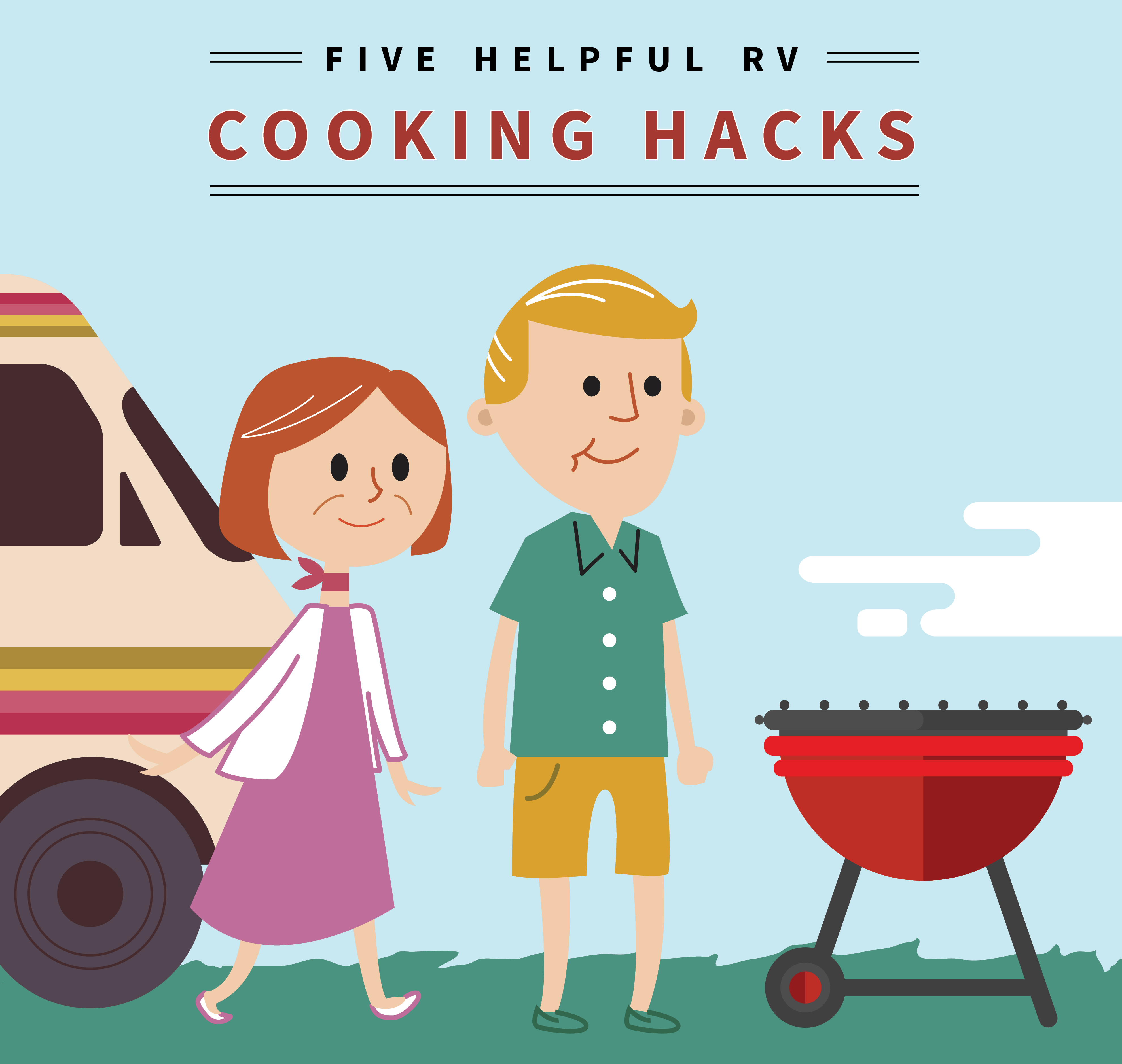 The art of RV cooking has evolved greatly over the last few decades; each passing year brings more ways to customize a motorhome's kitchen to address the unique preferences of your family. You want granite countertops and dual ovens? Done. How about a full-sized dishwasher? For a certain price, you got it. Whether you've stepped up the lavishness of your RV kitchen to achieve the home-away-from-home feel or you opt to stick with the tried and true single oven, refrigerator, and limited counter space, these simple yet effective RV cooking tips are meant for chefs of all sorts.

You're guaranteed to have a better, more carefree cross-country journey when you've planned ahead, especially when it comes to packing the RV. You should always be sure to secure all items in the kitchen (from spices and condiments to heavier countertop appliances) and, to take advantage of all available space, stock the cabinets with only foods you're likely to eat.

We know you have favorite serving bowls and nicer utensils at home that you rely on, but on the road heavier, bulkier dishware becomes more a hassle than a luxury. With confined kitchen space, cleaning these items can get downright frustrating. Swap your fine china for inexpensive patio-style tumblers, dishes and utensils, made from recyclable plastic that's durable but not unattractive.

Certain foods should be kept away from the RV kitchen, especially if you plan on taking an extended trip. Pasta, all things fried, and most batch-cooked meals require a great deal of propane, draining your tank before your eyes and generating a ton of heat in your sleeping space. To conserve energy and make nights more comfortable, trade out difficult dishes for less heat-intensive alternatives that utilize the oven for a short period of time.

A great way to stay out of the RV kitchen while still cooking at "home" is to utilize the grill as much as possible. However, limited freezer space calls for creativity when it comes to enjoying carnivorous meals out on the road. We like to marinate meats in zip lock bags and freeze them in the days leading up to a trip. Store them in the RV fridge or a cooler—they can be used as cold packs—and grill them up as they thaw.

Rather than having to coax a burner to light and sapping your propane tank, try to use appliances that can plug into a portable generator or a campground power source. Electric skillets get the job done for most breakfast recipes, and the slow cooker, beloved in all RVing circles, requires minimal energy to make a meal throughout the day.
You don't have to be a professional chef to create tasty RV meals on the road that the whole family will love, but you can always make your job a little bit easier by incorporating these expert RV cooking tips into your routine.

Interested in more information about cooking in your RV? You might like:
Campfire Cooking: One Skillet Breakfast Hash
5 Easy RV Meals For Your Next Road Trip
RV Meal Planning On A Budget