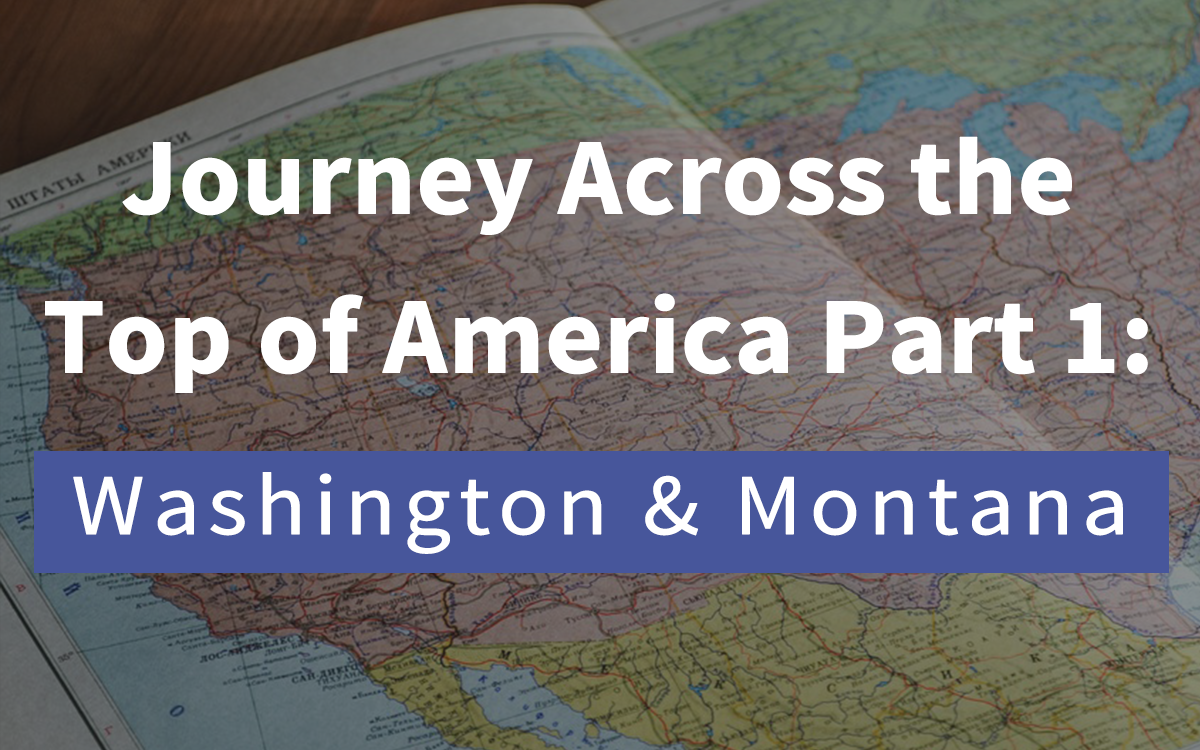 Our stay on Whidbey Island in Washington State was drawing to a close. Ahead of us was a cross-country journey along the top of the country on our way to visit a high-school chum in Chicago and then venture down to Key West, Florida, for the winter. In short, we were approaching a 6-month, 3,600-mile trek.
Click here to read Part 2 and Part 3 of this series.
Monique's mapping out of the route was simple. Get on Washington Hwy. 20, detour up to U.S. Hwy. 2 in Idaho Eastward into Michigan's Upper Peninsula, and then hug the coast along Lake Michigan to the Windy City. All very direct and inviting. However, Monique's planning is always open to deviation when she reads about sights or events that will add extra spice to our on-the-road experiences.
I'm not going to bore you with a mile-by-mile recollection of blacktop from mountains to plains to lakes but rather toss out some of the memorable stops as we wove our way beneath the Canadian border. The tough part is paring down more than 2,500 photos into a very few that capture the feeling of our journey.
North Cascades National Park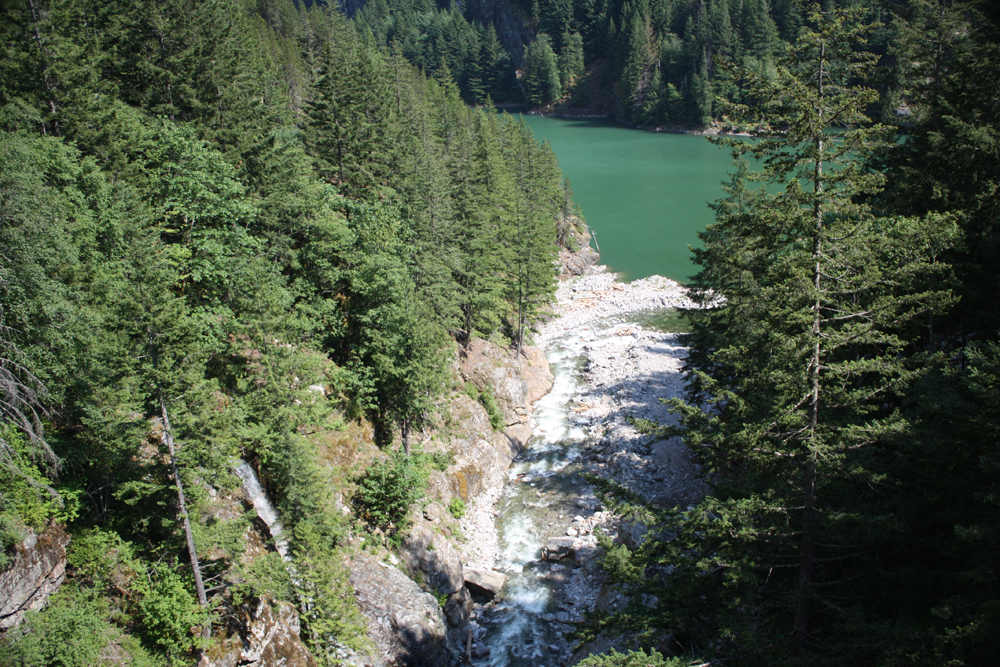 A creek dumps crystal clear water into a river in North Cascades National Park. Our impression of the least-visited-park in the contiguous U.S. is that it is the essence of natural forest beauty.
Our first stop along scenic Route 20 was in a "secret spot" known as North Cascades National Park in Washington State. It must be a secret, because it is the least visited of all National Parks in the Lower 48 states. Like most of the more popular members of the National Park system, North Cascades offers beauty and opportunities for appreciation of nature, especially glaciers. Four days of cherished mountains and forest before heading into the sunrise and joining U.S. 2 in Idaho.
Related video: North Cascades National Park: The Raw Edge Of Nature
A River Runs Through It
At the start of this trip, we had spent almost three years as nomads in a 22-foot travel trailer (later replaced by a 28-footer). As we explored the area around Sandpoint, Idaho, we found a pizza restaurant in Hope with the freshest ingredients we had enjoyed in years. Honestly, that was a highlight until, while driving along twisting very rural roads, we spied a "For Sale" sign on a shack situated on verdant farmland in dire need of love. It was reminiscent of the film "A River Runs Through It."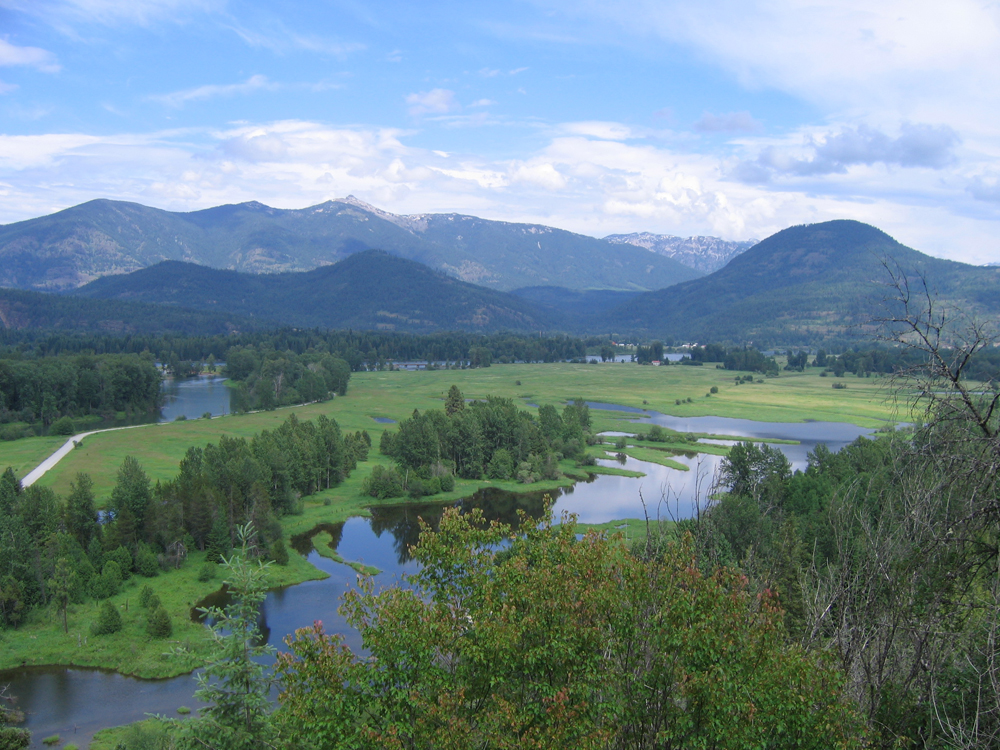 A lazy river runs through a meadow in a lush valley of Idaho. It was hard to leave the peaceful settings, but we decided it wasn't time to end our full-timing.
It spoke to us: "Buy me." The price was reasonable and the land, with a creek running through it framed by mountain vistas, was postcard ideal. We imagined starting a restoration of the property during the warm summer months until reality stepped in. We would be delayed by the upcoming Idaho winter and never finish up. Time to move on.
We dipped down from the upper neck of Idaho to visit relatives in the Palouse Region, where rolling landscape is a quilt of colors and textures, glowing in places from bright yellow mustard plants. The "Palouse" is dunes sculpted by windblown silt covered with the most abundant crop of wheat in the world.
Glacier National Park
Montana is a big state – fourth largest in size. Our cross-state travels didn't take it all in, but three locales will always be in our memories, beginning with the majestic scenes of Glacier National Park. I urge you to stop reading this blog immediately, jump in the RV and get there ASAP.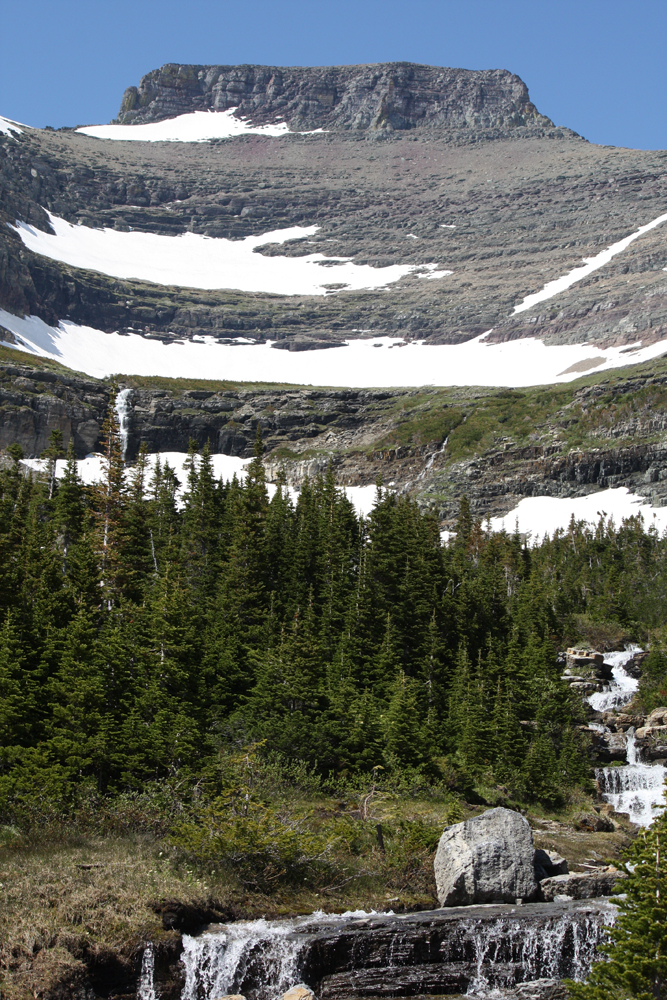 Thick beds of ice that have clung to the mountains of Glacier National Park for millennia are receding at a rapid pace. It's still breath-taking, but you'd better get there quickly to experience the grandeur.
Related video: Glacier National Park: One Half Of North America's Crown
The formidable glaciers that give the park its name are melting. Several still radiate in the sunset, but much of the terrain is now grass and rocks. We hiked to several of the lakes to absorb the grandeur of the park and joined a long procession driving up the Going-to-the-Sun Road that takes motorists under the "Weeping Wall."
The drive to that popular attraction was interrupted when we stopped to watch a multitude of Mountain Goats practically clinging to the side of escarpments, raising our fear for the youngsters apparently just learning to navigate on tiny outcroppings.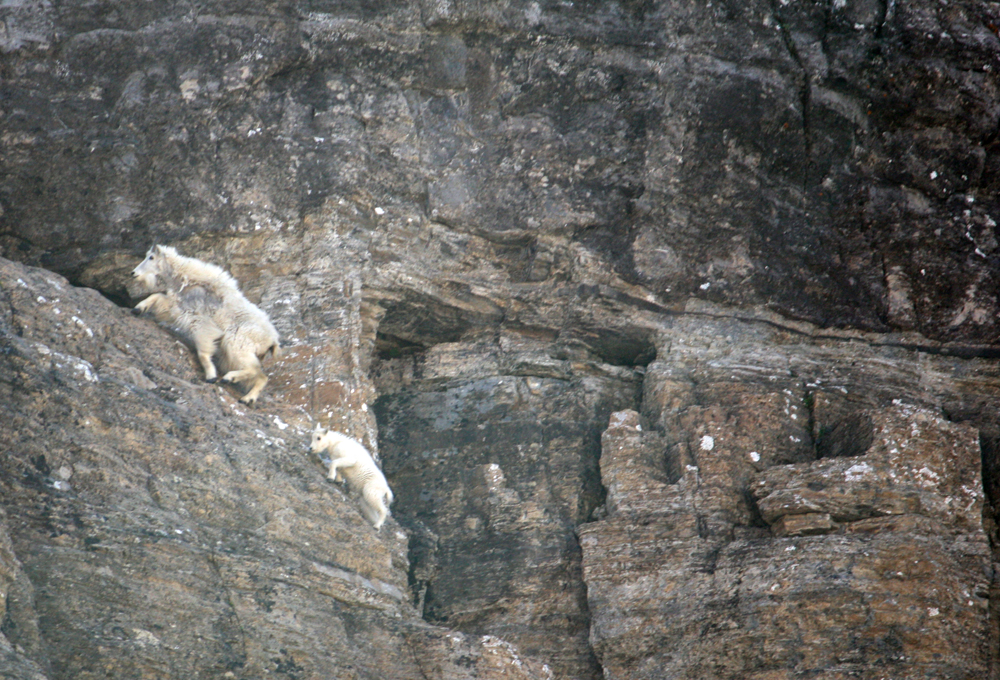 You have to shake your head and wonder, "How do they do it." Mountain Goats leap from narrow precipice to teetering ledge with what we felt was reckless abandon. Dozens of them kept us watching along a road in Glacier National Park.
The Apgar Trail is not the most treacherous we have encountered, but we were overjoyed to wake up the "souls of our feet" deadened by the hike in a cold creek on the return hike. Soon after putting on our shoes again, we encountered one of the most memorable sights in all our journeys. A doe was walking down the trail with her stumbling fawn alongside. Evidently, she was proud of her offspring, because she stood in the path for a few minutes watching us as her calf nursed.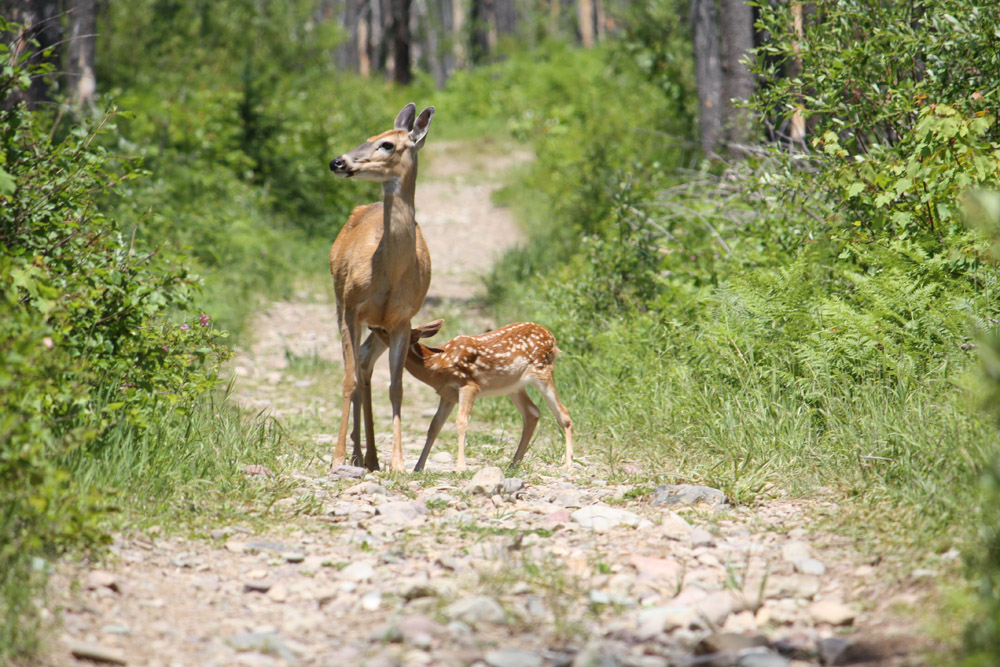 Following us down the Apgar Trail in Glacier National Park were a doe and her nursing fawn, probably experiencing her first hours of life. Of the thousands of photos I've taken over the past 50 years, this series is at the top of my list. Contact me at the address below to purchase a copy of this or others in the set.
The Apgar Trail ends at the Apgar Campground near McDonald Lake, which glistened royal blue in the afternoon sun. Hard not to want to put a boat in that lake.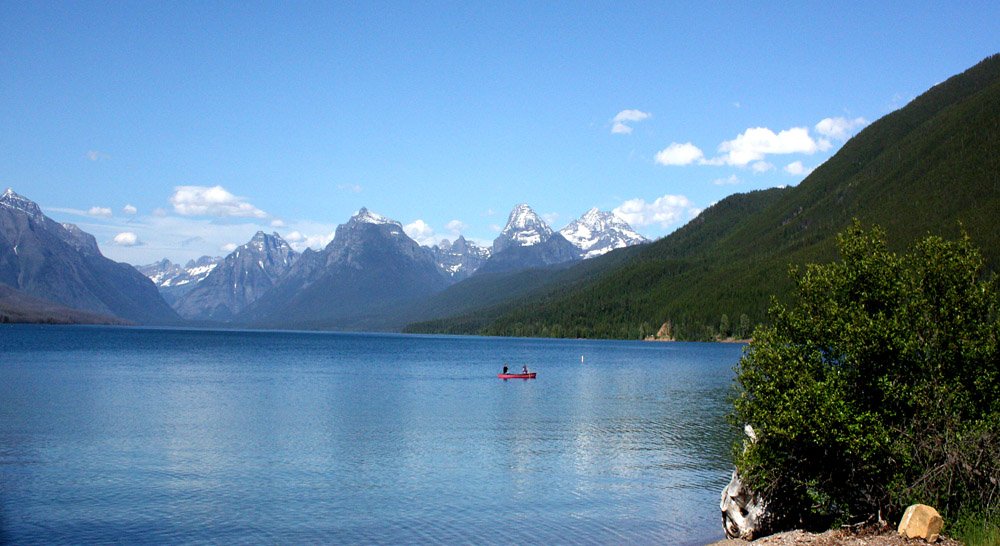 Picture-perfect, sparkling McDonald Lake is the crown jewel of 130 named lakes in Glacier National Park.
When we departed Glacier National Park, we left our focus on nature to now wander into history. We pick up in Part 2 of this series with two opportunities to visit the past.
I welcome your comments and questions below in the Response section of this post.
From the Never-bored RVers. See you on down the road.
More in this series:
The Never-Bored RVers' Journal: Across The Top Of America Part 2
The Never-Bored RVers' Journal: Across The Top Of America Part 3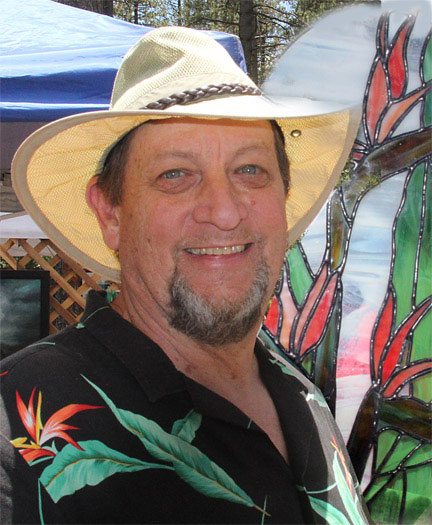 About the Author: Barry Zander spent a decade as a newspaper reporter and editor, was president of an advertising/PR agency, and was in marketing before retiring in 2006. That was when Monique suggested selling their home and buying an RV to travel North America. After five years full-timing, they bought a cabin in the mountains of Southern California, the base for continuing travels. You can read more of Barry's adventures on his blog, On Top of the World.