After living full-time in our RV for a month, we realized that in general, tiny living really wasn't that hard! However, the one area I had frustrations with was the kitchen. We immediately realized we needed to get creative with better storage solutions. I'm going to share five items we purchased that made a huge impact on our organization and made living in the RV easier and much more pleasant!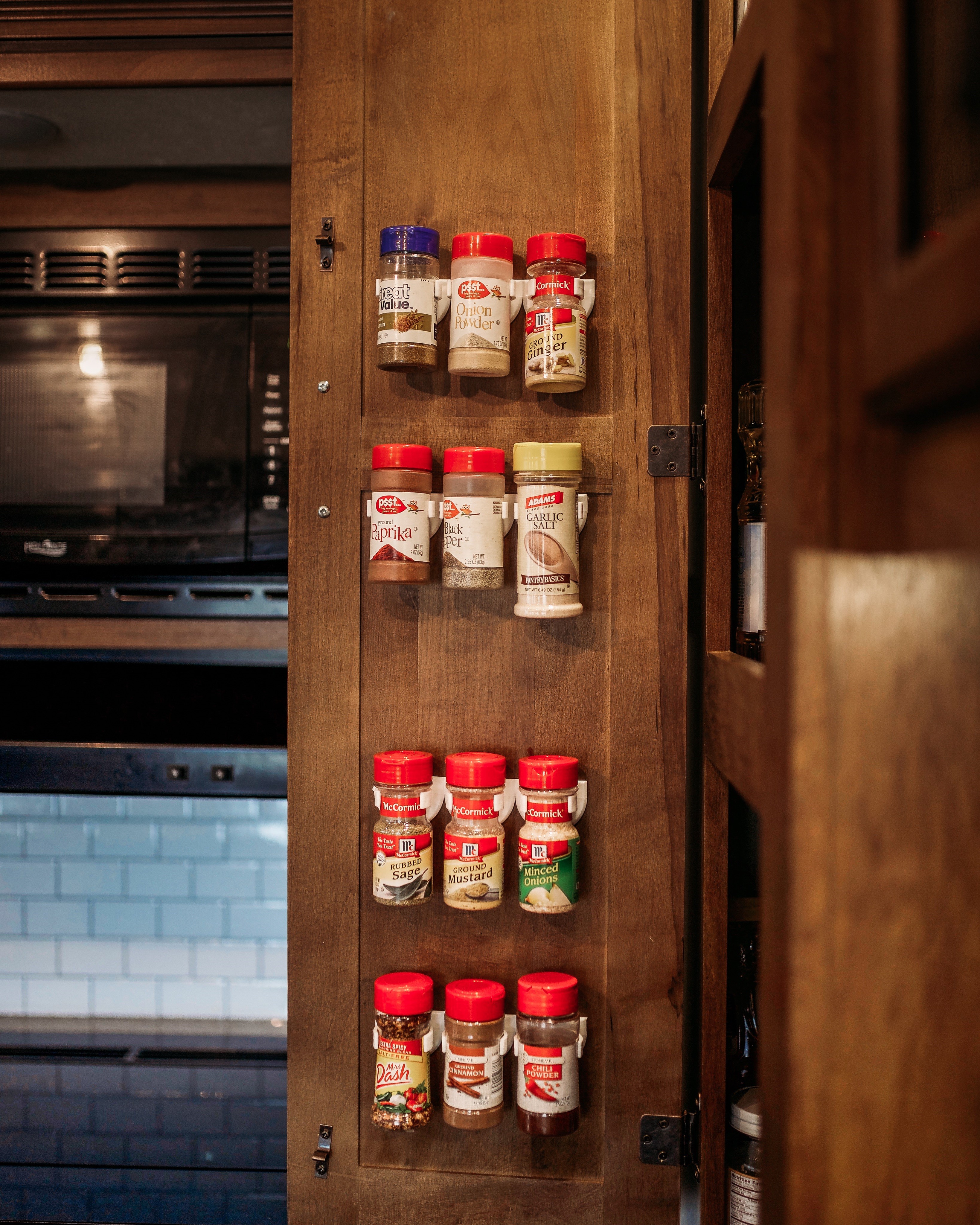 I really enjoy cooking, but cooking in a tiny kitchen has its challenges. I was keeping all of my spices in a storage bin, high up in a tall cabinet. The bin was overflowing, it was hard to reach, and it was a big pain to get down and put back away. I started researching alternative methods for storing spices and found these great spice holders. They have a sticky back if you want to place them on something, and they also come with tiny screws and screw holes so you can attach them more securely if needed. I chose to use the stickers AND screws. (We travel a lot and with all the bouncing and bumping our RV does, I wanted to extra assurance these guys were staying PUT!)
They come in strips of four, but only three fit inside my cabinet doors, so I was able to easily snap off the fourth one in order to make them work for my space, which was nice. Thirty-six come in a pack, which is great, since I have so many spices! Now my spices are much more accessible, and this one change alone makes cooking in a tiny kitchen more enjoyable!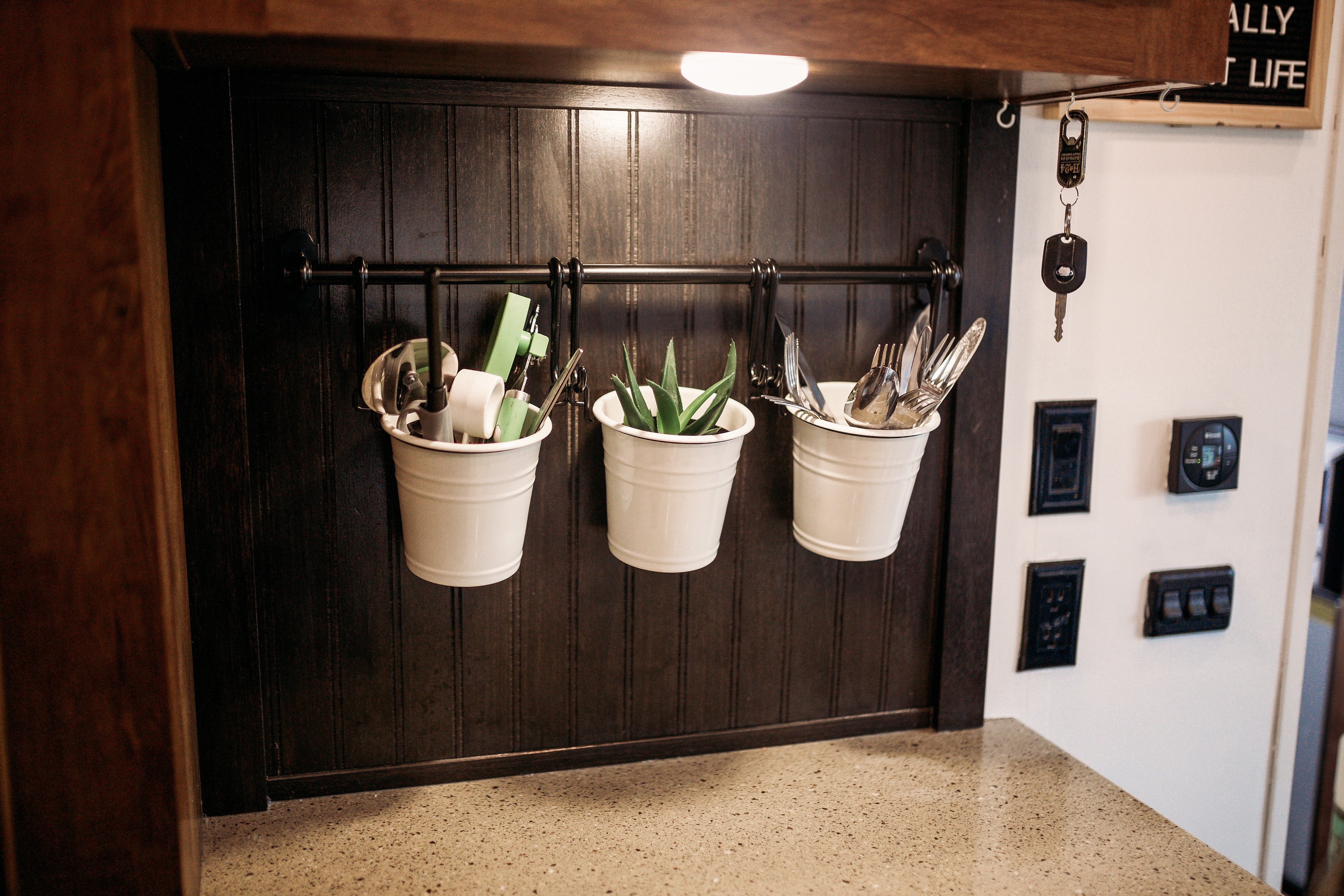 2. Utensil Holders
Our RV kitchen only has one real drawer, and that means a lot of random things get stuck in that drawer! Thinking it would be fine, I had sectioned it off with plastic caddies to be more organized. But it was still a pain to get to the things we use on a regular basis out easily, like silverware! Ikea makes some simple buckets that can mount on a wall with a metal rod, and we had the empty wall space to put it on, making this an obvious choice.
Three buckets fit nicely on the 22.5" rod, so we use one for silverware, one for kitchen devices (scissors, can opener, etc.) and to make it look a little nicer, we put a cute succulent in the middle bucket! The buckets and the hardware come in multiple colors/finishes, so you can customize the look to fit your taste. There are also different sized rods, which allows you to pick the size that best fits your needs.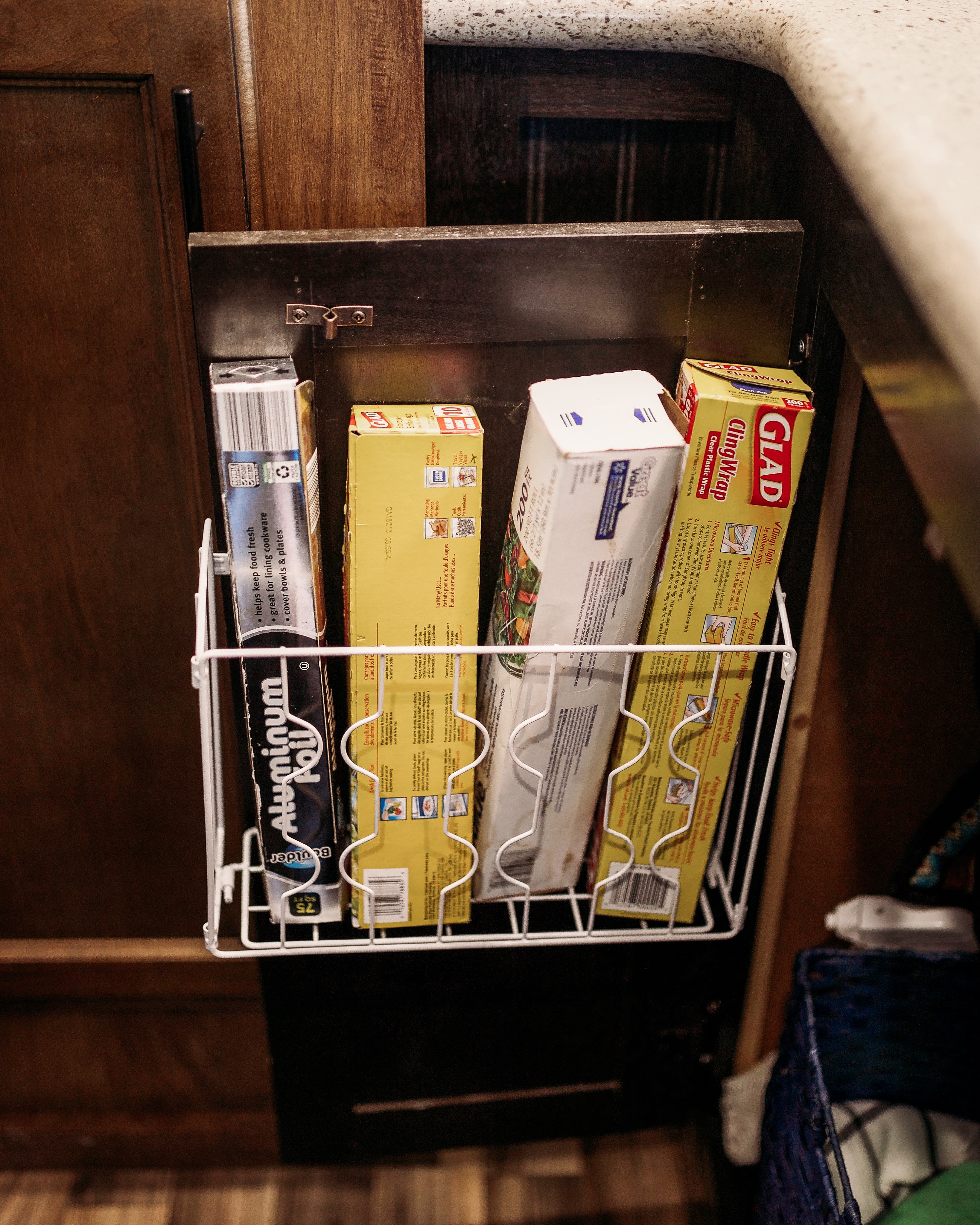 Since we only have one drawer, boxes of things like baggies, cling wrap and foil were just tossed under the kitchen sink. This became frustrating, because sometimes I would toss a little too hard and those boxes would end up in the very back of the cabinet and get buried under other things and be super difficult to find when I need them! In my search for a better solution, I found an organizer that mounts to the inside of a cabinet. This was a perfect solution! Now, all I have to do is open the bottom cabinet under the sink, and VOILA! There are my baggies, wraps and foils!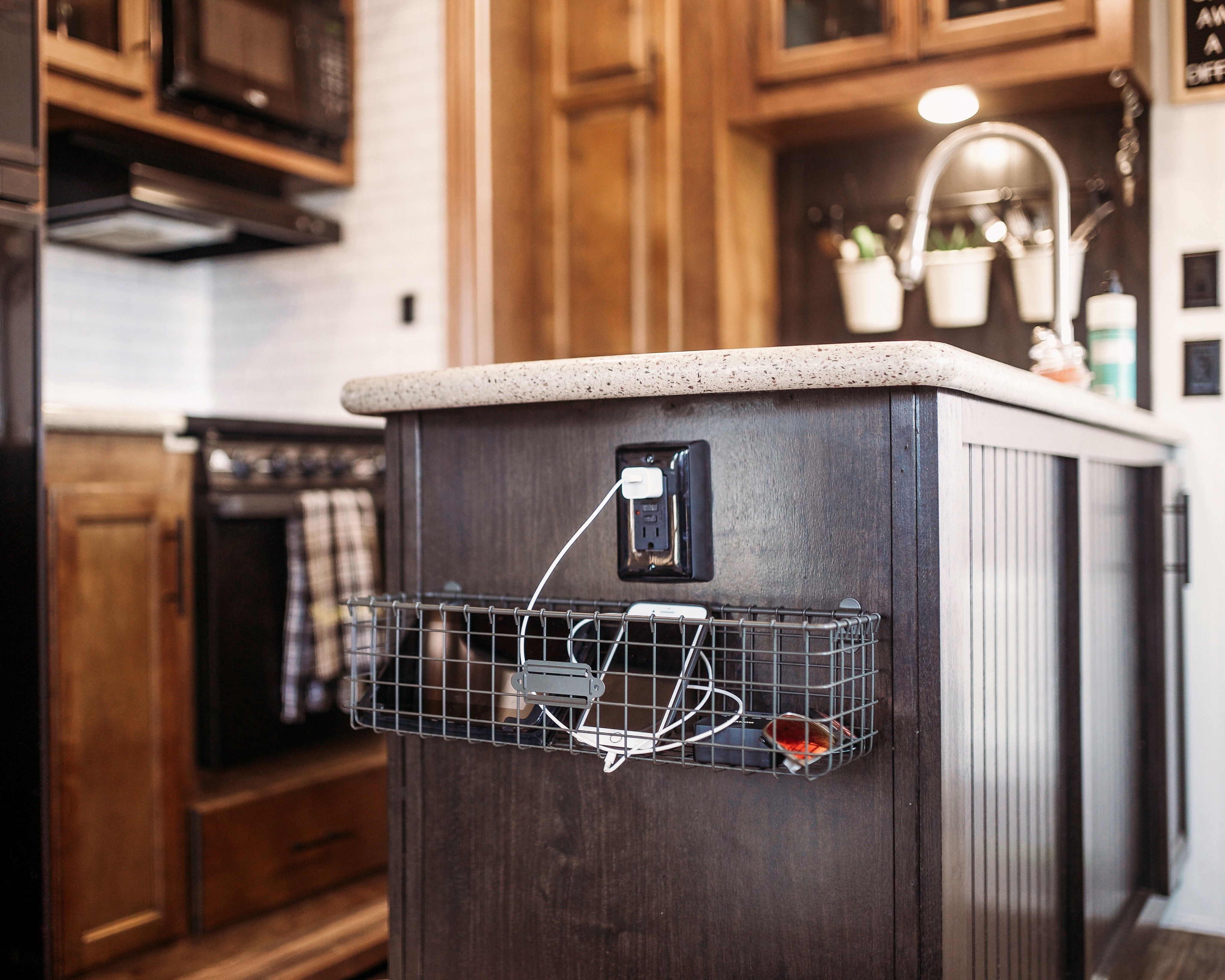 Since counter space is scarce in an RV, I wanted to eliminate random things that I would find lying around that created clutter. The outlet at the end of the island seems to be the popular spot for charging phones and devices, which means those devices are taking up the counter space while charging! I need every inch of counter space when I'm trying to cook a meal. Worrying about spilling something on an expensive device that was laying around was an issue I needed a solution for.
I found a wall-mountable wire storage basket that exactly fit the bill of what I was looking for. I attached it to the end of the island, so that when a device is charging, it can be placed in the basket instead of on the counter. It's also a great place to store chargers, remotes, or other random things that I don't want laying around! Since it's wire, it's easy to see what is inside. So, the smaller items we used to misplace all the time have a home and are easy to find!
Most of our RV cabinets are not very deep but are tall. I realized we weren't making the most of our cabinet space and could do better with the space we did have. By adding shelf racks to every cabinet in our kitchen, we basically doubled our usable cabinet space! You can find these racks almost anywhere. Walmart, Amazon, Bed, Bath and Beyond… I've even seen them at The Dollar Tree before for A DOLLAR!!! You can't beat that!
Adding these simple storage solutions in our RV kitchen has made cooking, baking and just LIVING in our RV much more enjoyable! I hope you will try some of them out if you're having similar frustrations in YOUR tiny kitchen!

Check out this related free video Simple RV Kitchen Storage Solutions To Maximize Space:
Interested in more information about your RV kitchen? You may also like:
RV Kitchen Faucet Replacement Instructions
Reduce The Noise Caused By RV Sinks
RV Refrigerator Troubleshooting: Checking Fridge Seals
Buying A Used RV: Appliance Inspection
How To Make An Organizational Tray For Your RV Storage Drawers
8 Tips For A More Luxurious RV Experience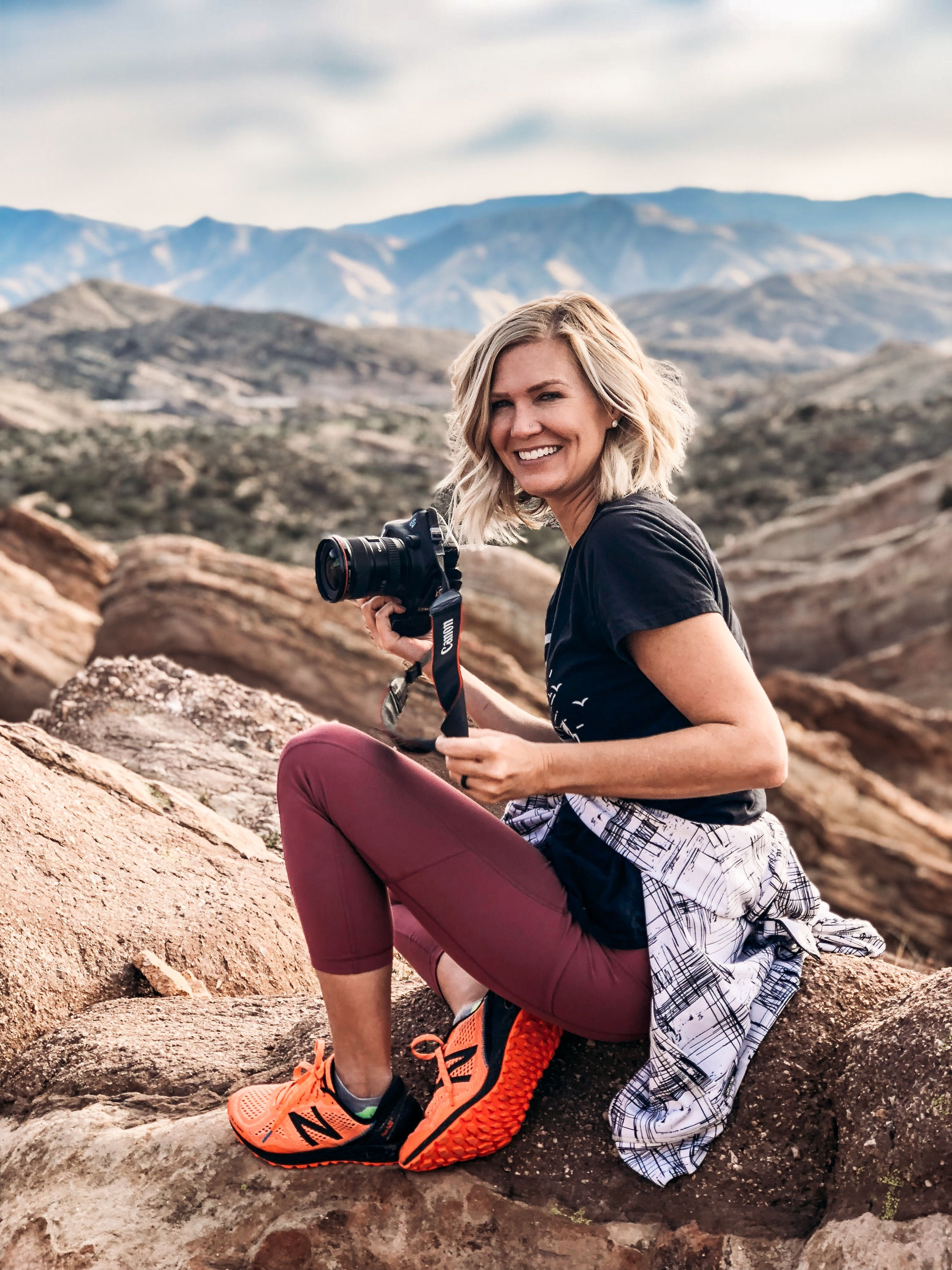 About the Author:
Lauren is a wife, mother of two, photographer, blogger and lover of nature and adventure! Currently traveling around the U.S. in a fifth wheel, Lauren and her family seek to live life to the fullest and continue to look for ways to simplify their lives in order to live larger with less. Follow along on their journey by visiting their family travel blog.