For many Americans taking a drive along Route 66 is a journey into the past, when traveling by car exposed the family to the kitschy souvenir stands and diners that flourished in the '40s and '50s – before super-highways streaked across the land.
While I-40 has replaced Route 66 and most of its historical significance, other 4-to-6-lane highways have diverted most travelers from the winding, narrow concrete roads of yesteryear. Maybe it's time to revisit the old road.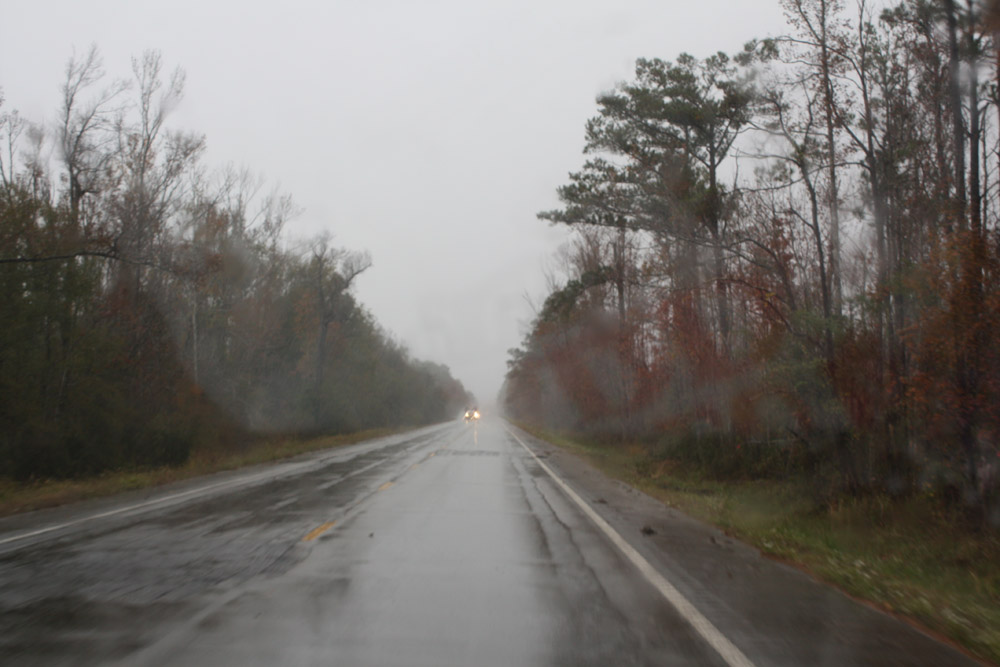 With our RV in tow, we took our time on the slippery, bumpy blacktop. Not a good day for playing tourist.
I-10 (originally known as the Christopher Columbus Transcontinental Highway) beat a 4,000-mile path from Jacksonville, Florida, to Los Angeles, California. Sleek, diverse, and a bit pock-marked in places, it changed the nature of several U.S. highways, including my childhood favorite: U.S. Hwy. 90 between New Orleans and the Mississippi Gulf Coast.
Back in the post-WWII days, I was forced to share the back seat of our Buick Roadmaster with my sister Linda for the never-ending trek from our New Orleans home to our extended family's weekend home in Henderson Point, Mississippi – where my grandmother tried unsuccessfully to take the fun out of weekend visits and summer vacation living.
Ninety miles and more than two hours of recurring views we had seen for years, made even worse at night when we could see nothing but headlights. Were it not for the radio comedies and suspense shows of the early '50s, the trips to and fro would have been unbearable. But thanks to Amos & Andy, Fred Allen, Inner Sanctum and the Lux Radio Theater, and, of course, The Lone Ranger, the miles pealed by easily.
Years later, Hwy. 90 became a patched local road for weekenders who camped in ramshackle fishing hovels set on stilts high above the rippling waters of the lakes and bayous along the roadway. To us as kids, it wasn't a pretty sight.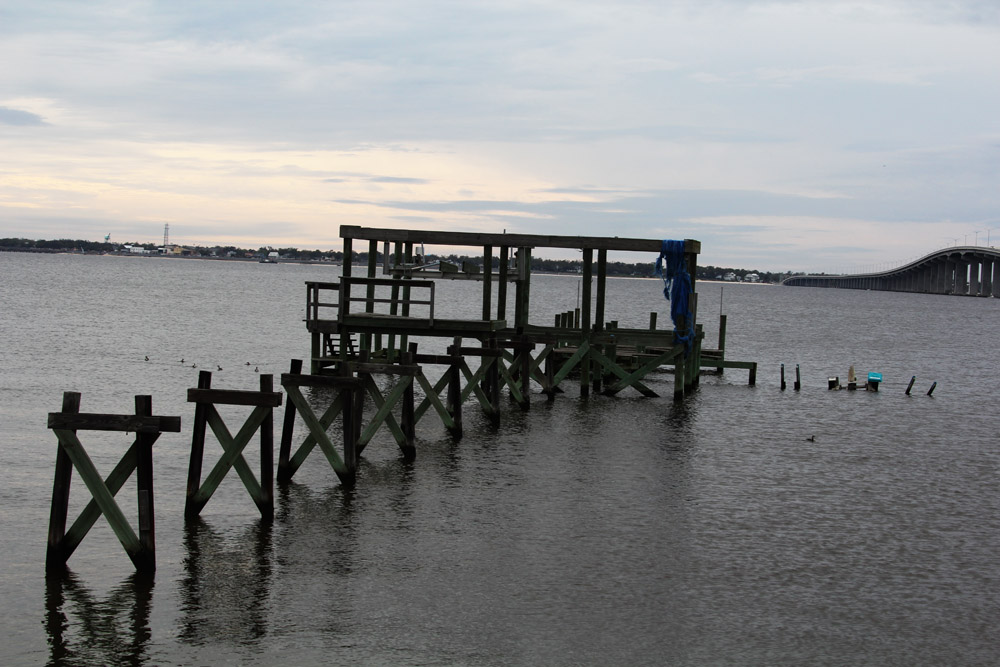 What was once a "camp" out into the bay is now a memory. Many of the structures at the end of the pier had bedrooms, bathrooms and kitchens, plus enclosures for a boat. As youngsters, we spent hours hauling in blue-claw crabs along the boardwalk.
I doubt if that 90-mile expanse is experienced by many people these days. When the gleaming, muscular I-10 was finally completed through woodlands on spotty outcrops of solid land separated by marshes, the Old 90 became a forgotten link. The superhighway has become the only way most travelers know as they race from New Orleans to the towering casinos along the World's Longest Beach that makes up Mississippi's coastline.
Much of that then-boring scenery on the old road was tragically taken from us by Hurricane Katrina in 2005. That super-storm missed New Orleans in favor of the bountiful forests and graceful, genteel towns of Southern Mississippi (New Orleans' predicament was the result not of the hurricane but of levee breaches caused by rushing waters that ate into the city's vital earthen protection).
Having moved from the area 17 years earlier, I learned from news reports that the entire old Hwy. 90 along the Gulf Coast region was devastated. None of the raised fishing over-the-water cabins were left; the quarter-mile rickety scrap-wood walkways that led to them were nothing but sticks in the water; the road and bridges were gone. For me, a native of "N'Awlins," and I'm sure many other locals, a feeling of emptiness deflated our spirits.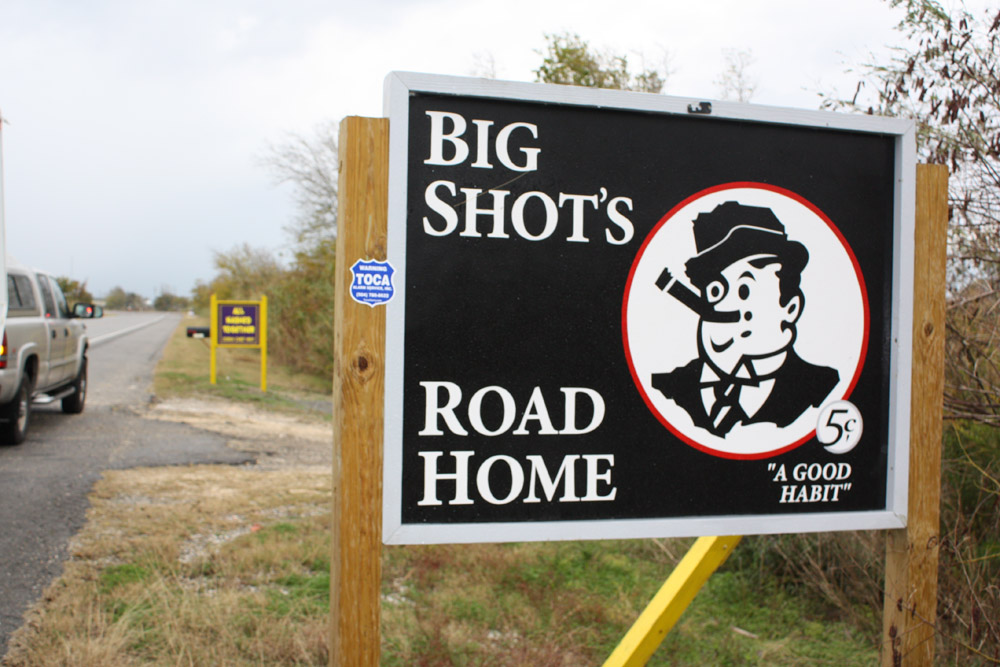 Many of the original signs with the name of the "camp" have been freshened up.
Gone also were all but a few of the signs bearing the names of the individual camps that were as interesting as Burma Shave signs on other highways: names like "Hogg's Heaven," "Destitution Destination," "The Farr End," "Bayou Blues," "The Katz' Kradle."
I wanted my wife to see what was once an important part of my childhood, so we pulled our travel trailer out of Downtown New Orleans and onto a slowly-recovering Gentilly Road, then Chef Menteur Highway, which together form Hwy. 90 in Eastern New Orleans. We were on our way Eastward along the isthmus that connects "The City" to Henderson Point.
Flashes from the past attacked me all along the way. I told Monique, "There are three old bridges with rusty steel superstructures that we need to cross. I hope we can get through with our RV." In my mind, I was thinking that our car had barely made it 60 years ago, and now we have a 2-ton truck pulling an 8'4" wide, 29-foot-long, 5-ton trailer. Thankfully, we made it across.
It was disheartening to see that all the old fishing shacks were gone, many replaced by new, stalwart structures. While some were 21st Century construction, a few looked like throwbacks to the past, built from floor plans of the pre-World War II fishing villages. But, THEY WERE THERE! The fishing-camp environment had survived, and families had returned with faith that their investments would stand another 100 years.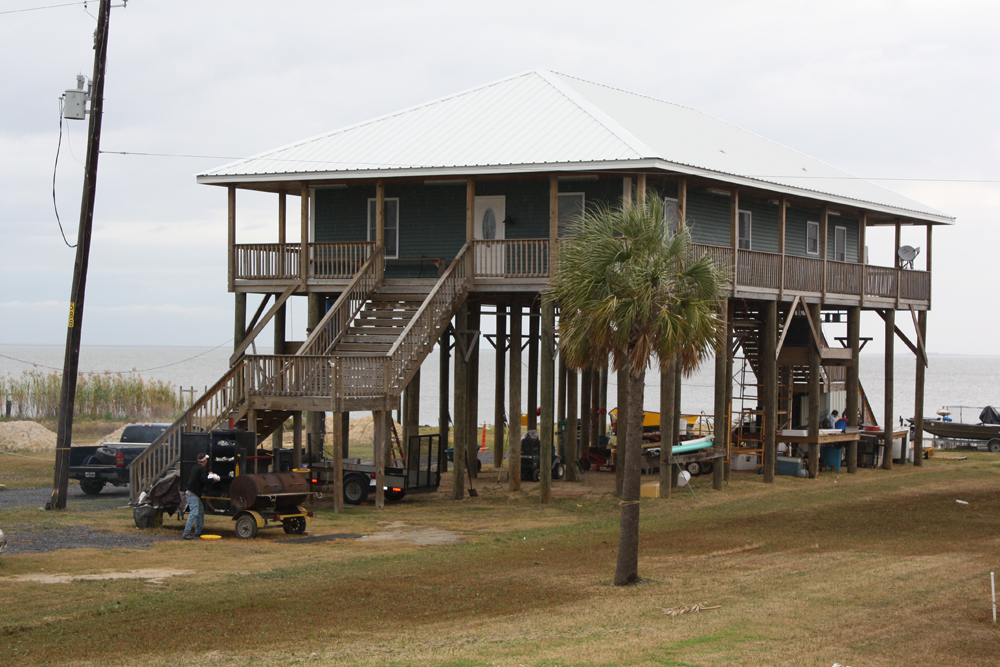 Typical of the "camps" constructed along the Gulf Coast since Hurricane Katrina are cabins on high stilts. But 35-foot-high waves could still be a problem.
"Okay, Monique, we're going to go over three short humpbacked bridges in a few miles." Son of a gun, they were still there and unchanged, except for a few indications of replacement spans under construction alongside. I don't know what that's all about, since the old bridges stood the test of time and tempest.
As soon as we crossed the narrow Pearl River Bridge, looking crestfallen because of its pealing silvery paint pocked with rust, we were in Mississippi. The scenery had changed drastically from drab fishing communities in favor of tall pine trees that shrouded buildings where, as I recall, all the booster rockets for America's space program are produced. We could see the roofs of massive structures over the tops of skinny pines.
In another flash of time, we were passing weather-beaten shops selling seashells and bikinis alongside boat dealerships that have, for almost a century, greeted travelers heading east from New Orleans. Many of the first blemished businesses were reminiscent of the look of the fishing camps of miles and years earlier. It reminded me of the iconic forsaken outlets along Route 66.
From that dismal tract, we suddenly arrived in an area where a bustling, a mostly locally oriented economy took over.
As a historical note, I'll mention that our grandparents' house along the Bay of St. Louis had fallen to Hurricane Camille in 1969, shortly after our family had sold the property. What remained of the land that had not been washed away by waves as high as 35 feet had been subdivided and new homes built on the land. I think Katrina declared that nature would win again this time. Our house and the accompanying structures were leveled.
Was it a road to nowhere? Not at all. It was a drive down my Memory Lane on old Hwy. 90. And this is my invitation to our traveling readers – if there were an old country road that you traveled in your younger days, maybe putting it in your future RVing plans will connect you with a past you didn't realize that you missed. The GPS probably won't get your there, but don't be afraid to pull out a map and route yourself over the bumpy roads of your childhood. It's worth the trip.
I welcome your comments and questions below in the Response section of this post.
From the Never-bored RVers. See you on down the road.
You might also like:
The Never-Bored RVers Journal: The Loneliest Road In America
The Never-Bored RVers' Journal: The Natchez Trace
The Never-Bored RVers' Journal: Homespun In New England
The Never-Bored RVers' Journal: Across The Top Of America Part 1
The Never-Bored RVers' Journal: Across The Top Of America Part 2
The Never-Bored RVers' Journal: Across The Top Of America Part 3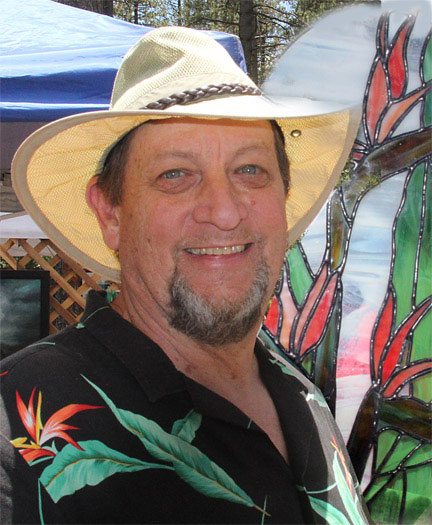 About the Author: Barry Zander spent a decade as a newspaper reporter and editor, was president of an advertising/PR agency, and was in marketing before retiring in 2006. That was when Monique suggested selling their home and buying an RV to travel North America. After five years full-timing, they bought a cabin in the mountains of Southern California, the base for continuing travels. You can read more of Barry's adventures on his blog, On Top of the World.
5

Responses to "The Never-Bored RVers' Journal: Driving Into My Past"