A first aid kit is one of those things you know you should have on an RV trip, but it's easy to forget until you really need it.
You can pick up a ready-made first aid kit at Walmart or Target, toss it in the camper, and away you go. A store-bought kit does have the essentials, but those kits are usually a bit lacking, especially if you have kids.
Avid RVers Jason and Lisa McEwen put together their own first aid kit. Here's a look at what they put inside: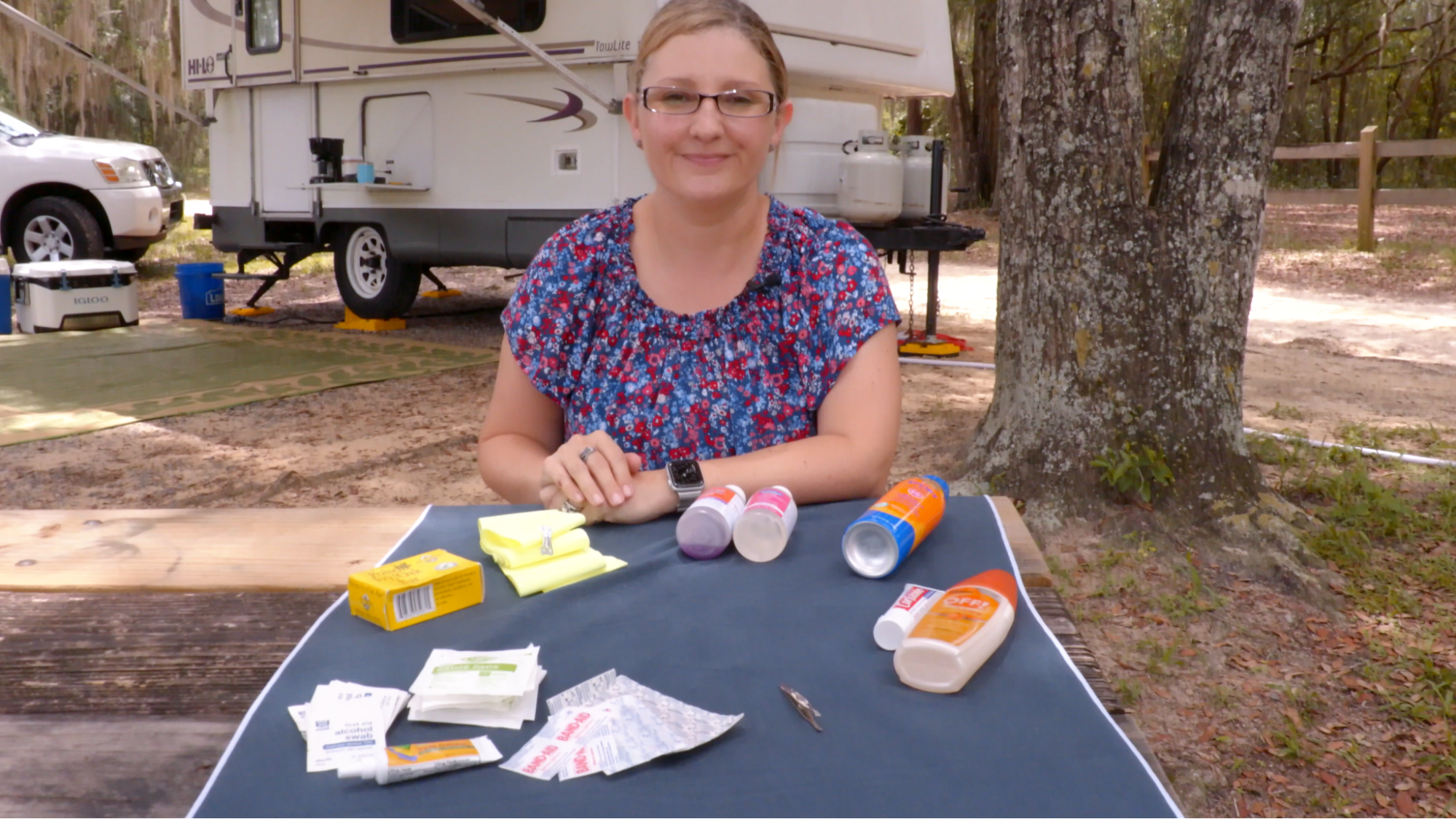 The basics
Start with the basics that you would find in any first aid kit. That would include some bandages of varying sizes. Include some ointment too, along with a few gauze pads and alcohol wipes.
Bug spray and cortisone cream
No matter where you camp, there are bugs, right? Keep bug spray in the first aid kit and keep a tube of cortisone cream along with it.
Poison ivy soap
Include a bar of soap that's designed to help if anyone gets into poison ivy or poison oak. We actually learned this tip from a park ranger. Someone ran into poison ivy on a trail and the ranger happened to have a bottle of water and this bar of soap with her. She was able to calm the sting.
Kids meds
Keep kids' Tylenol and Benadryl in the kit too. From fevers to allergic reactions, these medications can help you stay prepared.
Tweezers
Keep tweezers in your kit to remove splinters. You could even toss in a small nail care kit, so you'll have clippers and a small pair of scissors too.
Sunscreen
Keep several kinds of sunscreen on hand. It's good to have the spray in an SPF that's 50 or higher and a stick of sunblock that looks like deodorant. That's easier to apply to the face.
Prescriptions
It's also a good idea to keep a few extra days' worth of your prescriptions inside your kit too. If you forget them at home, you'll at least have a day or so on hand until you can get to a pharmacy.
If you're traveling with a pet, you might want to add a few items to your first aid kit too, like medications and things like a flea and tick collar. Learn more about RVing with pets and get some tips to keep pets comfortable while you're on the road.