There are a lot of assumptions about RVing—and not all of them are true. So, we're going to bust some of the most common RV myths.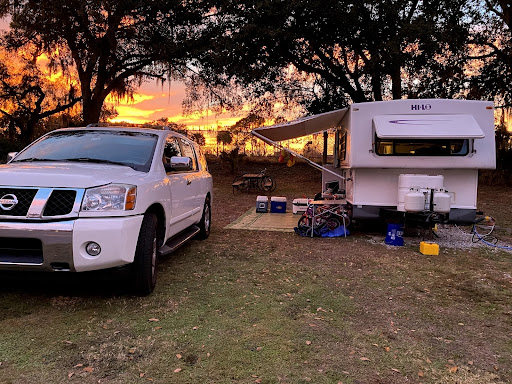 Myth #1: You don't need reservations
If you assume you can hop in an RV and spontaneously arrive at a campground and find a spot, you'd be wrong. A lot of campgrounds, especially those near popular destinations or along the coast, fill up very fast. In some cases, you need to make a reservation a year in advance to get in.
That's not to say that a spontaneous life on the road isn't possible. You can find places to stay at on a whim, but it's getting harder and harder. And the site you find might not be ideal.
Myth #2: You're always on the road
With an RV, you will drive to your destination, but you get to design your travel days. If you want to drive three hours and call it quits, you can. If you want to stop and see the world's biggest ball of yarn, you can. The time you spend on the road is all up to you.
Myth #3: RVs are easy to repair
Your RV will break down. You will have repairs. If you're handy, RV maintenance might be a breeze. With the help of some of our RV repair classes, you might be able to tackle smaller problems, but that might not always be the case.
If you need a repair tech to help, you might be in for an eye-opening experience. A lot of repair shops get backed up quickly. Right now, there's a shortage of RV mechanics, so it can sometimes take weeks or even months for repairs to happen.
There are mobile repair techs who can come right out to your campsite to help you. They're convenient, but they're costly, and depending on whether or not parts have to be ordered, it can still take some time.
Myth #4: RVs are for old people
While RVing may have started as a hobby for retired people, it has quickly become a family-friendly adventure. There are many, many families who travel in an RV. Some do it full time and road-school their kids, while others take the camper out during school breaks.
Myth #5: RVing is too expensive
RVing is as expensive as you make it. If you choose to stay at private oceanside resorts and do every activity under the sun, yes, expenses add up. And yes, the upfront cost of an RV and its upkeep can't be overlooked. But if you set a budget, plan your trips, and keep your spending within your means, you can make RVing affordable.
Myth #6: RV parks are always crowded
There are campgrounds with tight spots where you're right on top of your neighbor, but state parks are often more spacious. Check campground maps before you go.
Myth #7: People buy an RV, but the thrill of it wears off
RVing is what you make it, and in truth, it isn't for everyone. Like any kind of travel, you need to make choices that suit your family. Pick a destination you've always wanted to see, get the kids involved in planning, and embrace the idea of visiting less-popular parks. The thrill won't wear off if you're having fun.