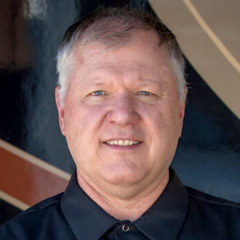 Checking out the Winnebago eRV-2
Dave Solberg
Join RV expert Dave Solberg as he takes us on a quick walkthrough of the Winnebago e-RV2, the second generation of the company's groundbreaking all-electric camper van. The RV boasts a lithium ion battery that allows for up to seven days of boondocking power.
The Winnebago e-RV2 is outfitted on a Ford platform – the E-Transit all-electric van – and it's an evolution of the original e-RV model that broke ground in the industry. Lithonic battery technology is mounted horizontally to not take up important front and rear space in the vehicle, and it has a 900 watt solar panel system to power your electronics.
Driving range is 100-125 miles before needing a charge (which will take about 45 minutes). The Ford vehicle was originally designed for delivery companies that didn't travel more than 100 miles per day. But the Winnebago team wanted to get out ahead of the electric vehicle RV market – the battery technology will only improve and the mileage range will increase. If this type of electric RV piques your interest, find your local retailer and see if the Winnebago e-RV2 works for your traveling needs!
Popular RV Electrical Systems & Maintenance videos
Explore videos by Dave Solberg