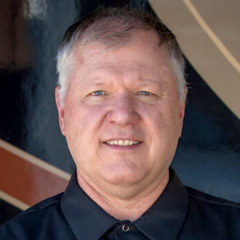 RV LED Lights: Are They Right for Your RV?
Dave Solberg
Which type of light bulb do you choose when you need to replace a burned-out incandescent bulb in your RV? Older RVs had energy consuming incandescent bulbs while newer coaches have gone to halogens. Should one simply replace the bulb with the same type or upgrade to the new LED technology? And are all RV LED lights created equal?
In this instructional lesson, RV expert Dave Solberg teaches you about the differences between standard incandescent and fluorescent bulbs and modern RV LED lights, so you can make an informed decision about which to use in your vehicle. He walks you through several aspects of the LED vs regular bulb dilemma, including heat build-up, energy consumption, polarity sensitivity and power fluctuation.
Heat Build-Up
If you have an RV that is even just a few years old, you might notice that the light covers are yellowing, and on older RV models you'll probably discover that the heat from the incandescent bulbs has burned through the covering. One big difference between RV LED lights and incandescent bulbs is heat build-up. The most important positive aspect of RV LED lights is that under normal operation they run cooler than incandescent bulbs.
Energy Consumption
Incandescent bulbs not only run hotter, they require more power to provide less light! The average Incandescent bulb draws approximately one amp, while the typical LED bulb draws almost 10 times less. Depending on how many lights you operate, and for how long, the old-fashioned lights will drain your 12-volt on-board battery in no time flat.
Different Types of RV LED Lights
Despite what you might have heard, all LED bulbs are not created the same. Most are created for shorter duration usage, while others offer designs that mimic incandescent usage. According to Dave, the best are M4 bulbs, which are housed in aluminum caging to withstand every test the road can throw at them. This compared with bulbs that are housed in cheap fiber board, which burn out much more quickly and crumble under stress tests.
How do you know which type of RV LED lights is ideal for replacing an incandescent bulb on your RV? To learn more about which LED bulb to choose, this LED Overview video should explain it all.
Polarity Sensitivity
Polarity is the direction of flow of electricity — positive to negative or negative to positive. The issue of polarity arises in this discussion because for whatever reason, not all fixtures on RVs are wired correctly upon assembly. One of the biggest benefits provided by a high-quality LED bulb is that they are not polarity-specific, meaning it does not matter which way a fixture is wired. Dave recommends doing a bit of investigating to determine whether the bulb you're considering is, in fact, polar-specific.
Power Fluctuations
The 12-volt battery system on your RV is prone to power fluctuations. But certain bulbs are better equipped to handle these fluctuations, maintaining brightness in spite of surges. Which type of bulb is optimal for power fluctuations? That's up to a little research on your behalf, and depends upon your vehicle's specifications.
The same goes for all aspects of the bulbs you choose to light your unit. Figure out what you require, and then weigh the pros and cons of each option, and then make your pick! If you get lost somewhere along the way, there are plenty of discussion boards on the subject of interior lighting, so you should have no problem finding the solution you seek.
Explore videos by Dave Solberg