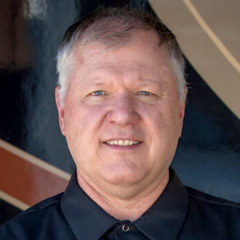 Helpful Gadgets: Air Flow Meter
Dave Solberg
When something seems wrong with the cooling or heating system of an RV, it's helpful to have an accurate description that you can provide to your mechanic to try to solve the problem. A handy gadget that every RV owner should keep in their unit is an air flow meter.
The best air flow meter is one that shows both the air flow coming out of the air conditioner/furnace and tells the temperature. When the air conditioner seems to be running inefficiently, the air flow meter can help identify specific problems, such as air not cooling or a decrease in air flow velocity. To test, turn on the unit and hold the meter up to the vent of the air conditioner. Then, try adjusting the temperature while keeping your air flow meter in front of the vent.
If you are starting to see a decrease in air flow, chances are the cold air return filter is the problem. Low air flow coming out of an air conditioning unit may be a sign that it's time to change or clean the filters. To change the filter on a standard A/C unit, unscrew the cover from the top of the inside of the unit. You will see two filters inside the cover. Replace or clean these filters, put the unit back together, and retest the air flow. Your unit should return to normal air flow. For ducted roof air units, the filter is generally located behind the cold air return vent.
If the temperature is not what is used to be, it may be time to take the RV to your local mechanic and have the air conditioner recharged.
It is a good idea to keep an air flow meter handy so you can test the air flow and temperature of your RV's air conditioning unit during normal operation. It will allow you to provide a mechanic with more specific details if something is not working properly.
Popular All RV Lifestyle & Repair Videos videos
Explore videos by Dave Solberg