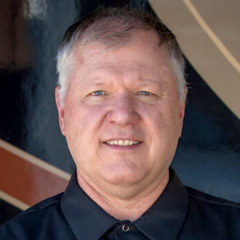 Tips and Precautions for RVing with Pets
Dave Solberg
Studies have shown that more than 75% of people who purchase an RV or trailer do so with their pets in mind. Traveling with pets can be a rewarding and cost-effective experience, especially when on the road for extended trips. If you plan to hit the road with your furry companions, there are certain things you should keep in mind, including a few precautions for visiting campgrounds. In this lesson, we teach you what to be aware of and bring along while RVing with pets.
RVing with Pets: The Process Made Easy
To help you ensure a safe and happy road trip with your dogs, cats or other animals, RVing expert Dave Solberg walks you through a quick checklist of pre-drive precautions and simple tips for RVing with pets. He explains why it's important to guarantee you've stored enough of your pets' favorite food and preferred drinking water, what you should do if you plan to use pet runs at rest stops and visitors centers, and how to keep your pets away from toxic fluids at campgrounds and dump stations. Plan properly prior to hitting the road, and you're set for countless memories with the little sidekicks!

Popular All RV Lifestyle & Repair Videos videos
Explore videos by Dave Solberg