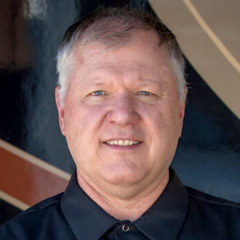 Canvas Repair on a Pop-up Camper
Dave Solberg
Setting up and breaking down a pop-up camper when you're at a campground is a relatively easy process, unless you encounter a bit of a snag. A torn pop-up camper canvas can lead to various problems, including moisture leaks and buggy intruders. If you have a ripped canvas, we have the solution for you! In this quick video lesson, RV repair expert Dave Solberg walks you through the process of canvas repair on a pop-up camper.
Quick tips for canvas repair
In the case of our demo pop-up camper, somewhere along the way the canvas roof got snagged, probably during the unfurling or folding up. It's a small tear, but it's enough to be a nuisance. So Dave teaches you how to complete a quick and painless fix.
There are canvas repair kits available at any camping outlet or outdoor supplier for jobs just like this, but those are generally just tape, which when used alone can serve as a sort of basic patch but might not last too long. How Dave likes to repair it instead is to do a bit of sewing to stop the tear at the source and reinforce the material, followed by some canvas repair. What does he use to get the job done? Dental floss, of course! It's tough, it's pliable, and it's cheap.
In much the same way you would patch a pair of pants that have ripped, you'll just sew along the tear with a needle and your dental floss. You will likely end up with a small ridge, but that's preferable to a gap in your canvas. Once you've sewn up the rip and trimmed any loose ends, you'll want to use alcohol swabs to completely clean the surface for proper adherence of the canvas repair.
Dave recommends applying a piece of the repair tape to the inside and outside of your rip. By sandwiching the rip, you ensure that it remains properly sealed when raising and retracting your canvas. And just like that, you should be good to go. You'll want to keep a close eye on that spot whenever you're inspecting your canvas, just to guarantee the rip is still under control, but you shouldn't have any more issues. With these and other repair and maintenance tips, your pop-up camper will stay in tiptop shape for years to come!
Popular RV Exterior Maintenance & Upgrades videos
Explore videos by Dave Solberg