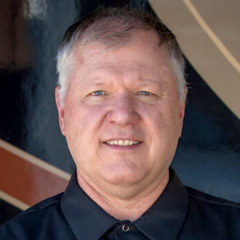 How to Secure Items in Your RV Toy Hauler
Dave Solberg
If you're the kind of adventurer that likes to RV out into the great outdoors and explore off the beaten path, an RV toy hauler is the perfect option for your needs. Toy haulers allow you to easily store and transport your smaller vehicles or "toys" such as motorcycles and ATVs, keeping them safe from the elements while you travel to and from your destination.
Loading a RV toy hauler is a fairly simple process, but it's essential to complete it correctly to ensure your toys don't bounce around while you travel. In this lesson, we teach you how to load a RV toy hauler with your favorite toys and properly strap them down to guarantee they don't go anywhere.
Connecting toys to an RV toy hauler
Dave Solberg walks you step by step through a loading demonstration to help you figure out the best way to strap down a motorcycle, ATV or any other toy on an RV toy hauler. He teaches you a few expert tips and techniques you can utilize to simplify the process and make sure everything is properly secured and you don't do any damage to the inside of your RV toy hauler.
You'll also learn a little trick for elevating a portion of the trailer for easier loading and unloading of a motorcycle. This small adjustment will allow you to drive onto the RV toy hauler at a comfortable speed and avoid stalling. The key to completing the loading process safely is momentum under control. After getting the motorcycle and an ATV situated on the RV toy hauler, you'll discover the proper method for using tie-down straps and ratchet tethers to ensure your toys won't go anywhere during transit. Once everything is in place on the RV toy hauler and firmly strapped in, you're good to go. Enjoy the journey!
Explore videos by Dave Solberg