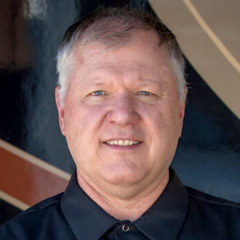 Blackout Shade Installation for Upgraded Window Treatments
Dave Solberg
In this step-by-step video lesson, RV repair and maintenance expert Dave Solberg walks you through a demonstration blackout shade installation. He completes the demo on a 2003 Winnebago Brave, which was in need of some updated window treatments as an alternative to its old pleated blinds. Many RVers nowadays are turning to blinds and shades used on residential windows, most of which are well suited to RV windows.
What to consider during blackout shade installation
Blackout shades are great alternatives for various motorhomes, coaches and fifth wheel trailers. Dave installed a combination of day/night shades that block the outside but are also transparent, supplemented with blackout shades that completely block all light. This particular model rolls down quickly and smoothly, and has an automatic release that will slowly catch so you don't end up breaking the shade.
Because of a bulky mounted TV at the front of the demo Brave, Dave and his crew weren't able to install a single shade that stretched from side to side across the windshield. Instead, for their blackout shade installation they had to utilize a stair step method, where they installed two smaller shades meeting in the middle at a V.
There were a few challenges inherent in this kind of installation, which Dave discusses in detail in case you run into similar issues. Among them: it can be difficult to find sufficient space to install two brackets in each corner where the front and side shades are mounted. Dave explains what he did to solve this issue, and he's pretty confident you can utilize the same solution, making small adjustments based on your model.
As a review, be sure to keep in mind some of the most important considerations if you're thinking about upgrading your window treatments. What kind of material do you have to mount to? Do you have space for one windshield shade, or will you need to use two like Dave did? Are you covering corner angles properly so as not to expose cracks to outsiders? Remember these finer points during blackout shade installation, and you should have no issue blacking out your RV windows!
Popular All RV Lifestyle & Repair Videos videos
Explore videos by Dave Solberg