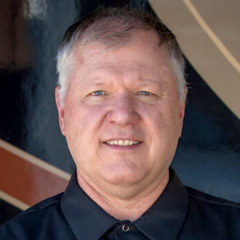 Simple Tips for Keeping RV Refrigerators Efficient
Dave Solberg
RV refrigerators are capable of cooling your food and beverages with either LP or 120-volt power, however if they aren't running at their highest efficiency, the RV refrigerators can be a headache when you're out on the road. In this maintenance demonstration on RV refrigerators, Dave Solberg discusses some of the simplest methods for keeping your fridge running in tiptop shape.
First things first, you'll want to make sure your unit is properly ventilated in the back and through the roof vent. Compartment heat needs to vent up the back of the refrigerator cavity and out the roof vent for your RV refrigerator to operate efficiently. Loose insulation in the cavity can block the air flow as well as a clogged vent screen. Dust and dirt on the cooling unit can also cause excess heat causing your system to work harder and limit cooling capabilities. Using an air compressor to blow off the cooling unit and inspecting the roof vent periodically will help keep your RV refrigerator run more efficiently.
When it comes to maintaining RV refrigerators, you can apply about as much preventative maintenance and care to the front of the unit as you can to the back. Paying particular attention to the door, experts recommend to check at least once a year whether your RV refrigerator's seals are in good shape. You should ask yourself these questions: are the seals and gaskets properly affixed and aligned? Is there any tearing or pinching in the rubber? Do the seals fit flush against the door frame when it is closed?
Inside RV refrigerators, you should guarantee there is good airflow throughout the unit. Try not to pack items in tightly to inhibit the fridge's ability to keep everything cool. Also, consider installing a small fan inside the fridge to help circulation. If you experience any freezing, it's best to just turn off the fridge, open the door and let the unit defrost; don't fiddle with the temperature settings or use hair dryers or sharp objects to chip away.
Explore videos by Dave Solberg