Are you planning to go out on your first RV trip? To help calm your fears and prepare for your first outing, here's what the McEwen family wish they knew before their first RV trip: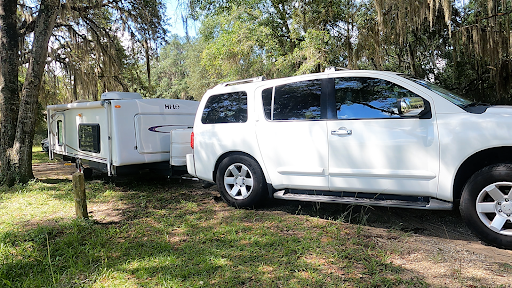 1. You have to plan in advance. Campgrounds do fill up, especially if you go south in winter, so you need to plan ahead. State campgrounds in Florida, for example, can book up one year in advance. Why? The warm weather is the biggest draw, but state campgrounds are spacious, reasonably priced at $30–$45 a night, and some are right near the ocean, so planning ahead is important.
2. It will take longer to get there. When you take an RV trip, it's not the same as a road trip in your car or SUV. Towing requires a slower pace and more frequent gas stops, both of which slow you down. As a result, you should adjust your travel times.
3. Don't be grossed out by emptying the tanks. One of the things that new RVers get nervous about is emptying holding tanks. Yes, it smells, but it's really not that bad. It's definitely not something that should keep you from RVing. Get yourself some disposable gloves and some hand sanitizer and you'll be fine.
4. Your tanks will fill up fast. Water usage in an RV is very different than it is at home. Be conservative with water. To maximize water, you can:
– Take quick showers or use the showers at the bathhouse.
– Use disposable plates and silverware.
– Wash your pans in a water basin.
– Turn the water on and off when washing or brushing your teeth.
5. Don't overpack. Try to minimize what you pack. The best thing you can do is dress in layers. Keep in mind that a lot of campgrounds do have a washer and dryer, so if you're staying for a long period of time, you can always wash your clothes.
6. Make a meal plan. Just because you're on the road doesn't mean you have to eat fast food for every meal. If you plan ahead, you can take what you need. You can shop beforehand and take groceries with you, or you can make a grocery run when you arrive. Either way, it's cheaper and healthier to make an RV meal plan.
7. It will cost more than you think. Expect prices to fluctuate. Gas prices are most likely to change, so if you're on a budget, you might decide to stay closer to home to offset the cost of gas. Campground reservations can increase, too. State campgrounds are usually the most affordable option, but again, they book up fast.
And, of course, you can't forget about maintenance and emergencies, which will eat into your RV budget too.
8. Plan for the beach. If you're going to a beach location, plan for it. Bring collapsible clothes bars so you don't have wet swimsuits and towels hanging all over your RV, and get a handheld vacuum to clear the sand from your RV.
If you're about to take your first RV trip, these tips should help you out.