Conducting a Pre-Departure RV Checklist
RV Livestyle & Repair Editors
Before you take off on any trip, it is important to do a walk around the entire coach verifying everything on the RV checklist is operational and ready for the trip. Make yourself a pre-departure RV checklist that will take you point by point before hitting the open road.
When going over the RV checklist you will want to start at the front of the unit and work your way around it. Start by looking at the windshield for any cracks and check the wipers. Get a close look inside the front compartment to ensure everything is snug. Your RV checklist should include checking the oil, transmission fluid, coolant and to look for any debris that needs to be removed from the front compartment of the unit.
As you walk about your unit, check to ensure all lights, the horn and turn signals are operations. It might be necessary to replace any non-working lights before departure.
The next step on your RV checklist should include checking all exterior compartments are closed and locked in place. This includes checking the propane area and turning all components to the LP gas system off. Verify that the dump valve is shut and all hoses and cables to the unit are neatly stored and secure.
As you continue down your RV checklist check all tires, looking for visible damage and checking air pressure.
Quickly go through the inside of the unit to look for anything that is loose and not in place. Remove all possible projectiles which are objects that could go flying if needing to suddenly stop. Do not forget to have your license, registration and insurance before leaving.
Take time to walk around and do quick, thorough checklist before departing and it will help you avoid costly repairs in the future.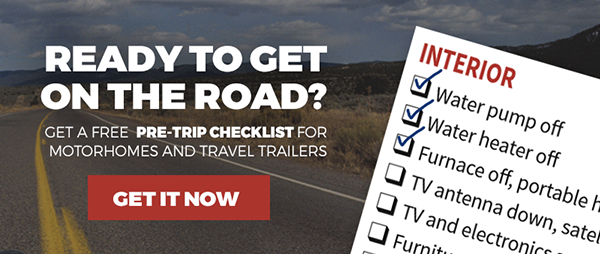 Explore videos by RV Livestyle & Repair Editors