What is it about RVing that you like so much? As of 2021, an estimated 11.2 million people own an RV, which is a 62% increase since 2001. So, what is it about this kind of travel that has so many people hooked?
Jason and Lisa McEwen, avid RVers from Florida, started RVing in 2019. They bought a used camper with the hope of traveling more often with their two children, Adalyn and Riley. Since then, the family of four has made dozens of trips. From visiting national parks to camping near the ocean, they share what it is that they like most about camping.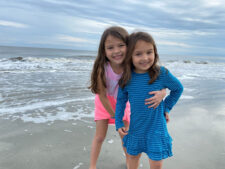 "I've always wanted to make traveling a part of our family life. Traveling introduces us to new places, people, and cultures. It gives us a new perspective on life. As I watch our children interact with other kids or I talk with RV neighbors from a different state or country, it's refreshing to be introduced to new things," Lisa McEwen said.
"I like RVing because when we travel, we all get to hang out together. We play a lot of fun games, visit new places, and see pretty cool stuff," Adalyn McEwen, 7, said.
"We've seen some cool places. We saw an alligator the other day—I mean, that's pretty cool," Riley McEwen, 6, said.
"When we hit the road, we're all together. We're unplugged and away from work and tech. We play board games, see new sights, and spend time together, and that's the best part, for me," Jason McEwen said.
For many, RVing has become a preferred way to travel. Aside from seeing new things and spending much-needed time together, many families say RVing is an affordable way to travel when compared to flights and hotels.
RVing is often a more leisurely way to travel too. You're not rushing around an airport or waiting in security lines; you simply drive to your destination at your own pace.
What do you like most about RVing?